Getting to know PhD candidate Maggie Thomas-Freeberg
This news item is part of a larger series of profiles featuring graduate students and postdoctoral research fellows within the Department of Biomedical Engineering at the University of Rochester.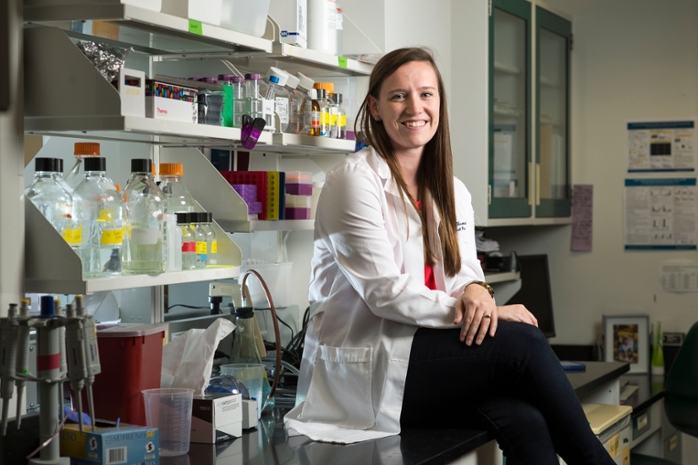 Maggie Thomas-Freeberg
Hometown: Brighton, NY
Anticipated Graduation Year: 2017
Degree: PhD
Program: Biomedical Engineering
What is your research experience/project?
I am currently a 4th year graduate student in the Awad Lab. My current research project is on development of treatments for scarless healing of flexor tendon injuries. To promote more regenerative healing, I am designing nanoparticle-mediated siRNA therapeutics in collaboration with the Benoit Lab.
Why did you pick the University of Rochester?
There are many reasons, but it ultimately came down to overall fit. The Center for Musculoskeletal research(CMSR) here at URMC is a unique program that brings together academic researchers and the orthopaedic surgeons to create a really collaborative environment that really focuses on translational research. Rochester is also a great city for graduate students – there is always something to do and it usually doesn't cost very much.
What have you enjoyed most about your training so far? 
I have really enjoyed the freedom to pursue my interests and turn my project into my own. As a graduate student you often set out to complete research proposed by your advisor in their most recent grant, which is still the case but we are also allotted the opportunity to investigate questions related to but outside the scope of these grants. The faculty here really foster a collaborative environment so whenever you hit a challenge in your research, you have many opportunities to seek help, not just from your advisor but a number of other faculty, so you never really hit a dead end. Additionally, I have enjoyed the culture the graduate students have created at the university, we are not all here to just get our degree and get out. There is a healthy work-life balance and I have made friendships that will last a lifetime. 
What about the work/life balance?
We all hear those horror stories about always being in the lab – weekends and holidays included. We know the stereotypes of graduate students who are all work and no play. Thankfully that stereotype doesn't seem as prominent in our department. Yes, there is occasional late night, weekend, or holiday in the lab – but it is not constant. It's important to know when you have to put in the extra time, but the faculty, in general, seem to have a good notion of how it helps productivity if you're not constantly in the lab. Plus Rochester is a great city for graduate students with any number of things to do and enjoy. You need to make the best of your time in graduate school.
What are your plans for the future? Where would you like to be in 5-10 years? 
My current career goals focus on going into academics. I really want to have my own lab and teach at the undergraduate level. Which means as I finish up my doctorate I will be looking for academic post-doc positions that will help to build on my current skills set, in terms of research and administrative duties, and round out my training to start a tissue engineering lab of my own. 
Tell me about your experiences with the Spring Recruitment Weekend:
Typically our recruited students are invited to campus to meet the faculty and current graduate students, sometime in February. It is a great opportunity to see the Rochester campus and meet the faculty you're interested in working with. It will be important to read up the faculty you are interviewing with, especially if they are one of your top choices. You will spend most of Friday on campus, doing interviews. But you will have student escorts to show you around campus and also for you to ask about student life. Come prepared because we have not had the weather on our side the past few years. But if you can survive the recruiting weekend, the summers are more than worth it!
What do you believe is the most important reason that you should reach out to the faculty and students that you are interested in working with?/How do you do it?
It's important to take the initiative to show the faculty that you are genuinely interested in their research. Faculty tend to be very busy juggling all of their academic responsibilities so it's important for you to show them who you are, especially if you are interested in joining their lab. If you don't take the initiative to ask, the answer will always be "no."
A great place to start is usually an introductory email saying why you are interested in working with them and highlight who you are as a graduate student. This starts with showing interest and connecting with the faculty during the recruiting weekend. However, you may also learn about some really awesome research going on once you start your first semester and you can always reach out then as well.
When should you start Networking for academic opportunities? How did you start?
As soon as possible! I have grown up in an academic family, and have numerous friends who parents are academics. As soon as I realized that research might be for me, I reached out to some of the academics I knew asking for advice and mentorship. Even if you don't have these close family connections an email can go a long way. Most faculty have their contact information and research interests on the university website.