Diane Dalecki named Distinguished Professor of Biomedical Engineering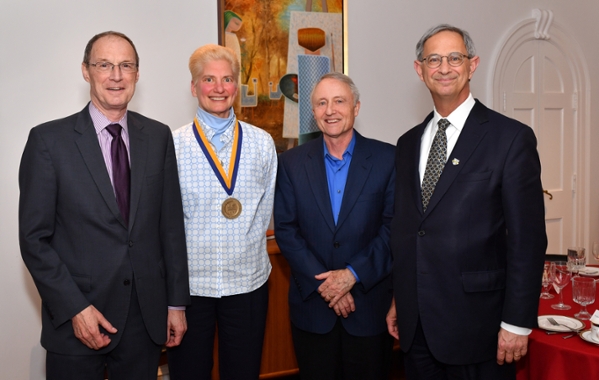 From left to right: Peter Lennie, Dean of the Faculty of Arts, Science and Engineering; Diane Dalecki, Distinguished Professor of Biomedical Engineering and Director of the Rochester Center for Biomedical Ultrasound; Kevin Parker, William May Professor in Engineering and inventor of the Blue Noise Mask, and Joel Seligman, University President & CEO
Medical ultrasound technology uses high-frequency sound waves to produce detailed images that help physicians diagnose conditions affecting the body's organs and soft tissues. What if this technology could also be used to help treat the problem? Diane Dalecki '83, '85 (MS), '93 (PhD), director of the Rochester Center of Ultrasound, has already asked the question, and she is currently working on the answer.
Dalecki's lab, which is dedicated to advancing the use of ultrasound in medicine and biology, is developing ultrasound-based technologies for tissue engineering and regenerative medicine. The ultimate goal: have the ability to fabricate living, functional artificial tissues and organs.
Tissue engineering and regenerative medicine are just a part of an impressive list of work that led to Dalecki being named the University's Distinguished Professor of Biomedical Engineering.
"Diane has become one of the country's leading experts on the interaction between ultrasound and biological systems," said Joel Seligman, president, CEO, and G. Robert Witmer, Jr. University Professor. "As she was the first person in the world to pace heartbeats with pulsed ultrasound, it is particularly appropriate that she be the first recipient of this professorship."
The distinguished professorship was established by the University through royalties from the Blue Noise Mask. Invented by Kevin Parker, Ph.D., the William F. May Professor in Engineering, and Theophano Mitsa '88 (MS), '91 (PhD), the Blue Noise Mask is a widely adopted halftoning technique that prints shades of gray in less time and at a higher quality than traditional methods. It is a patented process that has been licensed worldwide by more than a dozen companies, including Hewlett-Packard, one of the world's largest computer printer manufacturers. The royalties have funded four other endowed distinguished professorships and provided support for research and scholarships.
"Funding made possible by the Blue Noise Mask underscores the importance of recognizing world-class work and retaining world-class people," said Robert L. Clark, senior vice president for research and dean of the Edmund A. Hajim School of Engineering & Applied Sciences. "Diane is at the top of both categories as an outstanding researcher and an exceptional teacher."
Dalecki has been a recipient of the Goergen Award for Excellence and Artistry in Undergraduate Education and is a three-time recipient of the Undergraduate Engineering and Applied Sciences Professor of the Year Award.
For information on how to support Diane Dalecki's work or research being conducted in another area, contact Eric Brandt at ebrandt@alumni.rochester.edu or 585-273-5901.