Professor Amy Lerner receives Goergen Award for Excellence in Undergraduate Teaching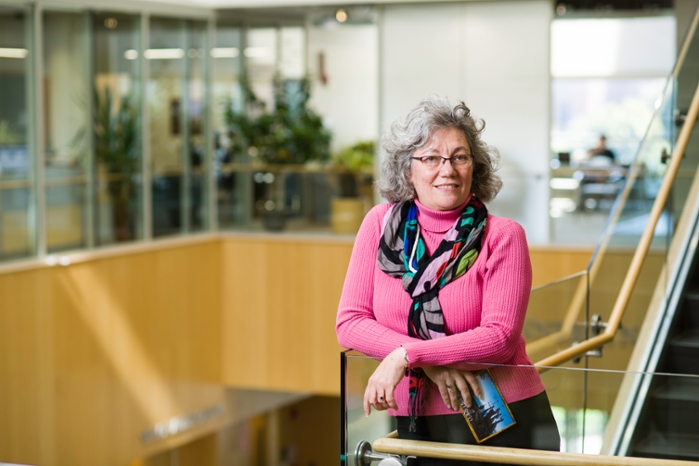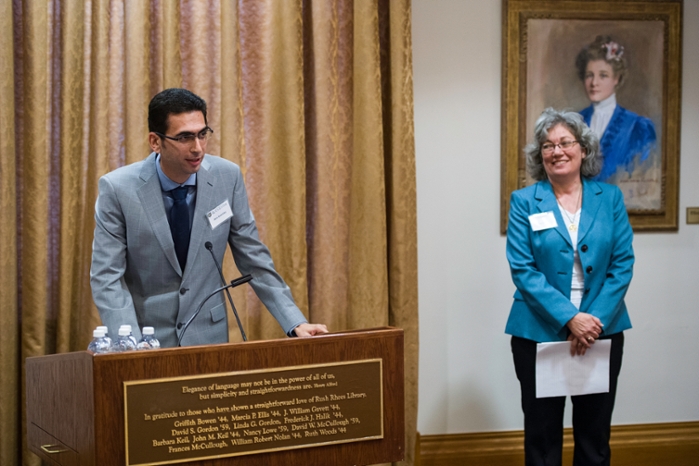 Amy Lerner pictured with PhD student Alex Kotelsky, who introduced Professor Lerner and highlighted her contributions to the University
Professor Amy Lerner is one of three recipients of the Goergen Award for Excellence in Undergraduate Teaching this year. This award aims to acknowledge the full scope of work that contributes to excellence in undergraduate education. It is given for distinguished teaching in large introductory courses or advanced seminars. In addition to being given for superior classroom performance, it recognizes innovation in course design or teaching methods.
Professor Lerner was nominated by BME Chair Diane Dalecki and chosen by Richard Feldman, dean of the College; Gloria Culver, dean of the School of Arts and Sciences; and Wendi Heinzelman, dean of the Hajim School for Engineering and Applied Sciences. She was presented with the award by her former student Alex Kotelsky during a special ceremony in the the Hawkins Carlson Room in Rush Rhees Library on October 5. Two other longtime professors, Beth Jörgensen and Bradley Nilsson, also received the honor.
"Beth Jörgensen and Bradley Nilsson and Amy Lerner exemplify all that we strive for in the College," Feldman says. "These recipients of the Goergen Award are all extremely accomplished scholars. Yet in addition to their research, they also excel as teachers. In interestingly different ways, they've all committed to working with students, providing guidance, and connecting them to resources, often spending significant amounts of time outside of the classroom to help them succeed."
Amy Lerner earned her MSE and PhD in mechanical engineering at the University of Michigan. In 1997, she joined the Departments of Mechanical Engineering and Orthopaedics and served as a core faculty member in the biomedical engineering program. Once the Department of Biomedical Engineering was established in 2000, she maintained her role as associate professor and later assumed the role of academic director of the Center for Medical Technology and Innovation. As a leader in biomedical engineering, Professor Lerner's exceptional work both in and out of the classroom exemplifies her passion for the field, and she continues to foster that same passion in her students.
Professor Lerner has been instrumental in the development of the biomedical engineering curriculum. She created and implemented the capstone senior design courses that provide students with real-life design projects. Each year, Professor Lerner partners with customers from both local communities and larger national companies in order to provide her students with projects that require them to solve real-life engineering design problems that they might encounter once in the field. In order to support her students throughout these projects, Professor Lerner has designed a series of assignments and milestones that work to guide students through challenges and stimulate creative problem solving. This unique exposure to professional engineering work, coupled with consistent classroom support, gives students the opportunity to hone the skills needed to enter the workforce prepared and confident in their abilities.
Beyond the classroom, Professor Lerner's research in her own laboratory is focused on biomechanics. She often provides students the opportunity to participate in the research process. She also helps to promote diversity on campus by supporting events through such organizations as the Society of Women Engineers and the Women in Science and Engineering Group.
A former student, Breana Roides, writes admiringly, "Professor Lerner's teaching style and influence on students is unmatched. Her ability to connect with influential external industry partners and integrate lessons learned and guidance into the classroom extended our learning from a purely academic endeavor to a way for us to see how our work could impact the broader world."