BME student competes in Hult Prize entrepreneurial competition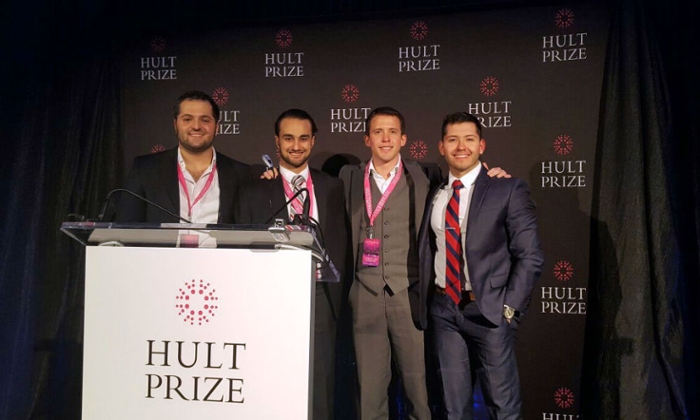 BME student Omar Soufan was among six finalist teams at the Hult Prize regionals in San Francisco early this month. 
The Hult Prize is the largest social entrepreneurship competition in the world and is co-sponsored by the Hult International Business School and the Clinton Global Initiative.
The Rochester students who presented as Team Meliora were Edgar Alaniz '17, Carlos (Yuki) González '17, Ibrahim Mohammad '17, and Omar Soufan '17. Another student, Min A '18, is studying abroad. The team's startup company, Meliora Homes, will build homes for refugees from recycled plastics.
The students are taking Urban Impact and Entrepreneurship, a course taught at Simon Business School by Michael Wohl, the University's associate director of social entrepreneurship. Wohl coached Team Meliora, which competed against 63 other schools in San Francisco.
"Advising Team Meliora was tremendously gratifying for me personally," Wohl says. "We worked very closely to create a strong business model and presentation. They are highly intelligent and dedicated students, and the authenticity of their vision and life experiences really came through."
First prize in San Francisco went to a team from Mexico.
"I couldn't be happier for the result because this is not about me or my team winning the competition, but about the refugees getting what's best for them," says González, a financial economics major from Asuncion, Paraguay. "We still believe refugees need and deserve better housing and we'll find investors who can help us deliver this to them in an affordable and sustainable way."
The Hult Prize received more than 50,000 applications from 100-plus countries. Regional winners from San Francisco, Boston, London, Dubai, and Shanghai advanced to the international finals in September, with a chance to win a $1 million first prize, plus mentorship from the Hult Business School and the international business community.
The technology for using recycled plastics to build houses was created by the Colombian company Conceptos Plásticos, and already has been used in that country. Team Meliora hopes to take the technology to Egypt, Lebanon, Morocco, Palestine, Syria, and Turkey.
The team has set up a Go Fund Me page for donations.