Professor Rick Waugh named interim dean for arts, sciences & engineering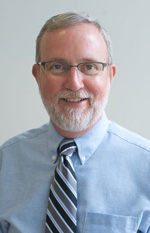 Rick Waugh, former BME chair, and a biomedical engineer with more than 35 years of academic and leadership appointments at the University of Rochester, will serve as interim dean of one of the institution's main academic units through June 30, 2018.
Rob Clark, provost and senior vice president for research, made the announcement this month in an email to faculty and staff of Arts, Sciences & Engineering. The announcement notes that the search will be continued to find a successor for Peter Lennie, the Robert L. and Mary L. Sproull Dean of the Faculty of Arts, Sciences & Engineering.
Lennie, who also holds a faculty appointment in the Department of Brain and Cognitive Sciences, announced last fall that he planned to step down as dean as of June 30. Since 2006, Lennie has served as dean of the faculty, a position that includes academic, administrative, and financial responsibility for a unit that is home to more than 350 faculty members, 5,200 undergraduates, and 1,200 graduate students and has brought extraordinary leadership to the position.
Clark, who chaired the search committee charged with selecting Lennie's successor, said that he and the committee members decided to extend the search after consultation with President and CEO Joel Seligman and other University leaders. While the set of candidates identified by the committee, along with a national search firm, had excellent credentials and experience, the committee agreed that none was quite the right fit for the deanship or for the University, Clark said.
Clark commended the service and commitment of the committee, and has invited the existing members to continue their efforts with him at the beginning of the fall semester.
Professor Waugh joined the Rochester faculty in 1980, beginning a 35-plus-year tenure as a teacher, researcher, and administrator. The founding chair of the Department of Biomedical Engineering, he is credited with overseeing the launch of what is now one of Rochester's fastest-growing and most popular majors. As a scientist, he has been widely recognized for his study of cell and membrane mechanics and the structural basis for the mechanical behavior of cells and membranes.
Since 2013, he has served in University roles as a leader in efforts to expand research initiatives and funding, as well as Rochester's prominence as a research institution among the nation's universities.