Graduate Program Coordinator Donna Porcelli receives Witmer Award for Distinguished Service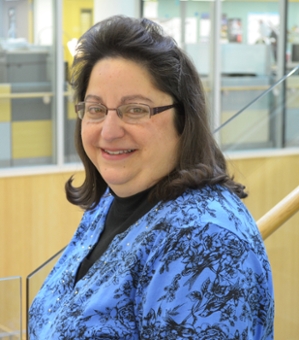 BME Graduate Program Coordinator Donna Porcelli has been honored with the Witmer Award for Distinguished Service, which is reserved for staff members who have demonstrated significant and longstanding contributions to the University.
After joining the University in 1976 as a secretary in the Department of Chemical Engineering, Donna Porcelli built a reputation for being a loyal, honest, and "extremely knowledgeable" resource for students and faculty in the department. When she moved to the Department of Biomedical Engineering in 2001, that reputation continued to grow.
"Donna has been on our administrative staff since the beginnings of our BME department, and her outstanding dedication and talent have been key to our growth and success," says Diane Dalecki, Distinguished Professor and chair of the Department of Biomedical Engineering. "As our BME Graduate Administrator, Donna has guided every BME graduate student through our program, and assisted each BME faculty member with their graduate students and graduate education endeavors. Donna has contributed in countless ways to our department, always with the utmost expertise, professionalism, enthusiasm, and genuine concern for best outcomes for our students, faculty, and staff. There is no one more deserving of a Witmer Award for Distinguished Service than Donna and we are delighted that she has been recognized with this honor."
In her current position, Porcelli plays a key role in graduate admissions and recruiting activities for the department. Colleagues say she has touched the lives of countless graduate students in biomedical engineering over the years, and has helped them be successful.
"Donna's dedication to the University's mission and values can be summed up by her diligent and tireless work ethic, which has made her a rock for our department," writes Hani Awad, professor of biomedical engineering and chair of the department's graduate committee. "Donna is willing to do whatever it takes to support our graduate program."
Donna was honored with a reception in Helen Wood Hall and her name will be inscribed on a plaque in the Medical Center as well as in Wallis Hall on the River Campus.