August 17, 2017
Jacob Kallenbach receives prestigious Edward Peck Curtis Award for Excellence in Teaching by a Graduate Student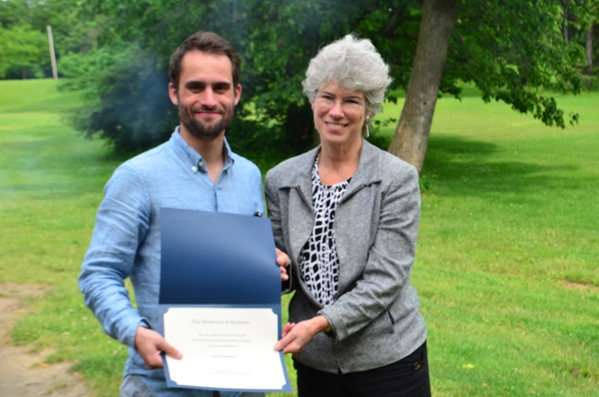 Congratulations to PhD candidate Jacob Kallenbach who was awarded the prestigious Edward Peck Curtis Award for Excellence in Teaching by a Graduate Student. Jacob was nominated by Professor Ian Dickerson for his service as a Teaching Assistant for his course, BME411, Cell and Molecular Biology, in the Fall of 2016.
"Jacob was always well prepared with the course material, had a friendly manner, and was able to engage the students and help them learn the material," said Professor Dickerson. "The BME411 class did very well this year, and their success is due in large part to Jacob's outstanding performance as a Teaching Assistant. He ranks as one of the best TA's I have worked with over the past 20 years."
Established to encourage excellence in the work of graduate students who assist undergraduate instruction, the Edward Peck Curtis Award for Graduate Students is awarded to a small number of full-time graduate students with a role in undergraduate education. Nominees are expected to have had significant face-to-face interaction with undergraduate students in the classroom or laboratory. Awards are determined by the Vice Provost & University Dean of Graduate Studies, based on nominations from individual departments or undergraduate student groups.