Geoffrey Rouin Named United Soccer Coaches All-American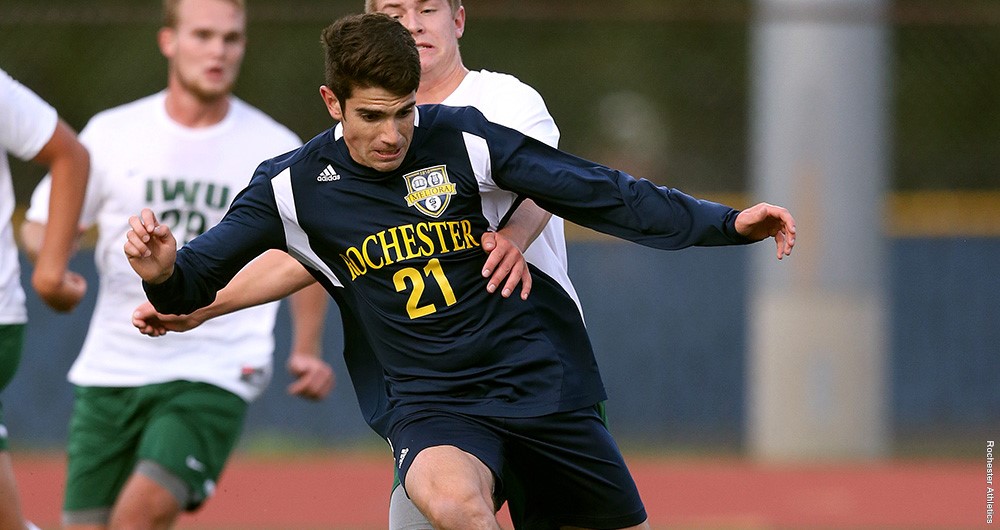 A fantastic senior season has culminated in BME undergraduate student Geoffrey Rouin of the Rochester men's soccer team earning All-American honors as announced by the United Soccer Coaches on Thursday evening.
 
Rouin, a third team Division III All-American in 2017, broke out in 2017, scoring a career high 14 goals, also dishing out two assists for 30 points, the most points scored in a single-season by a Rochester player in 11 years.

The senior started all 21 games for Rochester and scored seven game-winning goals, tying the Rochester single-season record.  He recorded both goals in a thrilling 2-1 comeback win over #16 Amherst in the NCAA Sweet 16 round of the Division III Tournament, helping Rochester advance to the national quarterfinals this year, matching the team's best ever run in the postseason tournament.
 

Rouin ranked 2nd in the UAA in goals and game-winners, was 3rd in points and shots and was 4th in games started.  Nationally, he ranked 14th in GWG, was 48th in total goals, 66th in goals per game (0.67), 72nd in total points and 110th in shots on goal per game (1.71).
For his career, the Penn Yan, NY native ends with 52 games played, 17 goals, three assists for 37 points.  He tallied 109 shot attempts, 58 of which were on goal and ended with this seasons seven game-winning goals.  He notched a hat trick against RIT on September 16th this season, becoming just the 11th UR player in school history to score three goals in a single game.

Rochester's All-American award earned by Rouin this season is the first since 2013 when two players were named, with Keith Grafmeyer being named 2nd team by D3soccer.com and Alex Swanger earning 3rd team recognition from the then National Soccer Coaches Association of America (NSCAA), which is now known as the United Soccer Coaches.