Three BME faculty members inducted to AIMBE's College of Fellows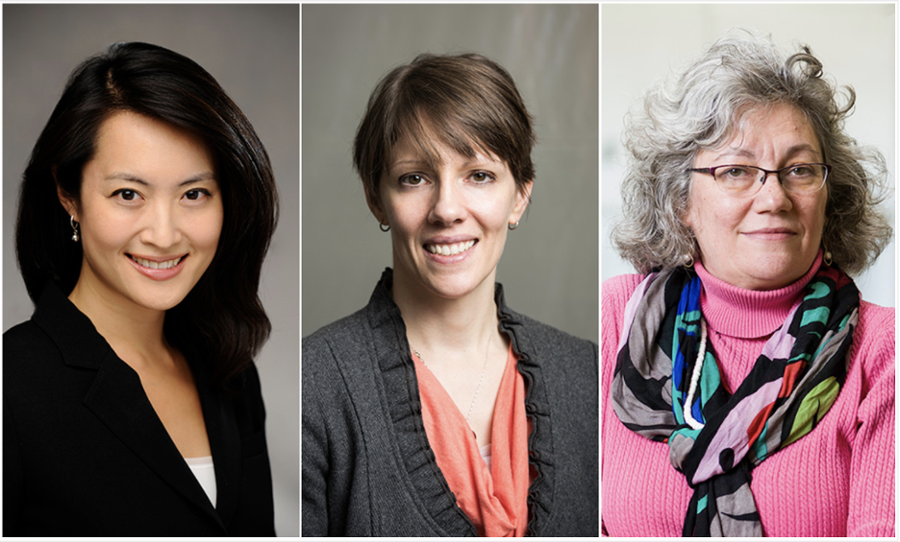 Three biomedical engineering faculty members at the University of Rochester–Danielle Benoit, Catherine Kuo, and Amy Lerner–have been inducted as fellows of the American Institute for Medical and Biological Engineering (AIMBE).
"Three new fellows in one year is fantastic," says Diane Dalecki, chair of the Department of Biomedical Engineering. "We are so proud of all three of our recipients, for their innovative research, teaching excellence, and outstanding service to their field and to our University."
Members of AIMBE are employed in academia, industry, clinical practice, and government. AIMBE's College of Fellows is comprised of the top two percent of medical and biological engineers. A total of 156 fellows–chosen for outstanding contributions in research, practice, or education–were formally inducted at the AIMBE annual meeting in Washington, D.C., on March 25.
Danielle Benoit, an associate professor of biomedical engineering and chemical engineering, was elected for her "outstanding contributions to the design of 'smart' materials to treat diseases, control cell behavior, and answer fundamental biological questions."
A member of the faculty since 2010, Benoit develops therapeutic biomaterials for tissue regeneration and the targeted delivery of therapeutic drugs. For example, she and her collaborators developed a device that selectively delivers drugs to sites of bone resorption to heal fractures and treat osteoporosis. She has also pioneered the development of hydrogel-based engineered extracellular matrices for bone and salivary gland tissue regeneration.
Catherine Kuo, an associate professor of biomedical engineering and orthopaedics, was elected for her "innovative contributions to understanding mechanical regulation of embryonic development to inform tissue engineering and regenerative medicine strategies."
Kuo joined the Rochester faculty in 2015 and directs a multidisciplinary research team in developing novel strategies to regenerate adult tissues from stem cells inspired by embryonic development. She and her students have discovered that adult stem cells behave like embryonic cells when cultured in biomaterials that are engineered to mimic embryonic tissue. These adult stem cell-regenerated tissues can then be implanted in the body to replace diseased or injured tissues that have limited capacity to heal.
They have also discovered how embryo movements, like kicking, directly regulate the development of musculoskeletal tissues. These studies have led to the discovery of therapeutic molecules that can be used with physical rehabilitation to promote healing of adult musculoskeletal tissues, such as tendons, after injury.
Amy Lerner, an associate professor of biomedical engineering and mechanical engineering, was elected for her "outstanding contributions to orthopaedic biomechanics, engineering design education, and diversity engineering and academia."
Lerner was a softgoods design engineer for ILC Dover's program that made Shuttle space suits for NASA before joining the University in 1997. Her research has focused on gender and ethnic differences in anatomy, the role of the meniscus in pressure distributions, and the effects of obesity on risks for knee osteoarthritis.
She is academic director of the Center for Medical Technology and Innovation, a Department of Biomedical Engineering master's program in medical device design that partners students with clinicians at the Medical Center. Lerner also directs the department's senior design program, which engages teams of students in "real-world projects" for companies, community agencies and Medical Center clinicians.
Lerner also co-chairs the University's Commission on Women and Gender Equity in Academia, which received a 2018 Presidential Diversity Award for its work to improve diversity and inclusion. Lerner received the University's Georgen Award for Excellence in Undergraduate Teaching in 2016.