May 7, 2019
BME students among winners of Forbes Entrepreneurial Competition
Congratulations to the winners of this year's Charles and Janet Forbes Entrepreneurial Competition, two of which are BME students. This competition is designed to encourage undergraduate engineering students to consider the commercial potential of the processes or topics they are studying. This year, fourteen teams applied and five were selected to present to a panel of judges.
Sara Anis '20 and her teammates on the EZ Water Team won first place and $5,000 for their proposal, which aims to by provide cheap, reliable, quality drinking water to the doorsteps of millions of Pakistanis through a hyperlocal network of micropreneurs who leverage modern Hollow Fiber Membrane technology to filter, bottle, and distribute water from under one roof.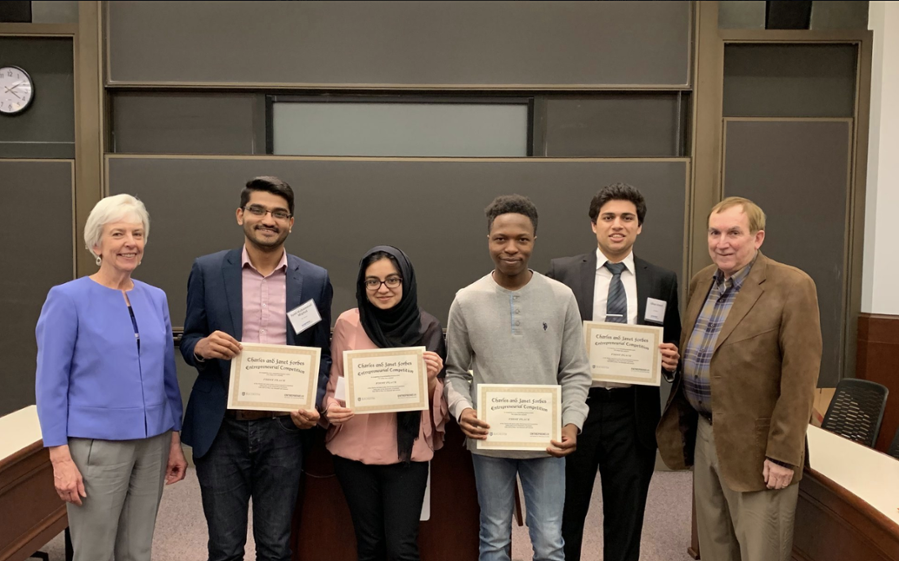 Nicholas Drogo '19 and his teammates on the WetWare Systems team won second place and $2,500 for their project, which targets athletic, civilian, and defense-related traumatic brain injuries with novel biotechnology to preemptively mitigate neurotrauma resulting from impact, acceleration, and explosive blast.