Daniel Green and Tiffany Nicholas receive Student Life Awards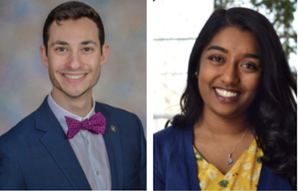 Daniel Green '20, of biomedical engineering and Tiffany Nicholas '20 (T5) of biomedical engineering are recipients of the University's Student Life Awards (also known as "Rockys"). Although the ceremony has been postponed due to the COVID-19 pandemic, Matthew Burns, the College's dean of students and host of the annual dinner, says the impact of the students honored at the "Rockys" remains strong.
"The Rockys represent the tremendous effort, talent, and commitment our students have to our University and its community," Burns says. "It's with an enormous sense of sadness and disappointment that we cannot have the gala event in person this year. However, whether our winners are just down the street practicing social distancing or halfway around the world has no bearing on their impact upon the University, their worthiness in receiving the award, or our pride in their many accomplishments. It is as high an honor as ever to reach out to our remarkable Rockys recipients, thank them for all their hard work, and hope that this message finds them safe and well."
Daniel Green '20, of biomedical engineering, who is also completing a minor in psychology, is recipient of the Award for Outstanding Fraternity and Sorority Leadership. This also recognizes significant contributions to the greater campus community. Daniel has volunteered at the Child/Adolescent Inpatient Psychiatry Unit at the Medical Center working with patients, as a tutor for a Sigma Phi Epsilon spelling bee competition for disadvantaged city school students, and as a student volunteer-in-training coordinator and teacher for a youth education program at Temple Beth El.
Tiffany Nicholas '20 (T5) of biomedical engineering, who is also earning a minor in music, is recipient of the Percy Dutton Prize, awarded to a student of the graduating class who has excelled in "wholesome, unselfish, and helpful influence" among fellow students. Tiffany has served as a campus tour guide, teaching assistant, orientation leader, communications and graphics assistant, admissions interviewer, peer advisor, tutor, and student alumni ambassador. Her Take 5 topic is Gender Hallmarks and Representation: Using Media to Examine Gender Perception in Society.