Three UR BME women recognized for outstanding contributions in honor of University's Celebration 2020 initiative
The University of Rochester is observing two important anniversaries in women's history this year: the 200th anniversary of Susan B. Anthony's birth, and the 100th anniversary of the adoption of the 19th Amendment, giving women the right to vote.
In conjunction with the University's Celebration 2020 initiative, the Hajim School of Engineering is celebrating the women who have made special contributions to engineering and computer science at the University of Rochester. This week, we Hajim School highlights three UR BME women who have contributed greatly to the success of the department of biomedical engineering. 
High praise for Sally Child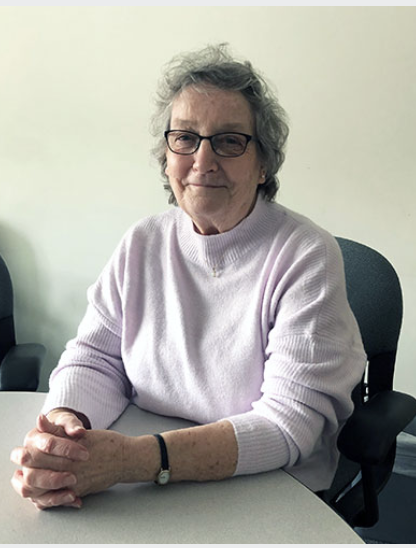 Sally Child is not one to toot her own horn.
But that's okay. Plenty of other people are more than willing to do it for her.
Drop by the annual Rochester Center for Biomedical Ultrasound (RCBU) Symposium, for example, and you will invariably hear former students, now pursuing successful careers in academia or industry, sing the praises of the senior lab associate who showed them how to do the experiments necessary for a master's or PhD thesis.
Indeed, "if you talk to anyone around the world about biomedical ultrasound research, or the biological effects of ultrasound, they will know her name," says Diane Dalecki, director of the RCBU and chair of the Department of Biomedical Engineering.
And small wonder. Child's name appears on nearly 70 journal articles, including first authorship of "really seminal papers that are important for understanding how sounds interacts with tissues, and the safe use of ultrasound," Dalecki says.
That's pretty impressive. Especially when you consider that Child began working at the University in 1965 without knowing "anything about engineering," she says.
An early interest in science
Child was born in Lowville in Upstate New York and became interested in science at an early age. "I grew up on a small farm, so there were lots of pollywogs (tadpoles) and other animals around," she says.
She earned an associate degree in laboratory technology from SUNY Morrisville in June 1965. That same month she was hired to work in the lab of Edwin Carstensen, a young professor of electrical engineering who became a pioneer in the bioeffects of ultrasound and the founding director of the RCBU.
"He liked me because he could train me," Child says. "I didn't know anything about engineering, and his technician was leaving."
Carstensen, she adds, "was wonderful. He was kind. He cared about you. He taught you the scientific method and anything you needed to know. And he never got mad. I almost tear up thinking about him."
Women rarely worked in an engineering lab in those days. But it made no difference to Carstensen. He fully supported Child's decision to attend night classes at the University, where she received a BS in general science in 1973, and a master's degree in environmental science in 1979.
"In the early years, being one of the only women in research in electrical engineering was a little intimidating.," Child says.  "However, Dr. Carstensen supported me in many ways and I will always be grateful."

For example, even though Child was not a PI (principal investigator), Carstensen didn't hesitate to list her as first author of journal papers.
"Carstensen was very much of a mind that if you were doing the work, and you were the main contributor, you would be the first author," Dalecki says.
From FORTRAN to MatLab
Child's research partnership with Carstensen lasted for more than 30 years.  In 2000, after Carstensen's retirement, Child became senior lab associate for Dalecki, who was Carstensen's last PhD student.
During that 52-year span, Child engaged in a wide range of research. Her initial work with Carstensen, for example, included studying the dielectric properties of bacteria, erythrocytes and various solutions, and the effects of ultrasound on various other biological materials, such as plant roots, liver, and red blood cells.
Later, she helped Carstensen's lab discover the effects of ultrasound and lithotripter fields (shock waves used to break up kidney stones, for example) on kidney and lung tissue.
After joining Dalecki's lab, she contributed to a project sponsored by the Office of Naval Research to study the response of biological tissues to underwater sonar fields. More recent projects included using ultrasound to engineer microvessel networks in collagen gels, and patterning cells in 3D collagen hydrogels as part of the lab's interest in using ultrasound for tissue engineering and regenerative medicine.
Child also experienced first-hand the remarkable improvements in laboratory equipment and computational tools. The analogue oscilloscopes she once used became digital—and much smaller. She remembers early in her career using a program called Fortran to enter experimental data on punch cards, feeding them into a University computer the size of two rooms, and sometimes waiting until the next day to get the results.
Most recently, she gathered data with Matlab and analyzed it with Excel—on a laptop.
"It hasn't been dull; it's been fascinating," Child says. "I think if I had constantly been doing the same thing, I wouldn't have lasted as long."
'Never one to hide in the lab'
Equally important has been Child's role as a mentor for dozens upon dozens of students -- an increasing number of them women -- who have worked with her in the labs. "She's a great listener," Dalecki says. "But she really wants to teach students the rigorous scientific method and how to be a good scientist. And that's important whether you're 18 years old and coming into a lab for the first time, or a postdoc who needs to learn new skills that the lab can offer."
Child officially "retired" two years ago. However, much as an emeritus professor might do, she still drives in once a week from her home near Geneseo to contribute to Dalecki's lab meetings with collaborator Denise Hocking, professor of pharmacology and physiology, and biomedical engineering.  
 "I miss it," she says. "All in all, these past 50 or so years were great. I couldn't have asked for better PI's or better people to work with. It's been like a family."
Child, as much as anyone, has helped make it so.
"She was never one to just hide in the lab," says Dalecki. "She has been a contributor to the department in every way, going to senior design events, pitching in when we need people to help out with special events, and welcoming and interacting with people who are new to the department."
"She's an important part of our community."
Beloved graduate program coordinator Donna Porcelli retires after 42 years at University, 17 years in BME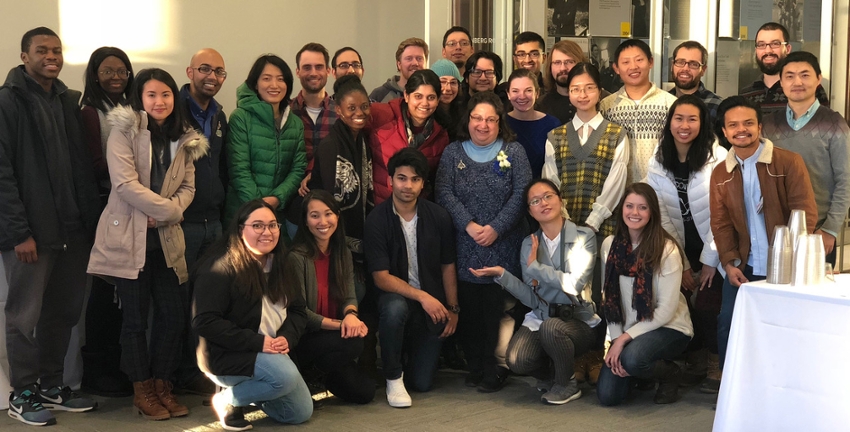 Donna Porcelli has embarked on a well-earned retirement -- despite the strong reservations of Professor James McGrath and no doubt many other faculty members in the Department 
Donna Porcelli has embarked on a well-earned retirement -- despite the strong reservations of Professor James McGrath and no doubt many other faculty members in the Department of Biomedical Engineering.
"It's a bad decision," McGrath deadpanned, drawing laughter from more than 90 well-wishers who gathered to honor Porcelli, the department's graduate program coordinator, at a farewell party in the Eisenberg Rotunda.
"The reason that we can't come to grips with this is we can't imagine the department without you," said McGrath. "We've never had a department without you."
After joining the University in 1976, Porcelli spent 25 years in the Department of Chemical Engineering, working her way up the ranks from secretary to administrative assistant. She handled nearly every aspect of the department's budget and its undergraduate and graduate programs at one time or another. Along the way, she accumulated a wealth of knowledge about departmental procedures and university policies.
So, she was a godsend when she joined the newly formed Department of Biomedical Engineering in 2001.  At the time it had a department chair, four brand new junior faculty members, and one other staff person.
"We were all newbies," said Richard Waugh, the department's founder and first chair. "I had never been a department chair, none of the faculty had been faculty before, and Donna was the one who provided us with the guidance and the knowledge it took to really build this department into what it is today."
"We had a lot of enthusiasm in those early days, but a little less respect for the fact that there were traditions and rules and other things that we had to follow," McGrath said. "(Donna) made sure we didn't step out of bounds."
Initially, Porcelli's duties included administering the graduate program and faculty grants, assisting with the budget, and "pretty much administrating a new faculty search every year – so basically everything," current chair Diane Dalecki recalled.
"When I was a new assistant professor, Donna's vast knowledge was simply invaluable to me in recruiting and advising graduate students, submitting grant proposals, and navigating ORPA (Office of Research and Project Administration), UCAR (University Committee on Animal Resources) and every other acronym that is new to a new faculty member."
Porcelli, who received a University Witmer Award for Distinguished Service in 2017, has had her biggest impact in recent years as the department's graduate program coordinator. That included traveling each year to the BMES annual meeting as part of her efforts to recruit students; tracking master's students, PhD candidates, and postdoctoral fellows every step of the way through their programs; scheduling graduate student committee meetings; and handling graduate student payroll.
Graduate student Christine Massie praised Porcelli for going "above and beyond" in helping her students. "We are constantly going into her office with either really big things, like preparing a (thesis) defense, or stressing over something little, like how to do a title page. Donna is always there for us."
Raul Rodriguez drew laughter when he insisted, tongue-in-cheek, that "I'm Donna's favorite student, ever, in all the 17 years she's worked in the department. She told me."
On a more serious note he described how "every time I had question I would come to you and you would solve it. Every time I went on a graduate student recruitment weekend, I would tell recruits that I attribute a lot of what I love about this graduate program to Donna."
Carla Boff, the department's lead administrator, praised Porcelli for helping create a "warm, wonderful, professional" atmosphere in the department. She described Porcelli's work ethic: 10-hour days, plus weekends when needed, helping at events when "she doesn't even have to."
"She's just the best resource ever."
Porcelli acknowledged that retirement is a big step for her, but that she's looking forward to some free time. "I have a lot of great memories," she said. "These last 17 years in BME have been a wonderful experience."
Dottie Welch's legacy lives on
For 13 years, anytime students had a question about undergraduate requirements in the Department of Biomedical Engineering, they would talk to Dottie Welch.
Transferring credits? Students would have the form signed by Dottie Welch.
And those red forms listing the classes they just pre-registered for? Students would turn those in to Dottie Welch, as well.
And when stress got them down, or they doubted their ability to keep up with their course load, well, students could go to Dottie for encouragement and advice as well.
Ever since there's been a Department of Biomedical Engineering, Dottie Welch has been the "go to" person for a steadily growing number of undergraduate students regarding everything that pertains to their academic lives.
With her retirement as BME's undergraduate coordinator, that is no longer the case. However, the Hajim School is ensuring that her legacy and commitment live on long after her retirement. Each year, the Hajim School presents an annual Dottie Welch Student Enrichment Award to a Hajim staff member "whose performance and dedication enriches the student experience in the tradition exemplified by Dottie Welch."
Welch's retirement "is a milestone in the history of our program," says former department chair Richard Waugh. "Dottie has played a huge role in bringing us to where we are today."
Welch began working at the University 26 years ago in electrical and computer engineering. She moved to BME 13 years ago when Waugh was putting together the new department.
BME graduated 10 students that first year. Now, BME's undergraduate enrollment is more than 300. Each one has had at least two emails a year from Welch, indicating the student's status, unmet requirements, and any problems or concerns. "It was important to them as well as to me," Welch says, "because if I listed something they didn't agree with or know about, we could work together to resolve it."
Welch "was always two steps ahead of me in anticipating what students' needs would be and then carving time out of her own life to make it happen," Waugh said.
The interaction with students by Welch and other BME staffers has paid off. As one PhD student acknowledged in his dissertation, "I could not have endured the stringent requirements of the undergraduate program and the confusing formalities of the graduate program without the help of our program coordinators, Dottie Welch and Donna Porcelli. Thank you for your constant encouragement and unsurpassed patience."
The interaction with students -- watching them "grow so much from being freshmen to seniors" -- has been the most enjoyable part of her job, Welch says. It is especially rewarding to give encouragement to students who have been struggling, to urge them to stick with it, and then see them accomplish something they never thought possible, such as landing a good job.
They return as alumni, and tell her about their families, their promotions, or how they went into industry for a while and then went back to grad school. "It's like watching your own children grow up," Welch said. "It makes you feel like a proud parent."