BME graduate students win University's top awards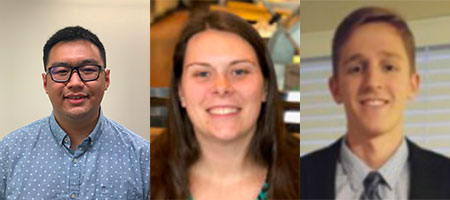 Three Department of Biomedical Engineering students this spring won the most prestigious awards granted to graduate students by the University of Rochester.
Kevin Ling, a PhD candidate in the lab of Danielle Benoit, professor of biomedical engineering, was among the recipients of the Edward Peck Curtis Award for Excellence in Teaching by a Graduate Student. The award recognizes graduate students who excel in advancing the teaching mission of the University by providing highly skilled and innovative instruction to undergraduates. Ling took the lead in adding a unit on CAD (computer aided design) for BME 201: Fundamentals of Biomechanics taught by Professor James McGrath.
"Kevin's work in BME 201 has improved our undergraduate program in a lasting way," McGrath says. "BME students will have a working knowledge of an engineering skill that will benefit them at the University and well into their careers."
Alyson March, also a PhD student in the Benoit lab, received a Donald M. and Janet C. Barnard Fellowship. These fellowships recognize outstanding achievement by PhD students in engineering or the natural sciences, as evidenced through their coursework and dissertation research work, and their leadership qualities, outreach and mentoring experience, and strong research portfolio.
March is fabricating a hydrogel that can mimic the native periosteum that surrounds bone. The synthetic periosteum can then aid in healing of allografts used to treat critical size bone defects.
Alec Salminen, a PhD student in McGrath's lab, received an Outstanding Dissertation Award from the University's AS&E Office of Graduate Education and Postdoctoral Affairs, for Microvascular Mimetics for the Advanced Study of Endothelial Dysfunction and Leukocyte Extravasation in Inflammation.
Salminen is now a postdoctoral fellow at the National Center for Toxicological Research at the Food and Drug Administration.
"The faculty in BME are extremely proud of the accomplishments of our graduate students this past year. Thanks to these students, our graduate programs are strong and healthy," says Mark Buckley, associate professor of biomedical engineering and director of the department's graduate studies. "We are especially thrilled to see Alyson, Kevin, and Alec's efforts recognized through these three prestigious awards."
---
Let's keep in touch