Duncan Moore Recognized for Advancing Entrepreneurship at Universities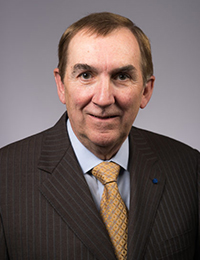 Duncan Moore '74 (PhD), the vice provost for entrepreneurship and the Rudolf and Hilda Kingslake Professor of Optical Engineering, received the Legacy Award from the Global Consortium of Entrepreneurship Centers. The award recognizes pioneers in advancing entrepreneurship at universities, including the creation of high-impact centers.
Moore, the founder of Gradient Lens Corp., has been instrumental in building the University's Ain Center for Entrepreneurship and Innovation from inception into one of the best in the country. From 2004 to 2009, he was responsible for an initial $3.5 million Ewing Kauffman Foundation grant, matched with $7 million from the University, that launched the center. In 2006, Moore was appointed director for entrepreneurship, and the following year, vice provost for entrepreneurship.
Under Moore's direction, the center, named in honor of benefactors Mark S. Ain '67S (MBA) and Carolyn Ain, provides mentorship, training, and support in many ways. In addition to classes and guest speakers, the center offers programs such as the University of Rochester Student Incubator at NextCorps, a National Science Foundation Innovation-Corps (I-Corps) mentorship program, several student business plan competitions, the e5 program for select undergraduates looking to launch an enterprise or intern at a startup, and the Technical Entrepreneurship and Management master's program.
---
Related Links...
Follow UR BME Department on