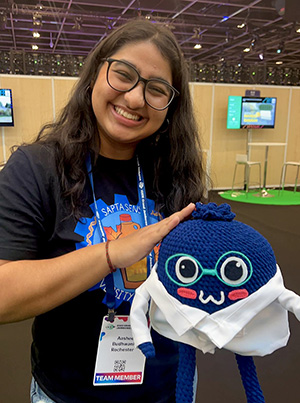 The experiences have helped the biomedical engineering major from Dubai "discover my passion of helping the community using critical thinking skills by applying shared knowledge of medicine and engineering in critical situations and solving real life problems," she says.
For example, Budhwani works as a research assistant at the University's Wilmot Cancer Institute, as a teaching assistant for calculus and general chemistry courses, and a tutor for biology courses. She has also served as team lead for a water storage project by the Engineers Without Borders (EWB) student chapter.
One of the "most rewarding" of her experiences was serving as lab and safety manager for the University's 2022 iGEM (international genetically engineered machines) team, which received a Gold Medal in addition to three nominations for best hardware, best measurement, and the best composite part at this year's iGEM Paris Jamboree.
http://www.hajim.rochester.edu/news/2022/aashee-budhwani-igem.html