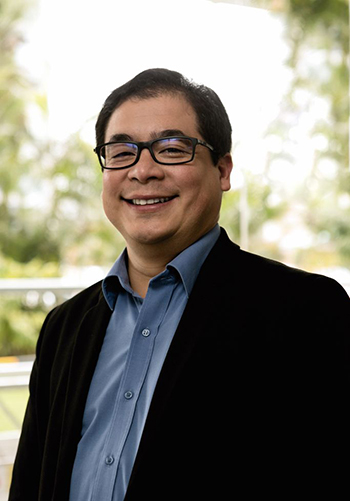 Benjamín Castañeda
Visiting Professor of Biomedical Engineering
PhD, University of Rochester, 2009
---
Biography
Benjamín Castañeda joins the University of Rochester Department of Biomedical Engineering faculty in July 2024, and is currently a Visiting Professor. He obtained his M.Sc. in Computer Engineering from Rochester Institute of Technology (2004) and his Ph.D. in Electrical & Computer Engineering from University of Rochester (2009). He is currently a full professor of the Department of Engineering and Director of Academic Affairs of the School of Science and Engineering at the Pontificia Universidad Catolica del Peru. In this university, he founded the Medical Imaging Laboratory and the Biomedical Engineering undergraduate program. For his research work, he has been twice finalist for the Young Investigator Award from the American Institute of Ultrasound in Medicine (2007, 2011). He obtained an honorable mention from the worldwide engineering contest of Mondialogo (sponsored by UNESCO and Daimler, 2007), obtained an honorable mention in the SPIE Medical Imaging International Conference (2008). In 2013, Dr. Castaneda received the Academic Innovator Award from the Peruvian Government for his continuous work in the development of medical technology (SINACYT/CONCYTEC, 2013). The same year, he won the Best Patent from the Peruvian Government (INDECOPI, 2013) for an automated staining system for tuberculosis detection. The same invention received a silver medal at the International Exhibition of Inventions of Geneva (2014). He is also the founder of Medical Innovation & Tecnology, a Peruvian start-up focused on the development of telemedicine technology for rural areas. During the COVID-19 pandemic, he led PUCP's effort to build 350 mechanical ventilators which were used in more than 20 hospitals in Peru.
Research Overview
My research focuses on the development of point-of-care medical devices for limited-resource settings. These environments often lack the necessary equipment, infrastructure, and specialized personnel, which presents a unique set of challenges. However, these constraints also provide an opportunity for 'reverse innovation'; i.e. the process of designing products in a limited-resource setting and then adapting them for use in a high-resource setting. Designing medical devices that can function effectively within these limitations, involves simplifying the technology, making it more robust and user-friendly, and reducing the cost. Interestingly, these innovations often prove to be beneficial in high-resource settings as well, where cost-effectiveness, simplicity, and robustness are also valued. In particular, my research uses biomedical ultrasound, photogrammetry and AI techniques to help diagnose and treat chronic diseases such as cancer, diabetic foot, or Parkinson's disease.
Research Interests
Development of Point-of-Care Technologies for resource limitted settings. Development of ultrasound-based imaging diagnostic techniques.