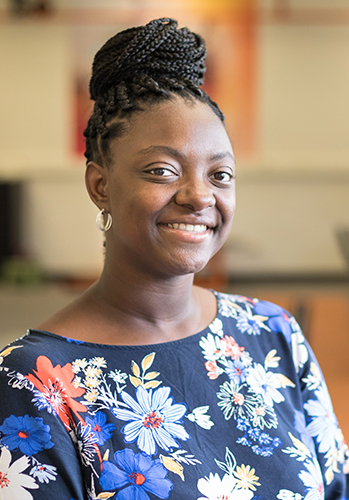 Cherice Natasha Hill
Visiting Professor of Biomedical Engineering
PhD, Virginia Polytechnic Institute and State University, 2020
---
Biography
Dr. Cherice Hill joins the University of Rochester Department of Biomedical Engineering faculty in January 2024, and is currently a Visiting Professor. She received a BS in Biomedical Engineering from the University of Virginia, and her MS and PhD in Biomedical Engineering from Virginia Tech, focusing on movement mechanics in diverse populations as they relate to injury and disease risk. She extended her training with a postdoctoral fellowship in the multidisciplinary Clemson-MUSC Bioengineering Program studying temporomandibular joint function, structural and mechanical influences of ligamentous structures, and related health disparities. Her ongoing research on lower extremity and temporomandibular joint mechanics aims to improve diverse representation and optimize research translational equity to mitigate health disparities.
Research Overview
Hill's research aims to characterize joint biomechanical function, particularly as it relates to pathologic risk, optimization of clinical outcomes, performance, and health disparities. Her doctoral research evaluated lower extremity joint (hip, knee, ankle) biomechanics in a racially diverse population to inform further investigation of racial disparities in musculoskeletal injury and disease risk. Her postdoctoral research implemented a multi-scale approach to characterize biomechanical function of the temporomandibular lateral capsule ligament complex to improve mechanistic understanding of temporomandibular joint dysfunction.
At Rochester, Hill will investigate multi-scale biomechanics of the human temporomandibular and lower extremity joints with a particular focus on diverse populations. This work will address musculoskeletal health disparities by evaluating mechanisms of pathology and improving research translational equity.
Hill has received an NIH K99/R00 MOSAIC grant and a Howard Hughes Medical Institute Gilliam Fellowship to support her research and was an American Association of Dental, Oral, and Craniofacial Research Hatton Competition finalist. She has authored 15 journal articles disseminating her research.
Research Interests
Multi-scale biomechanics of the human temporomandibular and lower extremity joints with a particular focus on diverse populations