Advocacy and Action Award Winner, Astrid Mueller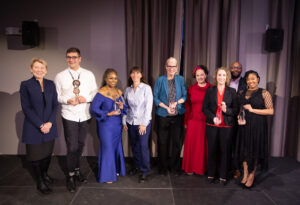 This award recognizes staff, postdoctoral fellows, or faculty who exemplify excellence in developing and sustaining an infrastructure to support equity, diversity, and inclusion.
Dr. Astrid Mueller joined Chemical Engineering Department of the Hajim School of Engineering and Applied Sciences four years ago and has taken decisive steps to support and expand diversity, equity, and inclusion (DEI) in her department and across the institution.
In addition to her research in laser-derived nanomaterials, Dr. Mueller founded and chairs the Chemical Engineering DEI Committee, which works to diversify the departments faculty, to develop a pipeline to diversify student bodies at both the undergraduate and graduate levels, and to diversify the Chemical Engineering advisory board.
Dr. Mueller created highly visible DEI content to promote diversity across all aspects of the department website and initiated an annual DEI panel of Equity and Inclusion in Chemical Engineering, Dr. Mueller is strong supporter of both women and underrepresented students at all levels of the career pipeline, from leading STEM workshops for minority high school students to mentoring department graduates in their careers.