Distinguished Su Lectureship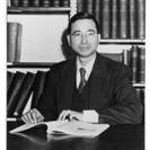 With the establishment of the Su Conference Room and the Su Distinguished Lecture Series, the University of Rochester joins the Su family in honoring Professor Su's long and distinguished career in Chemical Engineering and the spirit with which he pursued it.
For more information see about the lectureship below.
---
The 20th G.J. and S.T. Su Distinguished Lectureship
Speaker: Professor Kristin Persson
                UC Berkeley/LBNL

Date: April 19, 2023
Lecture room: Hawkins-Carlson Room (RRL)
Seminar: 11:30am, Luncheon to follow
Weblink: https://perssongroup.lbl.gov/
 Zoom: https://rochester.zoom.us/j/92449043614
---
About the Lectureship
In honor of Professor Gouq-Jen Su (1908-1996)
Professor Su lived a long and productive life, dedicated to the pursuit of ideas and ideals. He was born in 1908 in Fukien, a coastal province in the southern region of China. He attended a Northern Baptist missionary school as a teenager. In 1931, at the age of 23, Professor Su graduated from Tsing Hua University in Peking. In 1934, Gouq-Jen Su was one of the several college graduates selected, through a nation-wide examination, to further his studies at the graduate level, in the United States. That summer, he journeyed to MIT to continue his studies and, in three years, received his D.Sc. degree.
During World War II, Dr. Su served for four years as chairman of the Chemical Engineering Department at Tsing Hua University. He helped design and operate an alcohol fermentation plant and a sugar refinery in Kunming. The alcohol produced was mixed with gasoline and was utilized as liquid fuel for U.S. Army motor vehicles traveling on the Burma Road, some forty years ahead of gasohol.
Professor Su joined our faculty at the University of Rochester in 1947 and retired in 1974, though continuing as Emeritus for the remainder of his life. Over his active fifty-year career, Professor Su supervised 33 master's students and 15 doctoral students. Among his numerous publications, his outstanding papers on applied thermodynamics have been widely cited and are considered landmarks in the field. He proposed a modified form of the van der Waals Law of Corresponding States. Every thermodynamics textbook, to this day, contains his generalized equations of state for real gases.
Shou-Tsung Su grew up and was schooled in a family complex which is now a National Museum and was the location for the movie "Raise the Red Lantern". She left home to attend Nankai High School in Tianjin and was one of a handful of women to graduate from the prestigious Tsing Hua University, where she majored in chemistry and met Gouq-Jen Su. Shou-Tsung was an award-winning painter of Chinese watercolors, loved gardening, cooking
Past Lecturers
Past Su Distinguished Lecturers

| | Date | Lecturer | Institution |
| --- | --- | --- | --- |
| 19th | April, 6, 2022 | Professor Thomas Jaramillo | Stanford University |
| 18th | March 17, 2021 | Professor Alexis Bell | University of California-Berkley |
| 17th | April 18, 2019 | Professor Daniel G. Nocera | Harvard University |
| 16th | April 25, 2018 | Professor Carol Hall | North Carolina State University |
| 15th | April 26, 2017 | Professor Linda J. Broadbelt | Northwestern University |
| 14th | April 27, 2016 | Professor Paula T. Hammond | Massachusetts Institute of Technology |
| 13th | April 29, 2015 | Professor Ching Tang | University of Rochester |
| 12th | April 23, 2014 | Professor Donald R. Paul | University of Texas at Austin |
| 11th | May 1, 2013 | Professor Christopher N. Bowmen | University of Colorado Boulder |
| 10th | April 25, 2012 | Professor James C. Liao | University of California, Los Angeles |
| 9th | May 5, 2010 | Professor Brian Korgel | University of Texas at Austin |
| 8th | May 20, 2009 | Professor Tobin Marks | Northwestern University |
| 7th | April 30, 2008 | Professor Joseph M. DeSimone | University of North Carolina at Chapel Hill |
| 6th | March 22, 2007 | Professor Michael Graetzel | Swiss Federal Institute of Technology |
| 5th | April 26, 2006 | Professor Eric W. Kaler | University of Delaware |
| 4th | April 25, 2005 | Professor Hector D. Abruna | Cornell University |
| 3rd | April 13, 2004 | Professor Thomas A. Zawodzinski | Case Western University |
| 2nd | May 9, 2003 | Professor Jacob Israelachvili | University of California, Santa Barbara |
| 1st | April 24, 2002 | Professor Jackie Ying | Massachusetts Institute of Technology |
---