News & Events
Professor Richard "Dick" Eisenberg Passes Away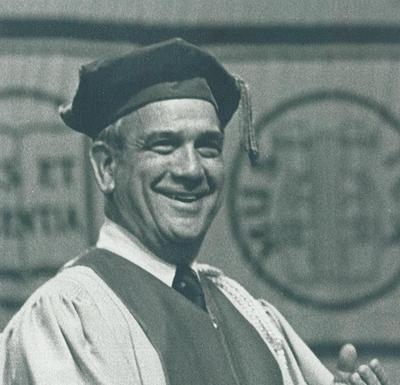 The CHE department is saddened by the passing of Professor Dick Eisenberg, one of the greatest supporters of the Chemical Engineering program at the University of Rochester.  Many recent graduates know Prof. Eisenberg from his creation of the Eisenberg summer research fellowships for undergraduate students, and the annual Eisenberg award given at graduation.  Some of our older alumni remember Prof. Eisenberg as a teacher and mentor.  He joined the Chemical Engineering department at Rochester in 1959, and remained here until his retirement in 1983.  However, he remained actively engaged with the department as Professor Emeritus until his passing.  Prof. Eisenberg was very generous with his time and provided mentoring for faculty and students alike. Professor Eisenberg will be greatly missed.
Obituary:
Eisenberg, Richard F. "Dick"

Rochester: August 4, 2013 at the age of 93. Predeceased by his wife Harriet Rippey Eisenberg, sister Gertrude Eisenberg Charles and "adopted daughter" Lydia Miller. Dick is survived by his brother Robert (Cleo) Eisenberg of Rush, NY, nieces; Suzanne (Robert) Kincaid, Linda Charles, Karen (Tom) McHale, Elaine (Donald) Powell, great-nieces and nephews; Kellie Kincaid Adami, Gregory (Christine) Kincaid, Robert Bishop, Cindy Bishop, Tom Welch, Rebecca (Dave) Rawleigh, Jesse Powell, several great-great nieces and nephews and many cousins. He is also survived by his "adopted grandchildren" Jennifer Johnson and Richard Walter and dear friend Etta Atkin.

Dick was born in Rochester, NY on January 26, 1920 to August and Lena (Meyers) Eisenberg. He graduated from Monroe High School and the University of Rochester. His entire professional career was spent as a professor of metallurgy at the U of R. In addition he provided extensive trial testimony for several major auto companies in court cases throughout the country.

Dick had a lifelong love for the outdoors; spending all of his available time at his mountain retreat on Little Wolf Lake in the Adirondack Mountains and belonging to hiking clubs, well into his 80's, both there and in the Rochester area. Dick will be remembered as a gentleman and will be dearly missed.

Family and friends are invited to call on FRIDAY, August 9th from 11:00 AM - 1:00 PM at Miller Funeral and Cremation Services, Inc., 3325 Winton Road South, where services will be held following calling hours at 1:30 PM. Interment Mt. Hope Cemetery. In lieu of flowers, please make contributions to a charity of your choice .