News & Events
Professor Wyatt Tenhaeff Joins the CHE Department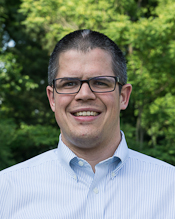 Wyatt Tenhaeff, a staff scientist at Oak Ridge National Laboratory since 2009, says he's looking forward to undergraduate and graduate teaching as a new faculty member in Chemical Engineering-- and to the opportunity to "develop an important and respected research program."
At Oak Ridge, his research focused on developing solid-state lithium batteries, in particular new solid electrolyte materials, which offer greater safety, higher energy densities, and easier packaging than liquid electrolytes. They are also important for advanced concepts, Li-air and Li-sulfur batteries, for example.
He also will explore novel hybrid cell designs and the development of functional thin films and coatings by chemical vapor deposition (CVD) for several problems in lithium ion batteries. 
That will complement existing efforts in materials science and energy research here, says department chair Matthew Yates. "We feel that his work has the potential to aid the commercial development of battery technology in New York State promoted through the efforts of organizations like New York BEST."
Tenhaeff earned his PhD in chemical engineering at MIT and a BS from Oregon State. "We selected Wyatt because of his strong education in Chemical Engineering fundamentals, as well as his track record of research productivity and fund raising as a staff scientist at Oak Ridge National Laboratory," Yates said.
Tenhaeff says he was drawn to the University of Rochester because of its strong reputation for both research and engineering education, the smaller size of the college, and Hajim's impressive record of research funding. "I value collaborative efforts, and the collegial, tight-knit nature of the faculty was also important to me."