News & Events
Tang receives Rhein award, is inducted into CEA Hall of Fame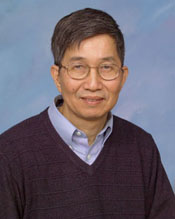 This month brings more accolades for Ching Tang, Professor of Chemical Engineering, whose invention of the organic light-emitting diode (OLED) gave birth to a multi-billion-dollar industry.
On Oct. 19 he will be awarded the 2013 Eduard Rhein Technology Award in a ceremony at the Hall of Fame of the Deutsche Museum in Munich; three days later he will be inducted into the Consumer Electronics Association Hall of Fame at the CEA Industry Forum in Los Angeles.
OLEDs have been used to achieve increased energy efficiency in smart phones, computers, televisions and a host of other applications. Tang, who joined the University of Rochester in 2006, is also credited with pioneering work in organic photovoltaics (OPV), and with a number of key innovations leading to the commercialization of new flat-panel display technology.
Tang's previous awards include:
The 2011 Wolf Prize in Chemistry, widely considered second in prestige to the Nobel Prize.
The 2007 Daniel E. Noble Award from IEEE, one of the largest organizations in the world dedicated to the advancement of technology.
The 2005 Humboldt Research Award, given by the Alexander von Humboldt Foundation to internationally renowned scientists and scholars.
The Rhein award is named after a German inventor, author and publisher who organized the foundation that bears his name. The award includes a prize of Euro 30,000.
The Consumer Electronics Association is a standards and trade organization for the consumer electronics industry in the United States. Its Hall of Fame, created in 2000, honors "visionaries in the consumer technology industry who advance innovation and build a strong foundation for others to follow." Fourteen other honorees will be inducted alongside Tang, including Steven Van Slyke, who also helped develop OLEDs.
Prior to joining the University of Rochester in Fall 2006, Tang was a Distinguished Research Fellow at Eastman Kodak Company. He is a member of the National Academy of Engineering and a fellow of the American Physical Society and the Society for Information Display. He holds more than 70 U.S. patents and has published 70 papers.