News & Events
All-American ChemE swimmer excels in pool and classroom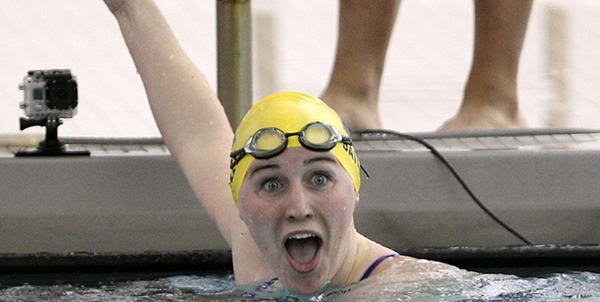 "If you really enjoy something, you are going to find time to do it," says Lauren Bailey, a rising senior in Chemical Engineering and star of the University of Rochester women's swimming team, after being named an Academic All-American by the College Sports Information Directors of America.
   This is one of the highest academic awards that a student-athlete can earn. And that is no small achievement considering the difficulty of her major and the time commitment involved in being a member of the swim team.
     Team members practice about 20 hours a week during the swim season,  but during competitions, swimming sometimes takes up 30 hours a week.
    And yet Bailey has managed to excel in both the classroom and the pool.
Swim records and a 3.87 GPA
    Bailey, who is also pursuing a minor in mathematics, carries a 3.87 cumulative grade point average (on a 4.00 scale). That earned her a place on the Capital One Academic All-America At-Large Team. She is a Second Team Academic All-America selection after earning First Team Academic All-District honors.
 
  
She is just the third Rochester women's swimmer to earn Academic All-America honors from CoSIDA in the past 29 years.
    She also has been breaking swim records left and right.
    At the 2013-14 Liberty League Championships, she won seven league titles, broke seven league records, and six Rochester records. In three years (freshman through junior seasons), she has won 17 Liberty League titles and set 14 Liberty League records.
      She earned All-America honors in four events at the NCAA Division III National Championships this spring: the 100- and 200-yard butterfly, the 200-yard freestyle relay, and the 200-yard medley relay.
     So how does she balance a rigorous course load with the demands of varsity athletics?
Setting priorities, managing time efficiently
    "College is all about priorities," Bailey says.  "I try to plan ahead, and if I have assignments due the following week and a swim meet over the weekend, I will try to do my work on Thursday or Friday to avoid stress over the weekend."
     It helps that the swim team's coaches understand that school comes first, she added. "If I am behind on school work, they can work with my practice schedule to make sure I get my assignments completed. My good friend, Zoe McCauley, is also a chemical engineering major and is on the swim team, so worst case scenario, we will do work together on the bus rides to away swim meets."
      "Being on the swim team keeps me very disciplined with my school work and helps me manage my time very efficiently."
      As much as she enjoys setting a new swim record, the most important thing is being part of a team, Bailey added.  "I know that every time I am in the water competing, I have 50 fellow swimmers rooting for me and cheering me on. At the end of the day, it feels great to know that you are part of a team where people have your back and show you continuous support and love."
Chemical engineering a 'great background to have'
      Bailey said she was "slightly unsure" about which major to pursue when she arrived at UR as a freshman. But after taking a few chemical engineering classes, she knew what she wanted to do. "My interest in chemical engineering stems from how versatile the field is. It is a great background to have, and getting a bachelor's degree in chemical engineering shows that you have great discipline and work ethic due to the difficulty of the major."
      "Also, the chemical engineering professors at the University of Rochester demonstrate a great understanding for the material they teach and show sincere respect for their students, which solidifies my choice to be a chemical engineer." 
      After graduating next spring, she plans to start working. "I may work for a couple of years and then go back to get my MBA or masters in chemical engineering," Bailey said. "I am still unsure of where I want to work, but I know that when I retire one day, I want to run an alpaca farm."