ChemE scholar athletes garner 3 of 10 Garnish awards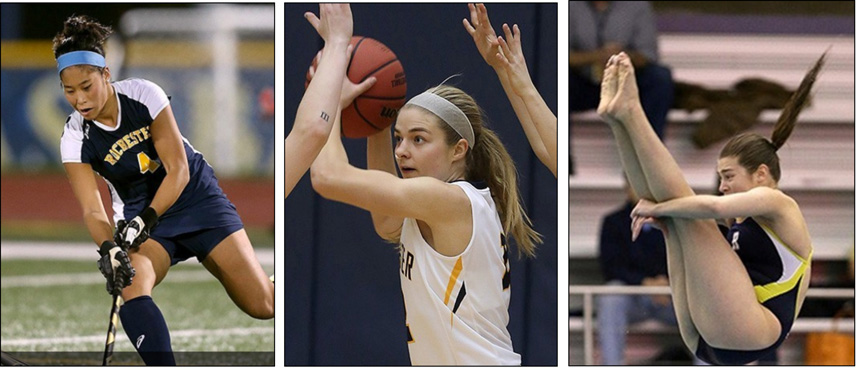 Brynn Lauer, a guard on the University of Rochester women's basketball team, grew up with three sisters who shared her love of the game. They also shared a strong desire to excel -- turning even the simplest of tasks into competitions, "like who could unload the dishwasher the fastest."

Danielle Neu, an All-American on the one- and three-meter boards, doesn't try to complete incredibly difficult dives during meets, but instead strives for consistency. "Basically, I try to pretend it's just a practice so I don't psyche myself out."

Sayaka Abe's job as field hockey defensive midfielder is to connect everyone on the field and help transition the ball. "If things are going well, you'll see my mouth guard smile."

More often than not, things have gone well – athletically and academically – for all three chemical engineering seniors. They are among the University's 10 Garnish Scholar Athlete Award winners  this year. Recipients are chosen for leading men's and women's varsity teams on the field of play while doing outstanding work in the classroom.

The awards, presented annually by The Friends of Rochester Athletics, are named in honor of Lyle "Spike" Garnish, a University coach and mentor from 1930 to 1948.

"These students represent the ideal of the scholar-athlete," said George VanderZwaag, executive director of athletics. "I am continually inspired by what our students are able to achieve when given the opportunities at a great institution like Rochester."

Abe, Lauer and Neu say that science and math drew them to chemical engineering. "Chemical engineering is a great mix of all of my interests," says Lauer. "It is a melting pot of math, chemistry and physics."

"I really liked the flexibility chemical engineering offers, as there are so many possible routes to take with the degree," says Neu. "I also liked the idea of lifelong learning that comes with engineering."

"I knew I wanted to go into engineering because I love math and science, but didn't want to be a doctor because I couldn't do blood and needles," added Abe. "Looking back now, I have no regrets."

Click here  to read Q&A's with Abe, Lauer, Neu, and the other 2016 Garnish Award recipients.