Announcement of Professor Anthamatten's appointment as chemical engineering chair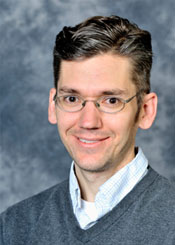 After consulting with Chemical Engineering faculty, Wendi Heinzelman, Dean of the Hajim School of Engineering and Applied Sciences, has appointed Professor Mitchell Anthamatten as the next department chair effective July 1, 2018. Anthamatten commented, "I am extremely grateful and excited for the opportunity to serve such a talented group of faculty and to see our department's strategic plan unfold. With strong support from the Hajim School and Arts, Sciences and Engineering, we are innovating in sustainable process engineering, biotechnology, and advanced materials to address problems of national and global importance. By prioritizing outstanding research, we will offer rich and forward-looking educational experience to our students at all levels."
Mitchell Anthamatten earned his PhD in chemical engineering from the Massachusetts Institute of Technology in 2001. As a postdoctoral researcher at Lawrence Livermore National Laboratory, he worked on the design and fabrication of laser field targets for the National Ignition Facility. Professor Anthamatten joined the faculty at the University of Rochester in 2004. His research group now applies new findings from chemistry, physics, and soft matter to design and engineer advanced macromolecular and supramolecular materials. He specializes in integrating reversible molecular interactions and chemical reactions within soft systems to control order, phase behavior, and material responsiveness. His group has developed new classes of polymers with novel shape-memory, self-healing, and ion-transport characteristics.  Technologies from his lab are considered for a variety of applications including artificial muscles, robotics, and chemical separations. Dr. Anthamatten is a member of the American Institute of Chemical Engineers, the American Chemical Society, and the American Physical Society. He has authored over 50 publications and has filed 3 U.S. patents while at the University, and his honors include the Provost's Multidisciplinary Research Award, University Research Award (University of Rochester), and the 3M Non-tenured Faculty Award.  In addition to his outstanding basic research, he also directs the new Initiative endorsed by the University on Advanced Materials for High-Power Lasers based in Chemical Engineering. Through his experience, Professor Anthamatten has established the highest standards in research, education, and service.
Please join us in welcoming Dr. Anthamatten as the new department chair with our collective blessing to ensure his success.
Professor Mathew Yates has stepped down from his position as the chemical engineering chair. He is currently on Sabbatical for one year beginning July 1, 2018. During his eight years as the chair, Dr. Yates coordinated the recruitment of several junior faculty members, the successful ABET accreditation of the undergraduate program with the implementation of an External Advisory Board, and the relocation of the department to the Wegmans Hall.