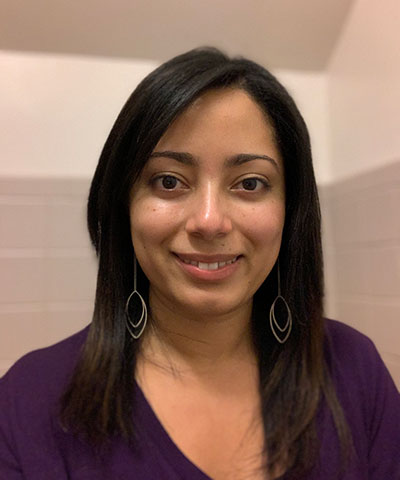 Diversity, Equity, and Inclusion
Melodie Lawton, assistant professor of instruction in chemical engineering, joined our faculty last year with not only solid academic credentials, but invaluable industry experience at Bausch & Lomb. Melodie drew on that experience to devise ways to help maintain safe social distancing in her undergraduate lab course last fall. Melodie comes from a non-STEM background, "so I think I always had to be self-motivating," she says. After working at Bausch & Lomb, she earned a PhD in bioengineering at Syracuse University (2018), working on smart shape memory polymer composites. She's excited to be connecting to students in classrooms and labs. "The challenge is taking really complicated physics and chemistry and repackaging it so someone can not only understand it but be excited enough to want to learn on their own in the future, or do something with it," Lawton says. "I find that really satisfying."
READ MORE:
Melodie (Torres) Lawton came to the University of Rochester in 2020 with not only solid academic credentials, but invaluable experience from working in industry at Bausch & Lomb.
Lawton, an assistant professor of instruction in the Department of Chemical Engineering, drew on that experience when the University had to pivot to a hybrid mix of online and in-person instruction that fall because of the COVID-19 pandemic.
To help maintain safe social distancing in her undergraduate lab course, Lawton applied her industry experience for team development. The challenge for safe lab experimentation under COVID-19 was that only one member of a team could be physically present at a time. Additionally, some students were learning remotely for the entire semester. In order to maintain individual engagement, students were required to submit more detailed plans for lab experiments.
While the number of team members physically present was limited with each trial, the required prep work and addition of video technology enabled all students to actively engage in lab activity. In addition, all team members were provided with an instrumentation interface, using LabView programming language, which enabled them to acquire and manipulate data remotely.
"Melodie is off to a great start, especially considering the COVID-19 circumstances," says department chair Mitchell Anthamatten. "She has emerged as a natural teacher with strong teaching evaluations. She also implemented her vision of using an industrial model and this helped ChE navigate the COVID situation."
Defying the odds
Engineering has not traditionally been the first choice of young women from minority backgrounds. Especially when they are breaking ground as the first from their families to attain a doctoral degree.
But that didn't't stop Lawton.
"I come from a non-STEM background, so I think I always had to be self-motivating," says Lawton, who discovered she "had a propensity for taking things apart and seeing how they work" while growing up in New York City.
Her parents were supportive, but since they did not have a technical background, Lawton was pretty much on her own when it came to figuring out what kind of engineering she wanted to do, and how to pursue it. "But I just kept going," she says.
In grade school, Lawton participated in every science fair; in high school, she joined the science club. She got excited about circuits, then civil engineering, then chemistry. She went to college, made friends, and with them learned what it means to navigate a campus and earn a degree.
In the end it turned out be an "exciting journey," Lawton says. And now, as an instructional faculty member in charge of the chemical engineering department's undergraduate labs, she is helping her Rochester students along that same journey.
A wide range of experience
After getting a BS in chemical engineering at Polytechnic University in Brooklyn in 2004, Lawton worked for Bausch & Lomb in Rochester as a process engineer. During seven years with the vision care company she worked in Research and Development, Contact Lens Development, Surgical Research and Development, and Global Engineering.
In the process, she gained a wide range of experiences in mentoring and training lab personnel, supervising daily process engineering lab activities, troubleshooting inconsistencies between different manufacturing sites, and working on the development of new ophthalmic medical devices.
"I have found that my professional experience as an engineer provides me with a broad perspective that is useful in helping students with assignments, professional development, and instilling concepts that will be useful in their careers," Lawton says.
While at Bausch and Lomb, she also earned a master's degree in materials science and engineering from the Rochester Institute of Technology.
Lawton left B&L to earn a PhD in bioengineering at Syracuse University (2018), where she worked with Prof. Patrick Mather on the development of smart shape memory polymer composites. While completing her PhD, she received an IGERT graduate research fellowship from the National Science Foundation. Lawton also had an opportunity to work at the US Army Research Laboratory's Aberdeen Proving Ground in Maryland as a visiting researcher, to further study the development of polymer networks.
Lawton then spent one year as a visiting assistant professor at Bucknell University, teaching undergraduate courses in Fabrication and Experimental Design, Introduction to Biomedical Engineering, Biotransport, and a biopolymers course she introduced. All but the biopolymers course had weekly lab sections that she also taught. And she served as an advisor for senior capstone design projects.
At the end of her last year there, the senior class choose her to receive their "Most Likely to Boost Your Confidence" award—not surprising considering the confidence and resilience that Lawton has exhibited along her own career path.
Connecting to students
After joining the Department of Chemical Engineering, Lawton spent her first semester in the spring shadowing F. Douglas Kelly, associate professor, as he taught senior design lab and she also taught the Chemical Engineering Practice course. Lawton invested her summer preparing to teach the unit operations lab (ChE 246) and Chemical Process Analysis (ChE 113) that fall.
As chemical engineering undergraduate laboratory director, she now supervises three laboratory staff members, makes decisions related to laboratory operations, personnel, budget, and long term planning.
Lawton is glad to be back in Rochester. She likes hiking at Bristol and at Letchworth State Park and biking on the canal trails. "I'm actually a cold weather person," she adds.
Above all, she's excited to be connecting to students in classrooms and labs.
"The challenge is taking really complicated physics and chemistry and repackaging it so someone can not only understand it but be excited enough to want to learn on their own in the future, or do something with it," Lawton says.
"I find that really satisfying."