AME191: Audio engineering, the way it really is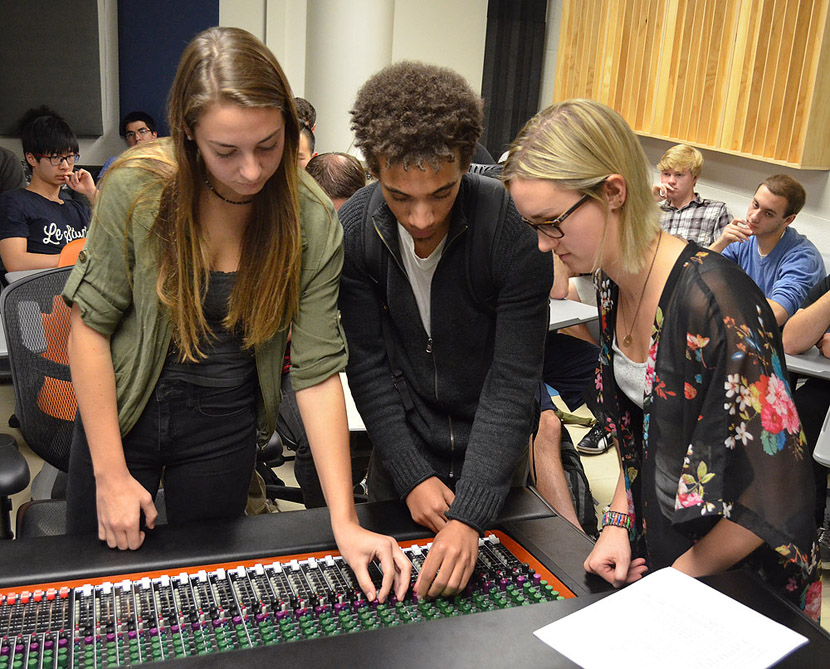 Jillian Donahue, Joshua Barnes, and Andrea Bennett do a live mix of "Big Bangs", by Rochester band Pleistocene for a class project in AME 191.
As speakers throb to the sound of metal guitars and wild, Black Sabbath-like vocals, lecturer Stephen Roessner hunches over the sound board at the front of the class, jotting notes as 24 students listen intently behind him.
They're listening to "Evil Twin," a song by the Rochester, N.Y., rock band Ginger Faye Bakers – as mixed by four of the students using raw files Roessner recorded in his own studio when he produced the band's second album.
"I think it's a good mix; a valid mix," Roessner sums up after the students have had a chance to offer their own critiques. "But I'll tell you right now, the band would not approve of this mix, just from knowing them and working with them."
Welcome to AME 191, the Art and Technology of Recording. Students learn not only the theories, technologies and aesthetics of audio recording and engineering, but what it's like to actually practice the craft in the real world.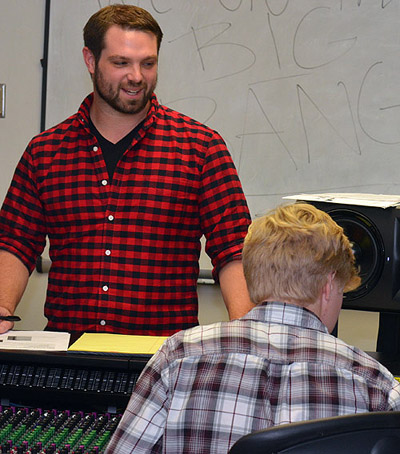 That's because their teacher is a Grammy-winning audio engineer, who has owned and operated his own recording studio for 15 years, toured the globe as a drummer with Saxon Shore, and free-lanced not only on drums, but guitar, bass, vocals, keyboard and banjo. Recipient of a Masters degree in Electrical Engineering in 2012 from the University of Rochester, Roessner is now working on his PhD in addition to teaching this and two other classes.
"If you've ever worked in audio before, you know exactly what's he's saying, and then you can start relating to him, and at that point you really learn from him because you know you are on the same page with him," says Alin Kenworthy '18, one of his students.
"He constantly gives anecdotes about how all of this is applied in a real studio."
That was evident during the discussions that followed after each of six teams presented their mixes.
Much of the discussion was highly technical -- for example, how to use compression to compensate when a guitar slide up the neck gets lost in translation. Or the Pro Tools plug-ins that can come to the rescue when the guitars sound "DI'd", which means that the guitar is recorded directly instead of through an amplifier.
   But a lot of the discussion revolved around some hard-earned, common sense insights about the craft of audio engineering that Roessner has picked up over the years.
 One student, for example, commented that the guitars sounded "pretty dirty" in one of the mixes. That's not necessarily a bad thing, Roessner replied – if that's what the musicians want. "When you start out you'll want to try to record things as cleanly as possible. But as you progress further on in your career, you will want to start allowing the musicians to sound like they really sound."
    "Do you let the musicians sit in when you start mixing the tracks?", another student asked.
     "I tell them to go away and come back in about an hour," Roessner replied. "The reason I kick them out is because I don't want the bass player coming up five minutes into my mix, saying 'where's my bass? You've got to bring the bass up.' You get too many questions, and you get distracted, and you can't concentrate. Just kick the band out."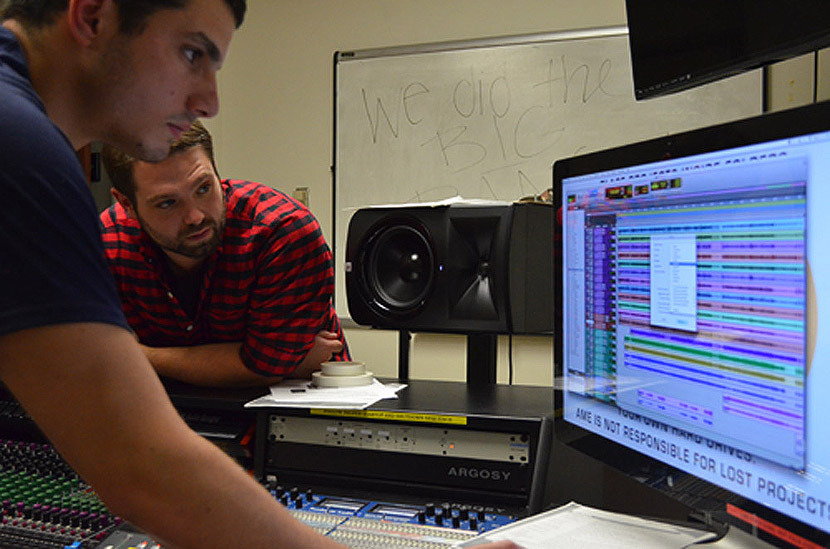 Alin Kenworthy, foreground, and Stephen Roessner look at a file created in Pro Tools.
By the end of the semester, students complete four projects, progressing from a basic reel to reel recording, to mixing raw files, to making their own recording of an acoustic guitar and then engineering it to sound as close as possible to one used in another recording, such as the Beatles' "Blackbird".
For their final project, they must record a four- to five-minute song, performed by an ensemble of musicians, then demonstrate they can mix and master the multiple tracks. Though many of the students are musicians themselves, they are not allowed to submit recordings of their own performances.
   "That's the number one rule in (AME) 191," Roessner explains. "They need to focus on their engineering skills and be on that side of the glass. If you're splitting your time between the two sides of the glass, you're not paying attention to what you're trying to learn."
   Even before delving into the projects, students must complete a couple of homework assignments that set the tone for what follows.     
 The first assignment is to list their five favorite musical artists or genres -- but also the genre they least like.
    The second assignment: Listen to music from that least-liked genre, and write something positive about it.
"If you're going to embark on a career in audio engineering, you're not going to work only with the artists and music you like," Roessner explains. "You will come across music you may not like.  But it's still a paycheck."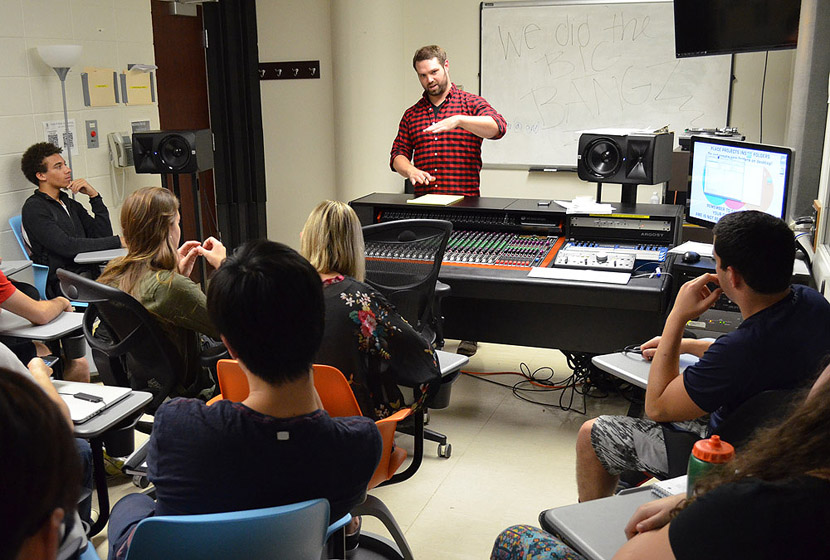 AME 191:
Art and Tech of Recording
Offered as part of the Department of Electrical and Computer Engineering program in audio and music engineering, which has grown by leaps and bounds since it was certified three years ago, from 26 to 46 to 76 students.
Covers the acoustical and psychoacoustic fundamentals of audio recording including the nature of sound, sound pressure level, frequency and pitch, hearing and sound perception, reflection, absorption and diffusion of sound, sound diffraction, room acoustics, reverberation, and studio design principles.
Provides practical experience in audio recording, including an introduction to recording studio equipment, microphones and microphone placement techniques, signal flow, amplification, analog and digital recording, analog to digital conversion, digital processing of sound, multi-track recording and an introduction to mixing and mastering.
Includes a substantive recording project at the end of the course.