Students in AME 196: Interactive Music Programming
taught by Asst. Prof. Ming-Lun Lee,
present a
SONIC SHOWCASE
of their final projects.
Dec. 9, 2015 at Rettner Hall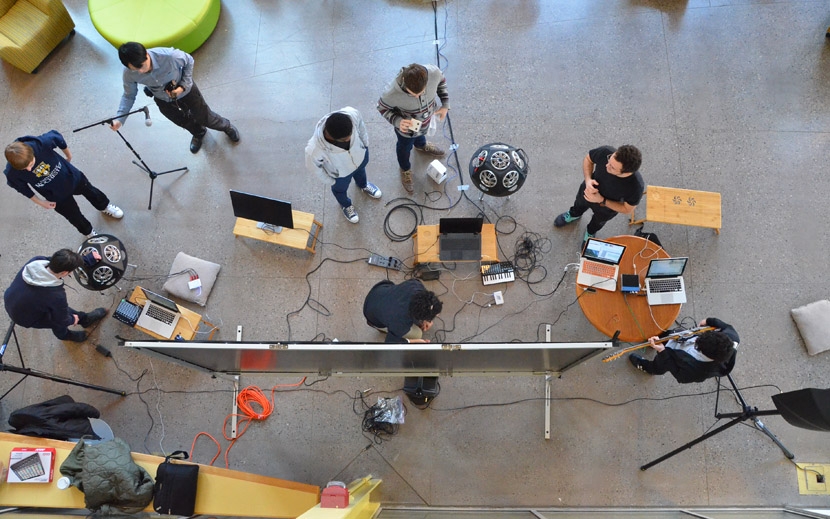 The students began arriving midmorning to set up their equipment . . .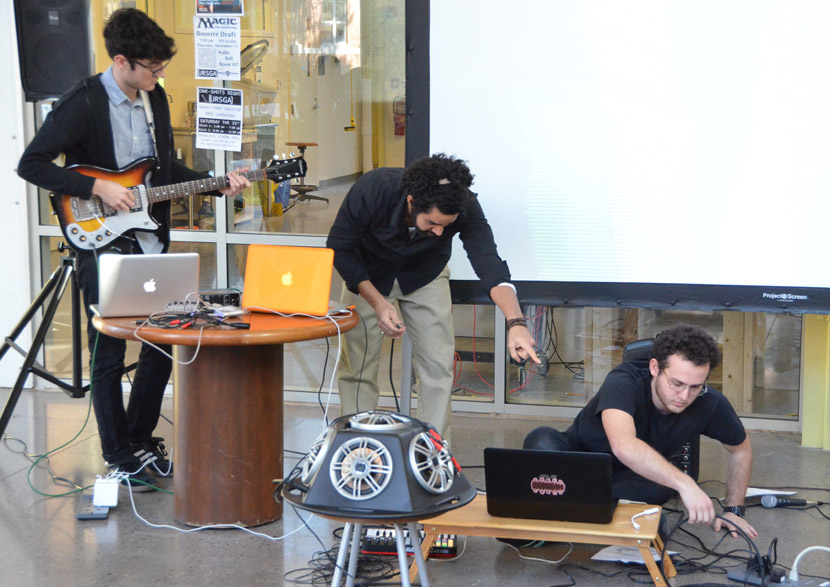 . . . including, left to right, Caleb Hill, Juan Estrella and Isaac Davenport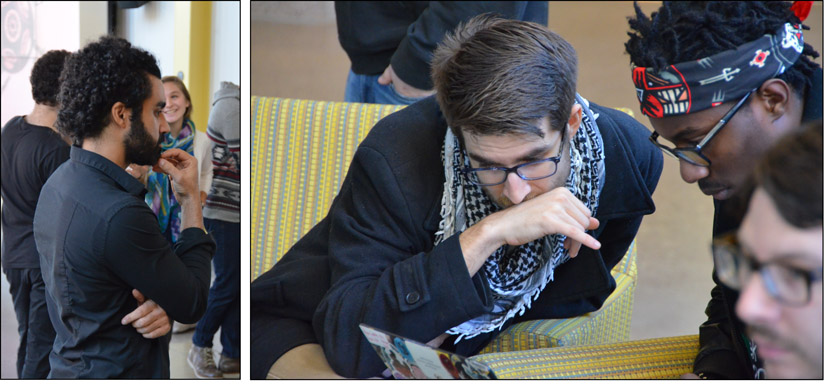 Estrella listens closely for any glitches; at right, Benjamin Kronk and teammate Aleem Griffiths look over their program.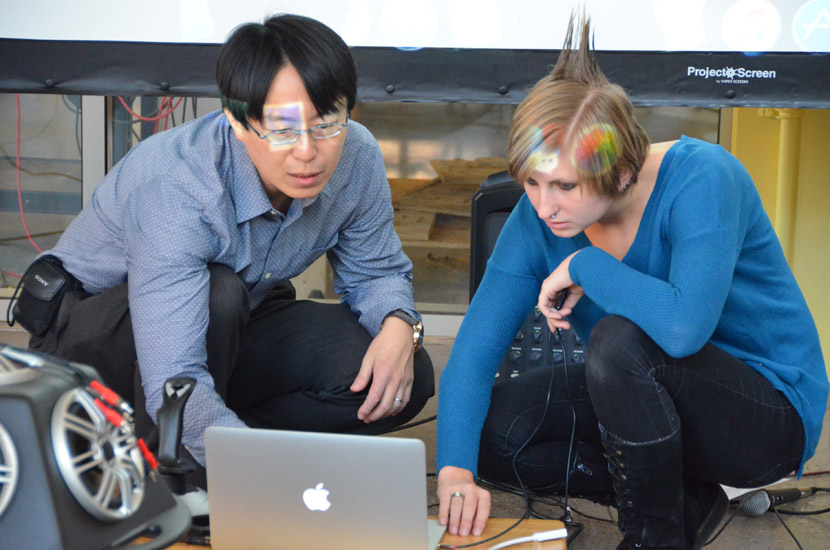 Look closely, and you can see a sneak preview of "Galactic Fantasy" projected onto the foreheads of Asst. Prof. Ming-Lun Lee and Tallis Polashenski as he helps her with some last-minute adjustments.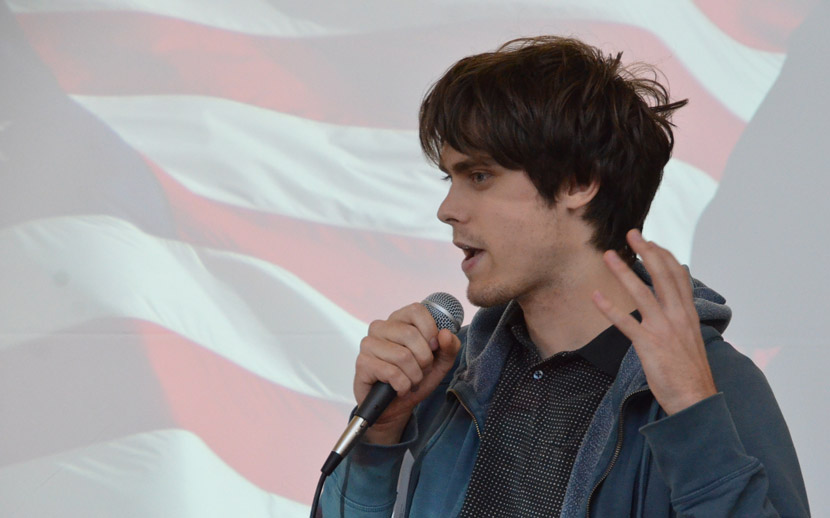 And then it is show time: Teaching Assistant David Kunstmann tells the audience about some of the programming languages and sound control devices the students are about to demonstrate. The image of the American flag flying on the screen behind is the backdrop for the first presentation . . .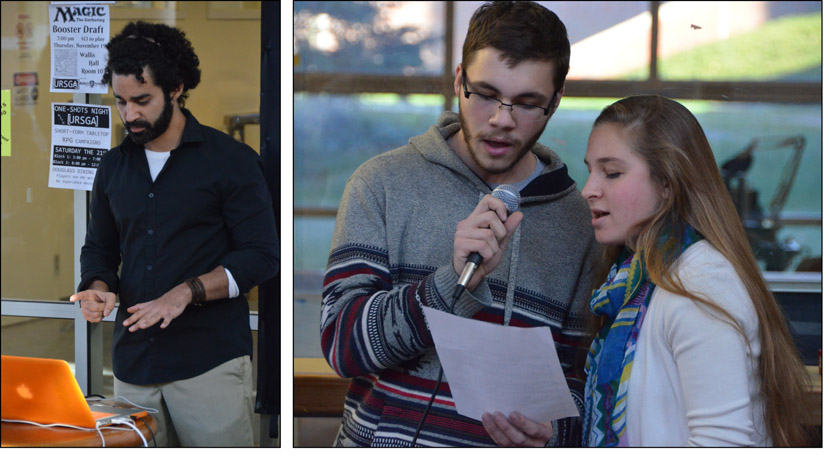 . . . a rendering of Star-Spangled Banner  that included Isaac Davenport;  Juan Estrella, at left, using a Leap Motion Controller to produce percussion effects with hand and finger motions; and David Marshall and Molly Bernstein (not a member of the class) singing the national anthem.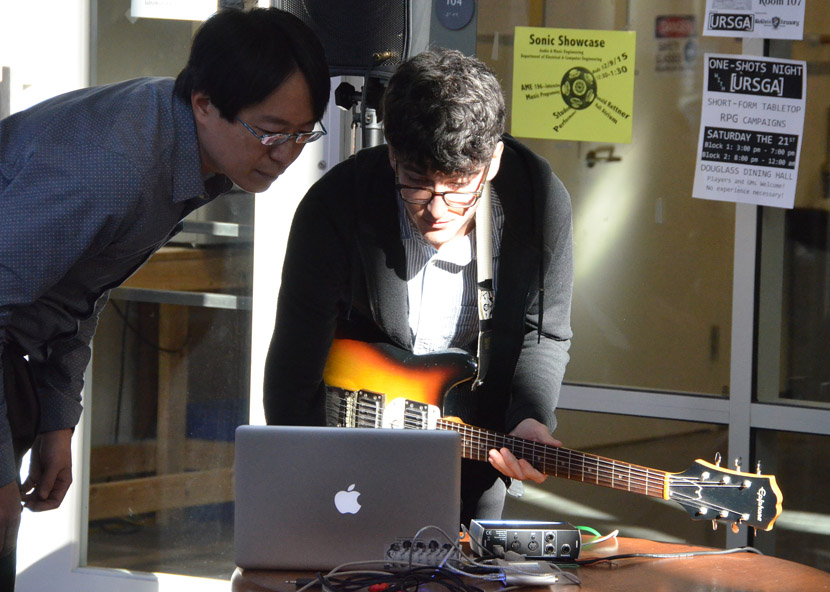 As Prof. Lee looks on, Caleb Hill gets ready to present Journey of the Genesee with partner David Marshall. For their project, David coded a random emphasized chord tones synthesizer, while Caleb used the LiSa (live sampling) function of ChucK to play back his guitar shreds at different speeds.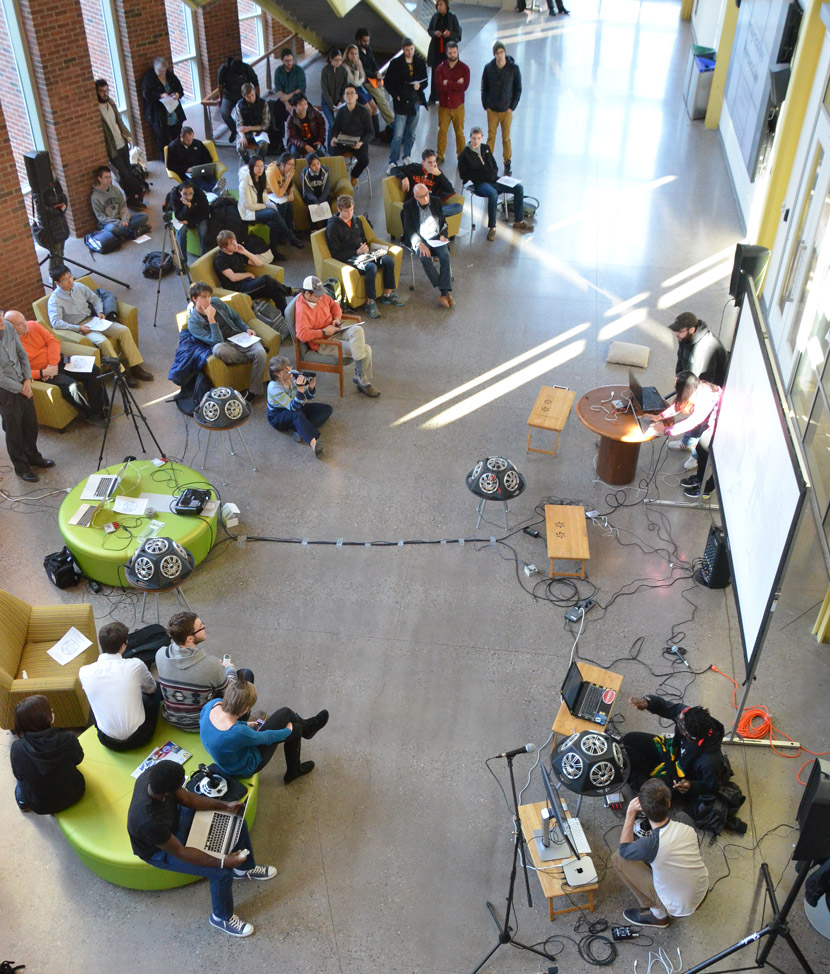 This overhead view shows Nicholas Bruno, teamed with teaching assistant Xinzhao Liu at far the edge of the screen, presenting Nicholas' Progressive Percussion, which demonstrated the capabilities of a drum pad he created from ChucK. Bruno, a junior, transferred here from Clarkson University to major in AME, because the program offers him a "really good blend" of his two passions – music and engineering – without having to favor one over the other.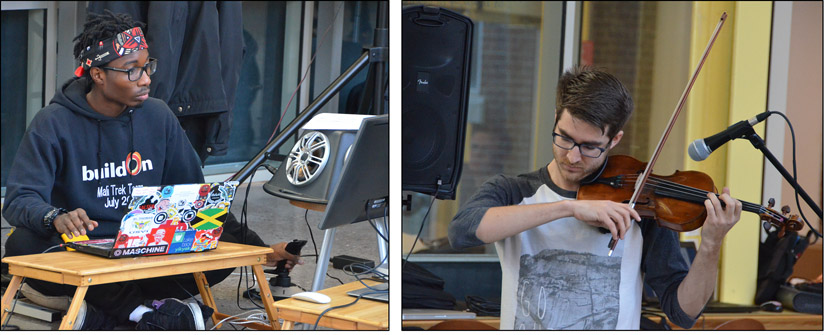 "MIDItation," a rendition of  the "Meditation" from the opera "Thais" by French composer Jules Massenet, with Benjamin Kronk playing the violin and Aleem Griffiths manning a joystick and MIDI controller . . .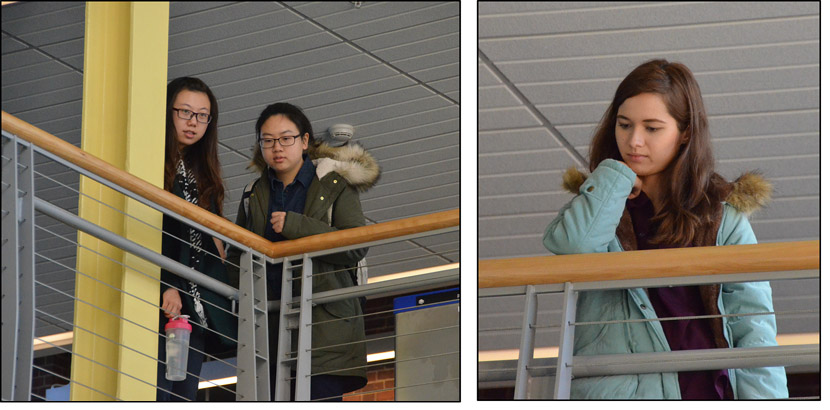 . . . caught the attention of students walking along Rettner's upper floors.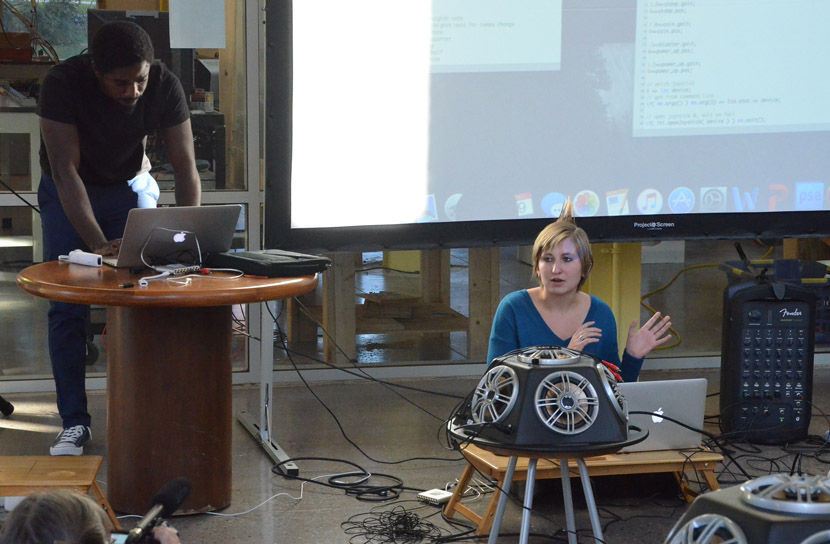 For "Galactic Fantasy," Tallis Polashenski, at right, wielded a joystick and Betrand Nyann used a Wiimote to recreate video game sounds – monsters, laser blasts, leaping, even black hole teleportation – to accompany footage of Tallis playing a Mario video game with Outer Space theme.

A typical Skype ringtone became a sonic adventure when played on A.J. Brown's guitar. He used a multi-effect pedal that doubled as an audio interface while teammate Richard Carl used a Kaoss pad to manipulate the sounds for "Hold Please."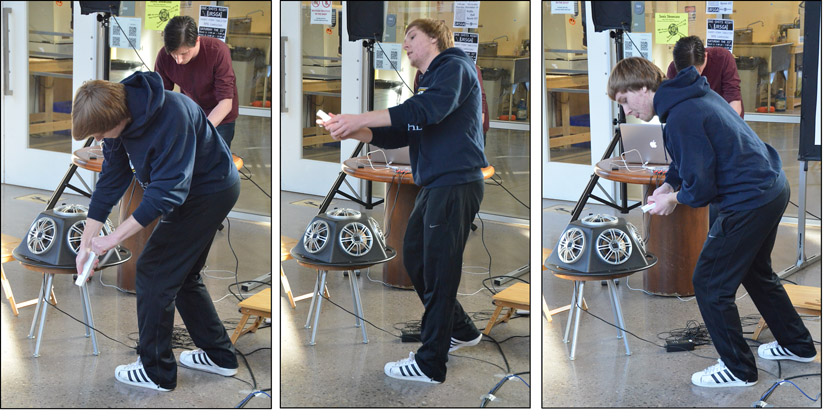 Brenden Sullivan put a lot of body movement into his performance, swinging his "Wiimote" like an axe one moment, then "sawing" it through the air, as he and partner Murilo Kramar duplicated the sounds of civilization intruding on the wilderness in "A Day in Nature."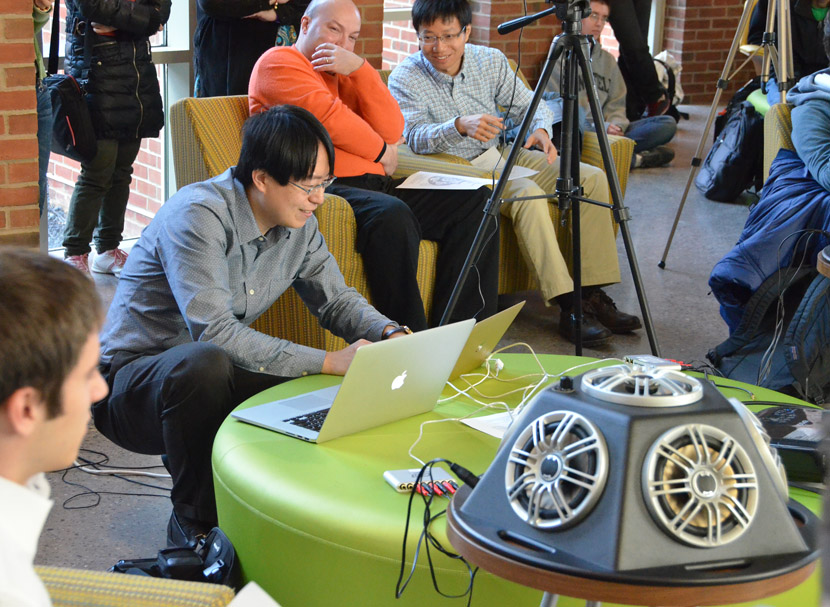 Prof. Lee drew laughter from the audience between sets when he produced a cacophony of cats meowing and dogs barking to illustrate the multi-channel capabilities of the hemisphere speaker in the foreground.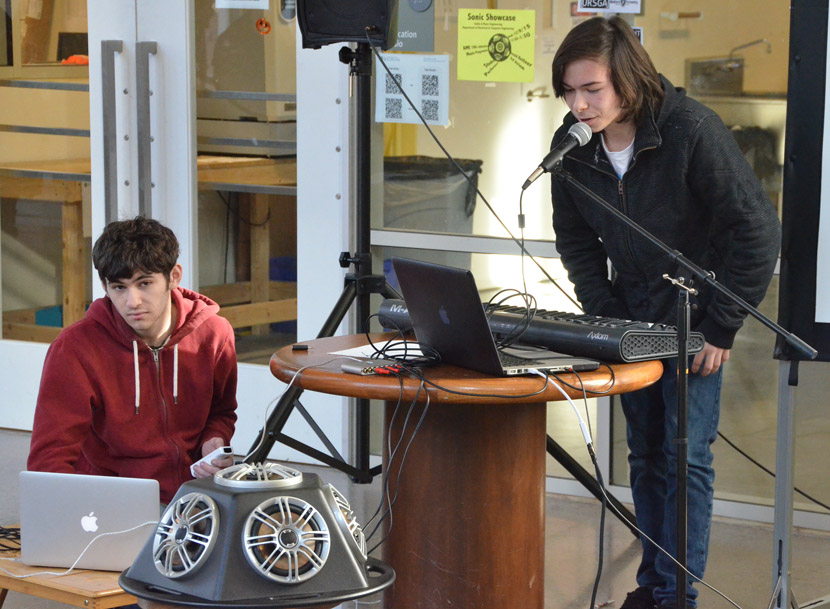 The showcase concluded with "Wendigo Concerto" by Joshua Miller, at right, and Matthew Kaplan, depicting the bad things than can happen when ordinary mortals encounter the half-beast creature of Algonquin legends.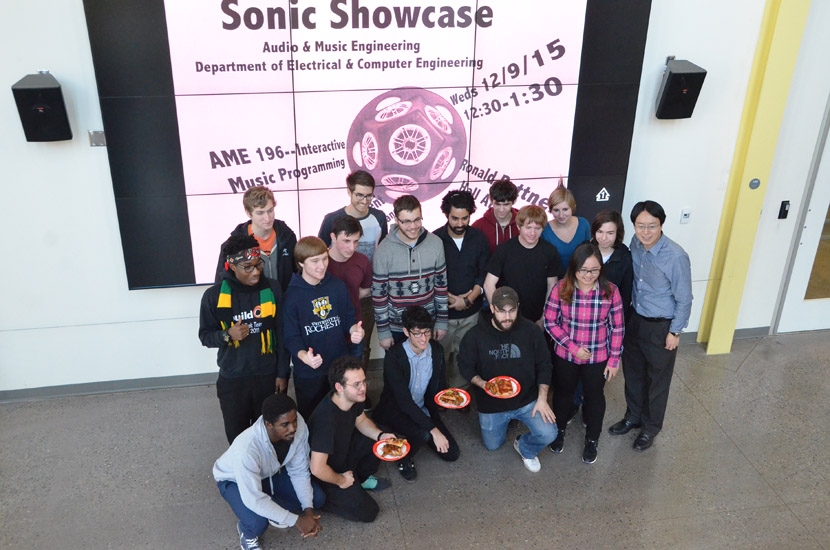 Then it was time for pizza and a group photo . . .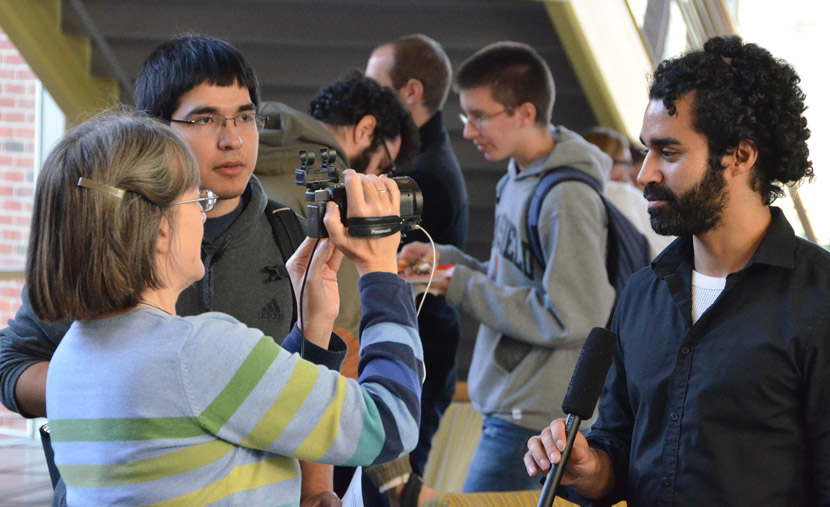 . . . and interviews with Dawn Wendt of University Communications, whose video of the showcase can be seen by clicking here.