Department History
Beginnings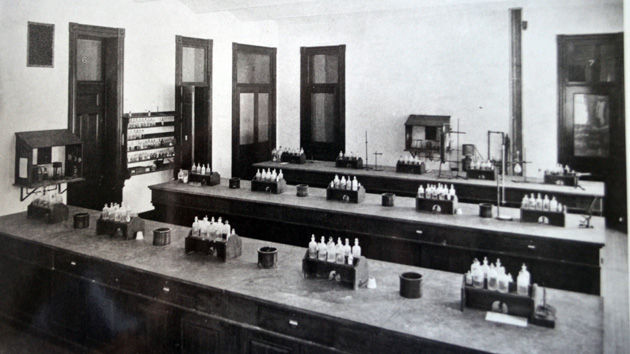 When the University of Rochester launched its chemical engineering program in 1915, tuition was $90 a year, and the curriculum looked nothing like it does today. Freshmen took rhetoric, German or French (used by the most prestigious scientific journals at that time), math, chemistry, drawing, woodshop, foundry, forge, and physical training during an academic year that was split into three terms.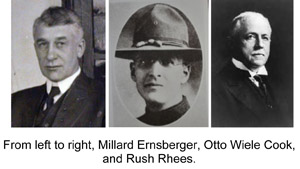 The first class of 10 students was taught by two faculty members, Millard C. Ernsberger, a mechanical engineer and head of applied science, and Victor Chambers, chair of chemistry. President Rush Rhees articulated the goals of the University's fledgling engineering program as follows: "Graduates from this group would thus be prepared to enter on commercial careers with all the advantage offered for such careers by technical training, coupled with the distinct advantage arising from a more general liberal culture."
---
The Move to River Campus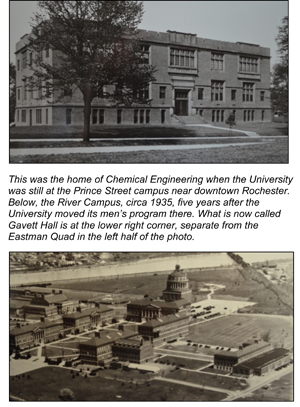 The University of Rochester moved its men's program to River Campus in 1930. When that happened, the Department of Chemical Engineering (CHE) moved into a new three-floor engineering building (now called Gavett Hall), along with mechanical engineering. CHE moved into its current home in Wegmans Hall in June 2017. Laboratories in Gavett Hall have undergone substantial renovations since the early days.
---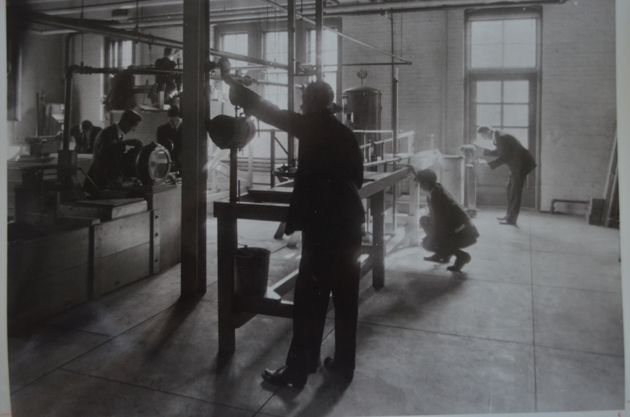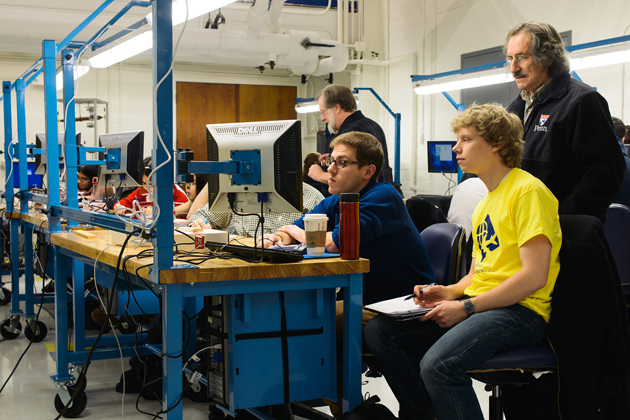 ---
A crisis of accreditation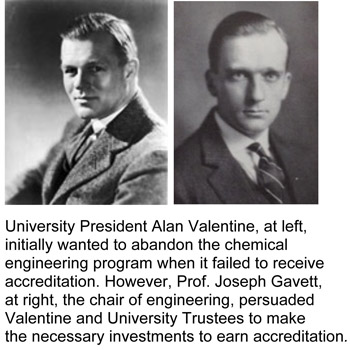 It was "ante up or fold" for chemical engineering at the University of Rochester in 1936. The program had failed to receive accreditation for several reasons: none of the faculty were trained in chemical engineering, there were no unit processes labs, and the curriculum stressed too much chemistry and mechanical engineering, and not enough chemical engineering.
---
Gardner Brings 'Instant Credibility'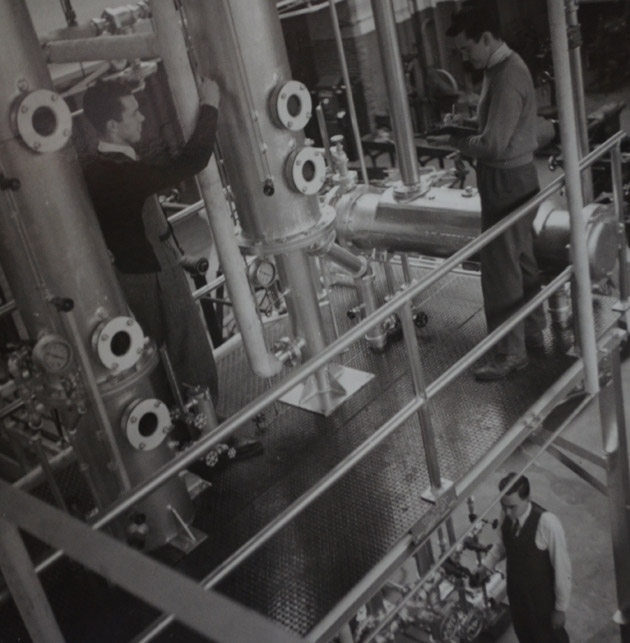 "So quietly that few students and even fewer faculty were aware of it, the University of Rochester today began an expanded program in chemical engineering and set about developing a chemical engineering laboratory in which the 'unit processes' of fluid flow, evaporation, crushing and grinding, absorption, and the like can be experimentally studied," a University news release announced in September 1938.
---
Gene Su's Legacy
Borelli, now a corporate research fellow with the S&T Division of Corning Inc., recently contacted the Department of Chemical Engineering to help honor the memory of Gene Su. "He was easily the finest gentleman I have ever met... and the word 'gentleman' could not be more appropriate," Borelli wrote. "My career such as it is owes much to my association with Prof. Su and the guidance he gave me over the years."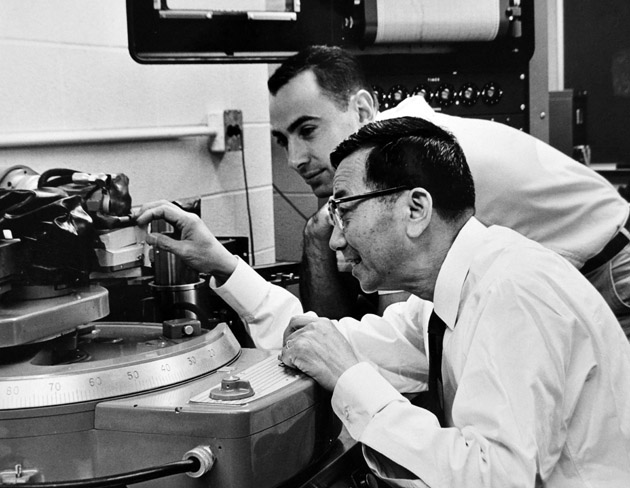 "Gene Su's quiet manner belied the influence he had at the University of Rochester," Friedly added.
Thanks to a generous gift by Professor Gouq-Jen Su and his wife Shou-Tsung, the department established in Wegmans Hall the Su Conference Room, which overlooks the Genesee River, and the prestigious Su Distinguished Lecture Series, which is awarded annually to outstanding scholars in chemical engineering.
---
Coming of Age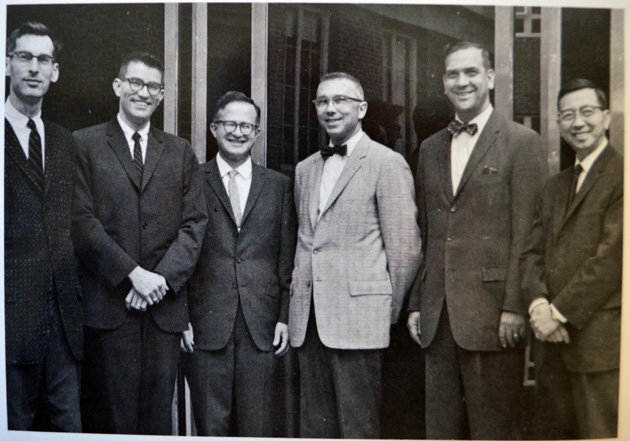 Two men helped the Department of Chemical Engineering come of age after World War II, Gene Su and Shelby Miller, who was head of the department from 1955 to 1967. Miller came to the University of Rochester from the University of Kansas, where he was a professor and department chair; he also had industrial experience at Du Pont after receiving his PhD at Minnesota in 1940.
During Miller's tenure, faculty size increased from 3 to 12, and he played a key leadership role as the department increased its emphasis on graduate education and research, while maintaining its emphasis on undergraduate teaching.
A department self-assessment in 1967 noted: "In all this the key concept is engineering—not science, essential ingredient that it is—nor engineering science, inseparable organ of engineering that it is—nor economics, code of law to the engineering industry that it is—but engineering, the composite of all these and other components."
---
The Energy Crisis
The oil crisis of 1979, triggered by the Iranian Revolution, caused long lines to form at American gasoline pumps, just as they had six years earlier. When Friedly took over as chair in 1981, enrollment was at an all-time high in the University's chemical engineering program. Overworked faculty struggled to keep up with classes so large that close interaction with students could not be maintained.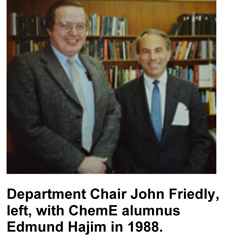 This did not last long. "One of Ronald Reagan's first acts in the White House was to cancel the synthetic fuels program," Friedly wrote. "Oil companies that had been using excess profits from rapidly inflating oil prices, coupled with federal funding for synthetic fuels, to sop up all engineers in sight immediately saw the danger signal. Hiring was abruptly halted."
---
Bolstering Growth
Eldred Chimowitz remembers all too well the predicament that confronted the Department of Chemical Engineering as the 2003 fall semester drew near. Only four incoming freshmen were enrolled. "We better beat the bushes," suggested Sandra Willison, the department's undergraduate coordinator (now department administrator).
Eight years earlier—at a time many other universities faced financial difficulties and budget deficits—University of Rochester President Thomas Jackson announced his 1995 Renaissance Plan to create a leaner, refocused College. This included suspending the PhD program in CHE and three other departments. Though current PhD students were allowed to finish, incoming students were turned away. "We had to find them other schools," Chimowitz said.
The core CHE faculty shrank from 12 to four. Chimowitz, Jacob Jorné, Shaw Chen and David Wu remained, mentoring a wave of new faculty who were subsequently hired after the suspension was lifted. But it took time for the department to fully recover.

To bolster numbers of incoming freshmen in 2003, the department sent messages to other incoming students in related disciplines urging them to consider chemical engineering, Chimowitz recalled, and managed to build up the incoming freshman class to 12. Willison said the department also began visiting local high schools to recruit students.
By contrast, 63 incoming freshmen expressed an interest in CHE in September 2014, part of an overall enrollment surge in engineering that has seen the Hajim School double its undergraduate enrollment within five years. Were there growing pains? Sure. But Chimowitz said he'd rather deal with those than have an incoming class of only four students. "It was a rough few years, but in the end we emerged stronger."
Why was CHE's PhD program reinstated? Kevin Parker, who served as dean of the engineering school from 1998 to 2008, cited two factors: 1. Participation of PhD students was required for the research grants ChE faculty were receiving. 2. A renewed PhD program in ChE would also benefit the University's Materials Science and biomedical engineering programs. "Eventually that argument was received," Parker said. As a result, the department grew and prospered.
New faculty with industrial experience, such as David Foster and Doug Kelley, "has been absolutely key, especially in the labs," Chimowitz added. "The students love it, and it's just transformed the whole program."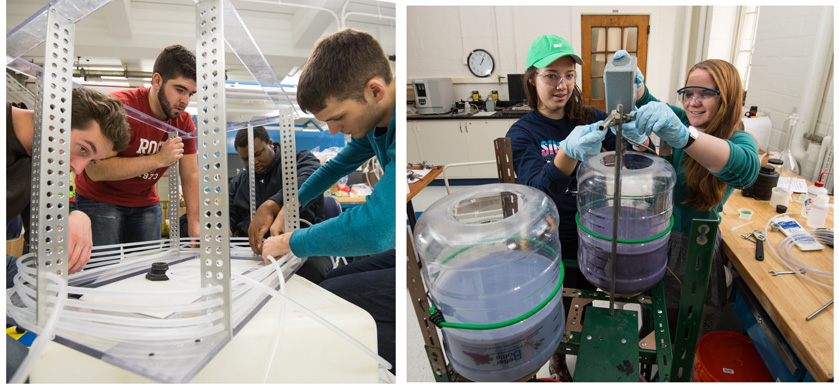 The senior design course is a semester long 4-credit course that uniquely focuses on hands-on projects that mainly come from industries in the region. Companies submit project ideas of interest to their company. Students, working in groups, get to choose a project and work under the supervision of both industry and faculty mentors who hold regular meetings with the students as their work progresses throughout the semester. A final project report is required and used as a basis for evaluating the students' work. Emphasis is placed on developing practical skills, including building experimental equipment, as well as employing on-line data-acquisition and process-control software when relevant.
---
Moving Forward
The PhD program of the University of Rochester's Department of Chemical Engineering is now nationally ranked among the top 20, according to the most recent National Academy review of graduate engineering programs. The department provides a vibrant learning and working environment. It is world-renowned for its high-quality, multi-disciplinary research and education through its faculty, staff, and students. Innovative research is supported by funding from federal agencies including the National Science Foundation, Department of Energy, Department of Defense, and National Institutes of Health, in addition to contributions from private foundations and industries.
The department hired several young faculty and focused research on vibrant directions such as:
Sustainable energy and sustainable process engineering
Optical, photonic and electronic materials
Computational driven materials discovery
Two of our faculty authored or co-authored classic chemical engineering textbooks:
"Introduction to Critical Phenomena in Fluids" by Eldred Chimowitz
"Fundamentals of Momentum, Heat and Mass Transfer" by James Welty, Gregory L. Rorrer, and David G. Foster (appeared in its 7th edition in 2020 and has already garnered more than 3,300 citations)
---
Recent Developments
2019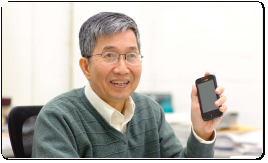 Our faculty are nationally and internationally recognized for their outstanding research and teaching. Emeritus Professor Ching Tang, a member of the National Academy of Engineering, has been inducted into the National Inventors Hall of Fame for pioneering the organic light-emitting diode, or OLED. He was also awarded the NEC 2018 C&C Prize and the 2019 Kyoto Prize for his groundbreaking technological achievements.
Through a generous gift by distinguished chemical engineering alumnus Kwang Yu Wang and his wife Lee Chien, the department established the Kwang-Yu and Lee-Chien Wang Graduate Fellowship to support excellence in Chemical Engineering research for PhD candidates after passing their proposal exam.
In addition, the department created in 2019 the Young Alumni Achievement Award, whose first recipient was Andrew Wunder, class of '04 (MS '05), currently the director of operations at Henkel in Lyons, NY.
Professor Andrew White and Professor Wyatt Tenhaeff each received an NSF CAREER award. Each also won the University's Curtis Award for nontenured faculty teaching. Professor Andrew White is part of an NSF research traineeship program on the topic of augmented reality and virtual reality. Professor Shaw Chen and Professor Mitch Anthamatten, chair of the department, won Technology Seed Funding by the University of Rochester, together with Meadowlark Optics, Inc., to support a major project on glassy liquid-crystal optics in the Center on Advanced Materials for Photonics and Lasers (AMPL).
Our faculty are regularly invited to give talks at national and international conferences and universities. For example, Professor Alex Shestopalov presented at the SPIE Laser Damage Conference and the Hong Kong University of Science and Technology. Professor Marc Porosoff gave talks at the Pittsburgh Catalysis Society Meeting and at the International Pittsburgh Coal Conference. Professor Astrid M. Müller was invited to share her work at the Physics of Quantum Electronics Conference, and she was selected for a Young Investigator Highlight talk at the 2019 Gordon Research Conference on Nanomaterials for Energy.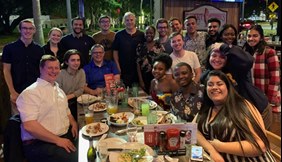 In November 2019, a 25-member delegation from our department attended the AIChE National Student Conference in Orlando, FL. The conference was a great opportunity for our undergraduate students to present their research, meet peers from other institutions, talk to graduate school and industry recruiters, explore the breadth of research being done in the field, and hone their networking skills.
Three undergraduate students won poster awards:
Joyceline Marealle '20 (Müller group) placed first in the Materials Science and Engineering group 6 for "An Ultrafast Rechargeable Aluminum Battery"
Zach Oliver '20 won second place in the Materials Engineering and Sciences group two for his poster titled "CFD and PBM Modeling of Particle Aggregation in Mixing Tanks" (a project he has been working on since last summer with Riley Flower '20, mentored by Professor David Foster)
Daniel Krajovic (Anthamatten group) took third place for his poster "Recyclable Shape-Memory Elastomers"
2020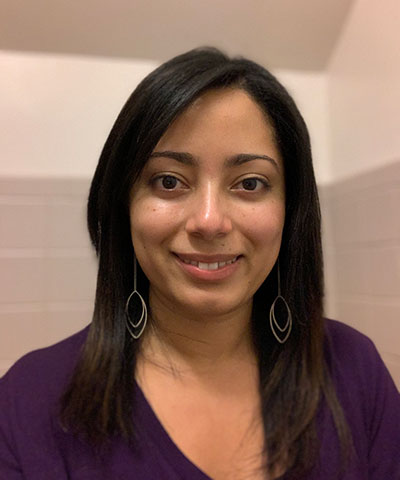 Melodie Lawton joined our department in January 2020 as a new instructional-track assistant professor to direct the undergraduate labs. Before coming to the University of Rochester, she worked as a process engineer for Bausch & Lomb in Rochester, and she served as a visiting assistant professor at Bucknell University, where last year's senior class chose her as the faculty member "most likely to boost your confidence."
Unique unforeseeable challenges emerged in spring 2020 due to the world-wide spread of the novel coronavirus. As the pandemic hit the U.S. and cases started mounting everywhere in the country, the University of Rochester responded by extending spring break by two weeks, during which all faculty transitioned their teaching to online courses. To ensure social distancing and curb the person-to-person spread, students did not return to campus for the remainder of the academic year. Additionally, all research labs deemed noncritical for COVID-19 research were shut down on March 18, 2020, and everyone was sent to work from home. These closings posed particular challenges for our lab classes. Professor Melodie Lawton developed and implemented innovative industry models to maintain social distancing and at the same time provide relevant learning experiences in the unit-operation laboratory and for the senior design projects. She had our seniors turn their half-way completed projects into technology transfer files, which they presented via Zoom towards the end of the semester.
The class of 2020 celebrated their achievements in an online commencement. Our graduates have entered into further education at graduate schools, including UC Berkeley, Princeton, Penn State, the University of Rochester, University of Pittsburgh, University of Minnesota, and University of Wisconsin, to name a few; or they chose to work in companies, such as Javlyn Process Systems, Johnson Matthey Inc., Huntington Ingalls Industries, etc. Chemical engineering major Anna Weldy won a prestigious Fulbright Scholarship to conduct research on improving oral drug delivery of insulin at the University of Copenhagen in Denmark. A member of Phi Beta Kappa, she has been a research assistant in Professor David Foster's lab since 2017. Kappa, she has been a research assistant in Professor David Foster's lab since 2017.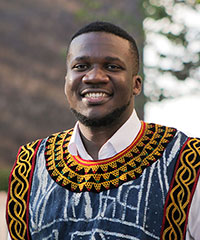 Beauclaire Mbanya Jr. has been named a 2021 Global Rhodes Scholar—one of only two students selected worldwide among candidates from any country not in an existing Rhodes jurisdiction or competition zone. The Cameroon native is the third University student or alumnus to receive a Rhodes Scholarship, and the first in 56 years. Mbanya graduated in May with a BS in chemical engineering. An alumnus of the African Leadership Academy, he previously was awarded a Davis Projects for Peace grant and selected as a 2020 Schwarzman Scholar. He has been completing his Schwarzman program—a master's degree in global affairs from China's Tsinghua University—remotely from the home of his host family in the Rochester suburb of Pittsford. He begins his two-year, all-expenses paid graduate program, the master of science by research in engineering science degree program at Oxford University in fall 2021.
Over the summer, the University of Rochester and our department developed new COVID-19 guidelines for reopening, and research is strong. Professor Marc Porosoff's group demonstrated the potential of a potassium-promoted molybdenum carbide catalyst for use on an industrial scale, with the aim to convert the carbon dioxide in seawater into fuel for Navy ships. Professor Andrew White received together with Professor Gourab Ghoshal, associate professor of physics, mathematics and computer science, a grant from the National Science Foundation to create a mathematical model that simulates the spread of COVID-19 to help policymakers make informed decisions regarding reopening plans. Professor Andrew White also received a grant from the National Institute of Health for his project titled "Learning to learn in structural biology with deep neural networks." The goal of this research is to develop methods that allow meta-learning in structural biology to train new deep learning models on tasks where data are scarce, with limited computation resources.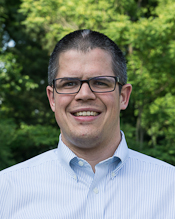 Wyatt Tenhaeff was promoted to Associate Professor of Chemical Engineering with tenure in 2020, highlighting his significant accomplishments in scholarship, teaching, and service at the University of Rochester. In addition to an NSF CAREER award, he received an R&D 100 Award, dubbed the "Oscars of Invention," for his breakthrough work on improving the safety of automotive lithium-ion batteries.
The young alumni achievement award winner 2020 was Genevieve McSpadden, class of '13 (MS '14). The award is given to recognize young alumni of the Department of Chemical Engineering of the University of Rochester, improve alumni engagement and provide inspiration for current and future students.
The department held its first annual panel on "Equity and Inclusion in Chemical Engineering". Past panelists were our alumni Mary Fromm, Vice President at Xerox Corporation, John Ofori, Director of New Ventures at US Pharmacopeia, Chantel Gaudet, Process Control Engineer at ExxonMobil, and Genevieve McSpaden, Global Marketing Leader at 3M; we were also honored to have John Barker, Senior Associate Dean of the Faculty for Arts, Science & Engineering at the University of Rochester. Our panelists shared their experiences how the University of Rochester, and particularly the Department of Chemical Engineering, helped them become successful professionals, predicated on diversity, equity and inclusion. The panel discussion was virtual because COVID restrictions; nevertheless, student attendance was strong throughout.
The Department of Chemical Engineering stands in solidarity with the University of Rochester in its commitment to diversity, equity, and inclusion. All faculty and staff complete annual implicit bias training and in 2020 we formed a student focus group to assess our department on how well we are promoting equity. Our graduate committee continues to foster diversity in our student population, our enrolled undergraduate students were comprised of 46% females in fall 2020, which is way above the national average, and we hold an annual panel on "Equity and Inclusion in Chemical Engineering." Our actions aim at keeping an open dialogue about social justice, and we strive to do ever better in the spirit of Meliora.