Student and Alumni Perspectives
Jump to:
---
Mina Bako Bagassa, class of 2022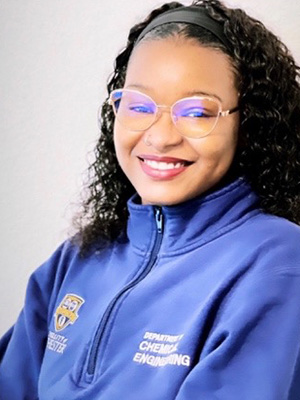 Are you willing to share how you define your identity?
"My name is Mina, and I am from Niamey, Niger (a francophone landlocked country in West Africa). My pronouns are she/her/hers."
What is it that brought you to chemical engineering?
"I chose chemical engineering because it combines all the courses I love such as chemistry, math, biology as well as engineering. Seeing a major that combines all these with physics to design materials and solve problems seemed just perfect for me. chemical engineering is also such a versatile degree that offers so many career opportunities.
Moreover, the challenge of the program was appealing to me because challenges help me to grow, broaden my knowledge and stay dedicated.
I always believed that chemical engineering would give me the knowledge and skills I need to contribute to improving the standard of living in Niger by developing solar technologies with all the solar radiations we get in the Sahel, because we still don't have sufficient electricity supply; and that is a major problem my country faces right now.
Hence, pursuing this degree will make me an asset for my country to revolutionize that industry."
What attracted you to the U of R?
"The diversity at the U of R was one of the first things that attracted me. Seeing the number of international students at the U of R motivated me to apply and want to be part of this beautiful community. I have seen many African students coming to the U of R and that truly made me feel like I will not be disoriented when I come here, and of course I was excited to meet students from other continents as well. I think there are also a lot more international students at the U of R compared to many other universities in the US. Lastly, another important aspect for me when choosing the U of R was the good amount of financial aid it offers."
What resources are helpful to you at the U of R?
"The advisors in the Program have always been very helpful to me. Every time I got confused about my requirements or was not sure about what classes to take in other divisions, I did not hesitate to go to the advisors. For instance, when I was interested in doing research but did not know who to talk to, I went to Pr. Foster who is my academic advisor, and his guidance was extremely useful and allowed me to get my first research experience in Junior year.
The Kearns Center is also valuable to me at the U of R. I always feel like I can talk to the advisors about any problem I encounter during my journey, and they are available to help and show a lot of care. Thanks to the Kearns Center, I did not have to worry about buying all the books I need because I can always borrow them each semester and that has cut a lot of costs for me.
Other resources that help me a lot are the tutoring center because I can get academic help whenever I need it and the Greene Center whenever I feel lost and need career advice."
---
Niera Bakr, class of 2023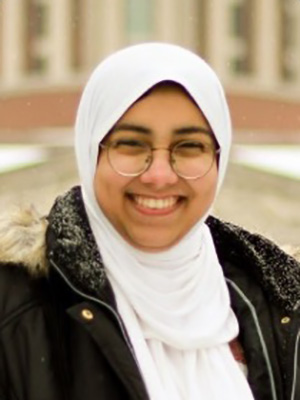 Are you willing to share how you define your identity?
"If I have to put my identity into words, I won't find a better one than Niera. Despite identifying as an Egyptian Muslim woman, I see myself as much more than just ethnicity, sex, and religion. I am a human being. One whose personality, dreams, and thoughts are constantly changing and reshaped by all the experiences I go through, people I meet, and the knowledge I acquire. Therefore, the one word that transcends time to define my identity is Niera."
What is it that brought you to chemical engineering?
"I have always wanted to learn a little bit about everything. Multiple disciplines spark my curiosity, and before I even get bored with one, I find another which I want to learn more about. Engineering seemed to offer that advantage—the advantage of not having to choose a particular discipline or career. I can keep on exploring anything and everything. Chemistry, though, was what I found the most fascinating and unpredictable, and what pushed me further to make my decision was an incredible high school chemistry teacher whose passion was contagious."
What attracted you to the U of R?
"The U of R is a world of opportunities. Not only do we get to participate in research with faculty members and aspiring students from all around the globe, each offering a unique and fresh perspective on science, but we also receive unlimited support from the countless offices dedicated to our career and personal development. I see my life as an empty canvas where every outcome is possible, and the U of R seemed to offer everything to teach me how to draw to my heart's content."
What resources are helpful to you at the U of R?
"Definitely, my department. There, I was supported, my questions were answered, and my thoughts were heard. The Greene Center is also a great office that I took great advantage of at the U of R. I can't forget about the Meliora collective that helps you expand your network by connecting with alumni from whom you can gain insights and advice. These are my favorites, but there are many more like the Writing and Speaking Center, CETL, the Center for Education Abroad, etc."
---
Phuc Tran, class of 2022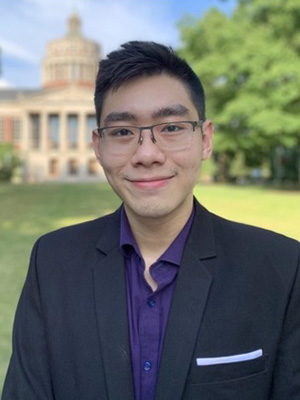 Are you willing to share how you define your identity?
"My name is Phuc Tran, I also go by Nathan. I am an international student from Vietnam and a rising senior at the University of Rochester. A large part of my identity here comes from not only my Southeast Asian origin, but also the fact that I am not American born. Moreover, I define myself as a gay man."
What is it that brought you to chemical engineering?
"I have always been interested in the potentials that science offers. I love learning new things and applying what I learned to solve real-life problems. Therefore, I was instantly drawn to the field of Engineering. After some research, I decided to try out chemical engineering, and I absolutely fell in love with the possibilities the field has in both the industry and academia. I really enjoyed the content that I have learned throughout my time in the major, and finally declared my major in chemical engineering and my minor in mathematics at the end of my sophomore year."
What attracted you to the U of R?
"The very first thing that attracted me to the University of Rochester is the diversity. Most international students would tell you that if you are applying to college outside of the states, there are only few ways of actually getting to know the school. Most of my research came from the internet, rankings, and the virtual tours that are on the schools' websites. Luckily, one of my upperclassmen from high school got accepted to the University of Rochester, and I was able to gain a lot of insights about the school from her. Having spent my entire life in Vietnam, I would love to be in a campus that nurture different cultures and identities, that express its commitment to promote diversity and equity. University of Rochester sounded like the perfect place. Moreover, I was drawn to the fact that the university has a very good ranking not only overall, but also in an abundance of departments that I am interested in."
What resources are helpful to you at the U of R?
"Personally, my most valuable resources are my connections. While the school offers a lot of resources that can cater to one's every need, sometimes it could be hard to navigate and find the right place. I have been involved with a lot of student groups and organizations throughout my time at the school, and I personally think that the people that I have been in contact with have been of greater help to me than anything else. No matter what I am in need of help with, somebody always know the best resource on campus for me, whether that be my TAs, my professors, or my fraternity brothers. Just don't ever be afraid to reach out to other people for help!"
---
Michaela Wentz, class of 2018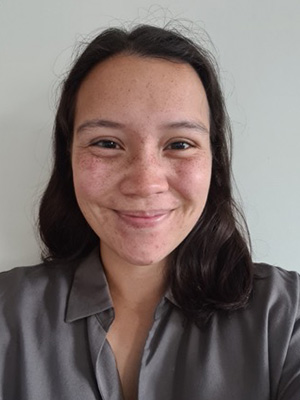 What is it that brought you to chemical engineering?
"I decided to study chemical engineering because I liked chemistry in high school and engineering seemed to have practical aspects that I liked. While at Rochester, I learned more about the field and decided to stay in it because of the huge variety of applications it had (I still don't know what I want to be when I grow up)."
How would you say the U of R ChE department helped you with your career endeavors?
"The rigorous curriculum has been instrumental to progressing my career since it prepared me to learn quickly and think thoroughly. I've had multiple jobs since graduating and figuring out what questions to ask has been crucial for me; the depth of the U of R classes taught me to learn how to ask questions through out my studies."
What resources were helpful to you at the U of R?
"One of the things I miss most about the U of R is having resources to help me. Office hours, tutors, and the writing centre all helped me do well in my classes. When applying for internships, the career centre helped review my resume and do practice interviews. Since graduating, I've realized that the U of R is unique in letting undergrads take graduate level courses! The couple grad courses that I took were some of the most directly applicable courses and made good talking points during interviews."