NEWS & EVENTS
Three Former Students Inducted as Fellows of the AIMBE
Three former PhD students/post-doctoral fellow of Professor J.H. David Wu were inducted as Fellows of the AIMBE (American Institute of Medical and Biological Engineering) in the induction ceremony held in Washington DC.  AIMBE is a national leadership group and honor society, representing 50,000 individuals and the top 2% of medical and biological engineers (http://www.aimbe.org/about-aimbe/).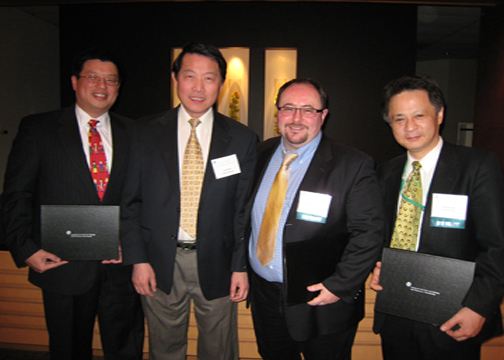 In Recognitions of:
Dr. William K. Wang, Senior Director, Purification Process Biochemistry, MedImmune. (former Ph.D. student)
For outstanding contributions to the field of protein biochemistry as applied to the development of purification processes for biopharmaceutical manufacturing. 
Professor Athanasios Mantalaris, Department of Chemical Engineering, Imperial College London. (former Ph.D student)
For outstanding contributions in the field of stem cell bioprocessing and tissue engineering and model-based bioprocess systems engineering. 
Professor Yasuyuki Sakai, Organs and Biosystems Laboratory, The University of Tokyo. (former Post-Doctoral Fellow)
For outstanding contributions to the field of bio-artificial organs, regenerative medicine, tissue engineering and cell-based toxicological/pharmacological assays.