News & Events
Eisenberg summer interns learn what research is all about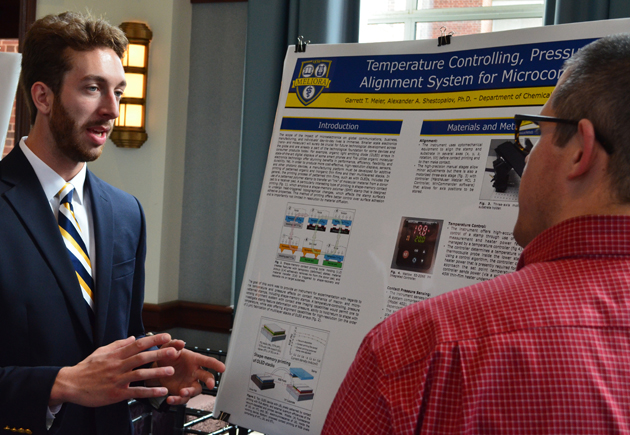 (Eisenberg Summer Intern Garrett Meier, a senior, worked with Assistant Professor Alexander Shestopalov to study the effects of temperature and pressure on shaped-memory polymer stamps used in microelectronics.)
Eleven weeks in a lab may not be enough time to change the world.   But it can sure teach you a lot about the way cutting-edge research is conducted.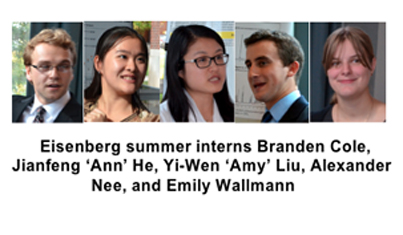 Just ask Alexander Nee, a senior in the Department of Chemical Engineering, who participated in the department's Eisenberg Summer Internship program this year, working with Associate Professor Mitchell Anthamatten on green synthesis of organic small molecule glasses, which could be used in therapeutic drug delivery and in gas membranes.
     Nee said he was initially frustrated by his slow progress -- until he was reassured by Anthamatten that he should not expect to come up with a groundbreaking discovery in two months time.
    "The thing I learned about research is that a lot of it is just discovering little things, and if you can quantify those little things you can give that to someone else," said Nee."Sometimes it's just as important to find out that something doesn't work, so somebody else doesn't have to."
    The internships are named for the late Richard Eisenberg, former associate professor of chemical engineering whose endowment launched the program in 1992. The internships give rising juniors and seniors hands-on experience, working one on one with faculty members to apply the engineering principles they've learned in the classroom. It also provides an additional way for faculty members to explore new research topics.
Students apply for projects proposed by faculty members that range from applied to fundamental problems in chemical engineering. The students who are accepted work full time on their projects for 11 weeks, receiving $3,000 in remuneration.
    The nine students who participated this summer showed their results at the annual Eisenberg poster session during the University's Meliora Weekend celebration. They cited a variety of skills and insights gained from the experience.
    For example, Jianfeng "Ann" He, a senior, worked with graduate student Andrew Durney and Assistant Professor Hitomi Mukaibo on using electroosmotic flow as a means of fluid transport within micro needles. This could be a way to inject genetic material into cells -- algae cells, for example,  to boost their effectiveness as a source of solar energy.
   As a result of her work this summer, "I know how to troubleshoot, how to make a great presentation – hopefully!" He said. "I definitely improved my technical writing and it helped me to think more logically. I'm probably also a better reader of journals as well."
    Emily Wallmann and Yi-Wen "Amy" Liu, both juniors, worked with members of Prof. David Wu's lab on a project called "Cloning, Expressing and Purifying Genes Related to Biofuel Production in C. Thermocellum." The goal was to better understand how this anaerobic bacterium might be engineered as a source of hydrogen and ethanol.
    Wallmann said the biology-based project was a valuable opportunity to learn "some of the nitty-gritty details of how organisms function on the small scale," -- and to share the "day to day experiences of being in the lab, just doing research in general."
    Liu said she has plenty of opportunities do bench work during the school year. But this project included comparing proteins found in C. thermocellum with those found in B. subtilis, a process that involved database and literature research; gene cloning, expression and purification; and gene sequence alignment.
   "That was a really interesting process for me," she said.
     Branden Cole '16 worked with Assistant Prof. Wyatt Tenhaeff, who is attempting to design a crash resistant lithium ion battery for automobiles. The idea is incorporate materials in the electrolyte that would stiffen during the impact of crash, keeping the barrier between anode and cathode intact to avoid combustion and fire. This could eliminate the need for the bulky metal cages that now surround the batteries.
    "I didn't touch a battery all summer," Cole noted. Instead he grew  polymer films of various thicknesses on silicon wafers, to help assess if polymers can be used in conjunction with silica particles to stiffen the barrier.
      Cole said the experience taught him a lot.
    "In organic chemistry class, for example, you learn how a reaction happens," Cole said . "But there's so much more that goes into it.  It's not just mixing this chemical with that chemical. You need the correct conditions, and there are so many outside factors that come into play. It's all about understanding the process beyond what you learn in class--making it work, if you will."
    "One of the more valuable lessons I learned is that theory doesn't always give you the answer to a problem," Eisenberg said. "Sometimes there are better answers you can get from common sense and practical considerations. Putting them (students) in charge of a project is a fine way for this to occur."
    No doubt Eisenberg would be pleased to see Cole and other students learning this first hand, thanks to the internships he helped to establish.
   Students can learn more about the Eisenberg Summer Internship program by contacting Jennifer Condit, the department's undergraduate administrative assistant.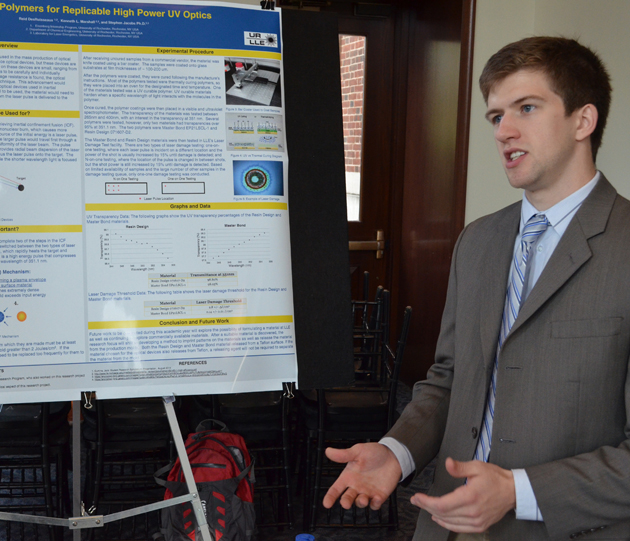 Reid DesRuisseaux, a senior, worked with Kenneth L. Marshall, Research Engineer and Acting Group Leader for Optical Materials Technology at the Laboratory for Laser Energetics, to test various polymers for their UV laser damage resistance, to help determine if they could serve as a low-cost alternative to glass for specialized optical devices used in inertial confinement fusion (ICF) lasers.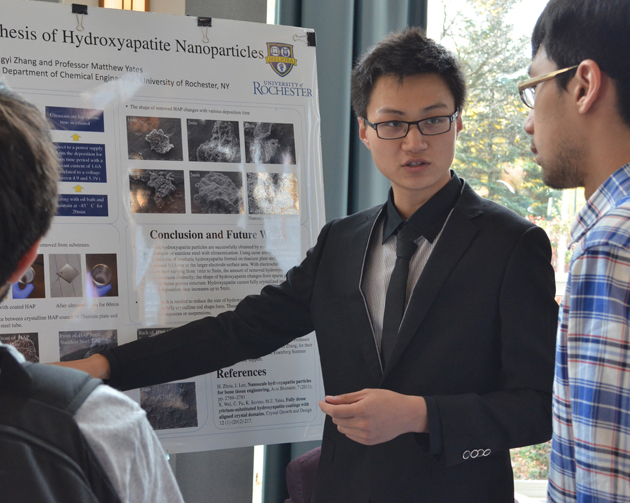 Xiongyi Zhang, a senior, worked with Professor Matthew Yates on aspects of electrochemical synthesis of hydroxyapatite – a crystalline calcium phosphate with similar properties to human bone tissue that could have biomedical and other applications.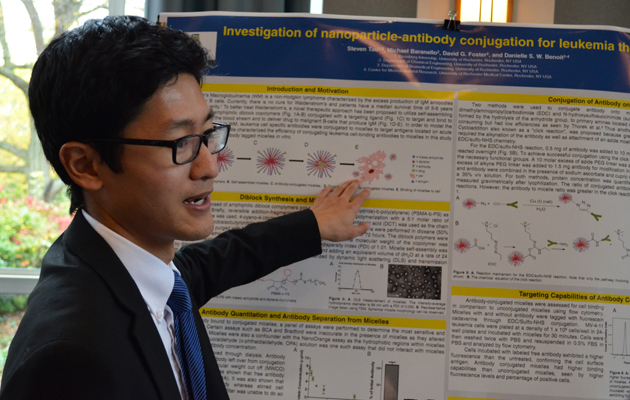 Junior Steven Tau¹s project as an Eisenberg Summer Intern -- ­ Investigation of nanoparticle-antibody conjugation for leukemia therapeutics -- ­ explored a novel therapeutic approach to Waldenstrom's Macroglobulinemia, a non-Hodgkin leukemia caused by the excess production of IgM antibodies by B-cells. The approach uses self-assembly nanoparticles to remove IgM from the blood stream and to deliver drugs to malignant B cells that secrete IgM. Tau worked with CHE Ph.D. student Michael Baranello, Associate Professor David Foster, and Assistant Professor Danielle Benoit within the Benoit Laboratory for Therapeutic Biomaterials characterizing multiple bioconjugation techniques to fabricate targeted nanoparticles and looking at the binding capabilities of these nanoparticles in vitro. Funding for this project also comes from Alex's Lemonade Stand Foundation and I CARE I CURE Foundation.