News & Events
Rachel Monfredo is first recipient of Dottie Welch Award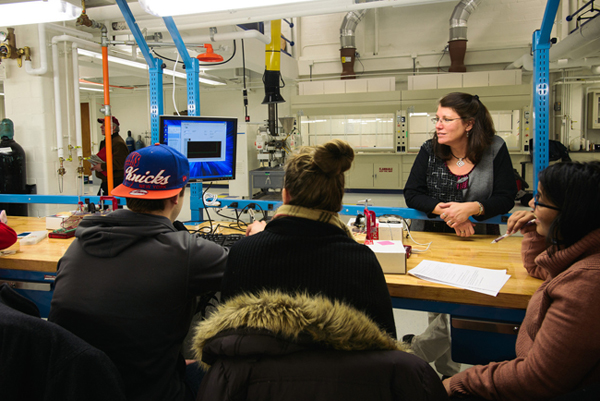 (Rachel Monfredo, inaugural recipient of the Hajim School's  Dottie Welch Student Enrichment Award, in the recently renovated undergraduate labs in the Department of Chemical Engineering. Photo by Brandon Vick.)
Students craving a piece of chocolate know they'll find one in Rachel Monfredo's office.
And if that gives them an excuse to drop by for a chat, some technical or moral support -- or even some duct tape to patch a leaky shoe -- all the better. Monfredo is happy to offer that as well.
"With some of these kids, they've left home, but they're not quite out there yet," Monfredo says.
The Senior Technical Associate in the Department of Chemical Engineering is the first recipient of the Hajim School's Dottie Welch Student Enrichment Award. Welch was the undergraduate coordinator in Biomedical Engineering from that department's inception until she retired last year. She was always there for her students.
So, too, is Rachel Monfredo for the students in ChemE.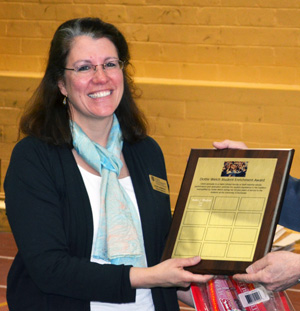 Since joining the department nearly three years ago, "she has become the go-to person for the students," said Hajim School Associate Dean Jim Zavislan. "She is the champion for students in making sure department faculty and staff are aware of student needs and desires."
As one of only two female engineers on the ChemE staff, she's also a role model in a department that boasts a 37 percent female undergraduate enrollment—second best in the Hajim School.
But that's not all she does as part of the team that keeps ChemE's labs up and running.
And she can certainly draw upon a fascinating array of educational and career experiences to guide her.
For example, she offers the insights she gained as a Yale psychology major when the department matches up students into four-person teams in the senior labs.  "There are followers, there are leaders, and there are some students who don't realize yet they are leaders," Monfredo said.
Her work at the Boston Museum of Fine Arts -- fresh out of graduate school with a master's in American art history -- taught her "there's a way of keeping track of things so you can find them again." That's an invaluable asset in making sure ChemE students have access to lab equipment, when they need it, to complete their experiments and projects.
And her engineering credentials – a second master's in material science and a stint as a published research engineer at the University of Texas, Austin – have enabled her to quickly learn the ChemE curriculum, work as an advisor for the junior and senior laboratories, and propose new uses for the labs.
After sitting in on Prof. David Foster's classes, for example, she suggested a lab component for fluid dynamics. "This has provided more than 100 students with a hands-on experience," Zavislan noted. "Without Rachel, this beneficial lab experience [at the sophomore level] would not be possible."
"My goal is to add more lab components to each of the courses," Monfredo said. "I learn best hands on, and I know a lot of the students really bloom when they get to the junior lab, and they finally get to apply all the theoretical knowledge they've learned in class to the equipment we have, and run experiments that show how things actually happen."
She would like to study what motivates female engineering students to enter a field  that has traditionally been dominated by males, "and take it back to the middle schools. If we don't reach female students in middle schools, they don't keep up with the math they need in high school to go even further by the time they get to college."
She marvels at the way the female students in ChemE tackle their senior projects. "They'll be living in these labs the last weeks of class," Monfredo said. "They are motivated not because we told them to do this, but because they want to. I want to understand that component of their personalities and how we can tap into it."