News & Events
Ching Tang named recipient of OSA award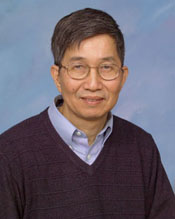 Professor Ching Tang has been named the 2014 recipient of the Nick Holonyak Jr. Award by The Optical Society (OSA) for the discovery of efficient thin-film organic light-emitting diodes (OLED), which has led to novel display and lighting products.
The award, established in 1997, honors Nick Holonyak Jr., who has made distinguished contributions to the field of optics through the development of semiconductor based light emitting diodes and semiconductor lasers. The award is presented to an individual who has made significant contributions to optics based on semiconductor-based optical devices and materials, including basic science and technological applications.
Tang, along with Steven Van Slyke, invented the OLED in the 1970s, giving birth to a multi-billion-dollar industry. The OLED is replacing the current liquid crystal display (LCD) technology employed on video displays, including flat screen televisions, computer monitors, and smart phones. OLED displays work without a backlight and are more energy efficient, thinner and have a better picture quality than LCD displays.
Widely recognized as a leader in organic electronic technology and photovoltaics, Tang was elected to the National Academy of Engineering in 2006. He was also awarded the Wolf Prize in Chemistry in 2011 and honored by the Eduard Rhein Foundation of Germany and the Consumer Electronics Association in 2013.