Celebrating 100 years of UR chemical engineering: Gene Su's legacy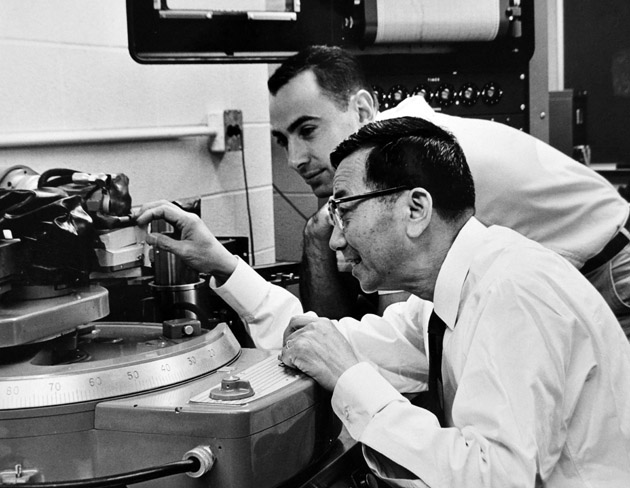 Prof. Gene Su, foreground, with one of his PhD students, Nicholas Borrelli '63. Borelli, now a Corporate Research Fellow with the S&T Division of Corning Inc., recently contacted the Department of Engineering to help honor the memory of Gene Su. "He was easily the finest gentleman I have ever met . . . and the word 'gentleman' could not be more appropriate," Borelli wrote. "My career such as it is owes much to my association with Prof. Su and the guidance he gave me over the years."
During World War II, Gene Su taught at a university in his native China, then established a gasohol factory there to fuel U.S. Army supply trucks on the Burma Road.
While immersed in his studies one day, Su later told a Rochester newspaper columnist, air raid sirens went off. Su ignored them. Only when an American officer insisted, did Su reluctantly leave the building.
Moments later it was demolished by a Japanese bomb.
That unidentified officer unknowingly performed a huge service on behalf of the University of Rochester and its Department of Chemical Engineering.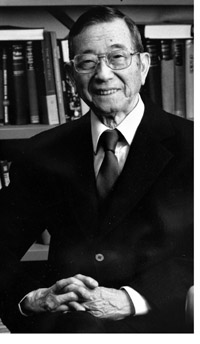 For 15 years after joining the department in 1947, Su was one of only three chemical engineering faculty members, and "carried the lion's share of the research load," wrote John Friedly in his 75th anniversary book about ChemE.
During 1960-65, for example, Su was recipient of five grants totaling $285,000 (about $2.2 million in today's dollars) from the Office of Naval Research, the National Science Foundation and the Glass Container Industry Research  Group.
The largest of these -- an NSF grant for $92,000  to study the "infrared and ultraviolet transmission and absorption characteristics of glass" --was cited by then UR president Cornelis W. de Kiewiet.  "We have great confidence in our new College of Engineering," de Kiewiet wrote, "and this National Science Foundation grant will help immeasurably in strengthening the research graduate training efforts of the Department of Chemical Engineering within the College."
Su had supervised more master's theses (33) and Ph.D. theses (15) than anyone in the department's history when he retired.
An expert in the thermodynamics of fluids, he also took an "early interest in the properties of glassy materials," which "anticipated by more than a quarter of a century the chemical engineering community's current interest in optics materials," Friedly added.
Su left another legacy as well during his 27 years at the UR. He was "the most courteous man ever to pass through this institution," according to John Ferron, a fellow ChemE faculty member.
"Gene Su's quiet manner belied the influence he had at the University of Rochester," Friedly added.