ChemE students take advantage of UR's musical offerings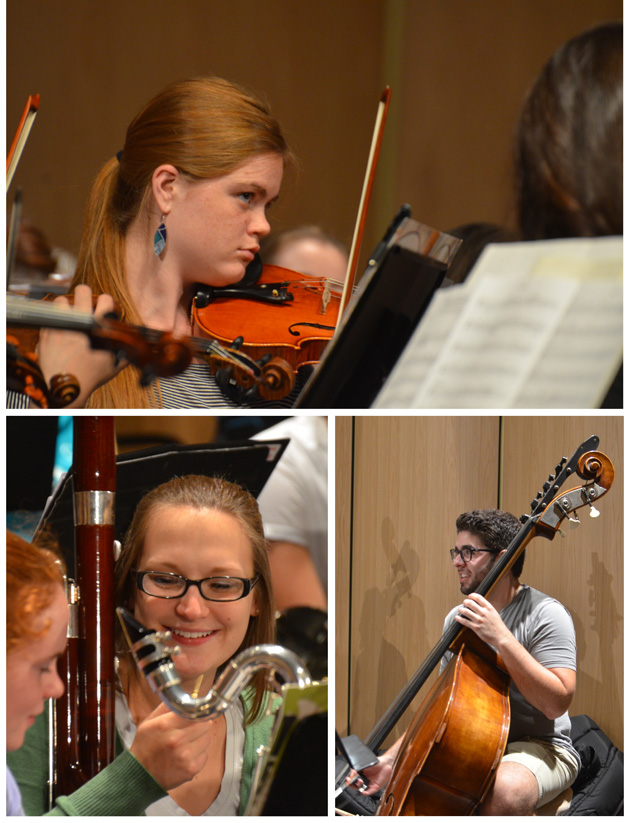 (ChemE students Claire Hotvedt (at top), violin, and Erik Laurin, double bass, perform with the UR Symphony Orchestra, while Julia Morris (lower left) plays bassoon with the UR Wind Symphony.)
During the spring semester of his sophomore year, chemical engineering major Erik Laurin '15 confronted a particularly tough course load, including organic chemistry, differential equations, and fluid dynamics.
He decided to not play double bass for the UR Symphony Orchestra that semester.
He's glad that was the only semester he had to do that.
"The first week or two, it was like 'okay, I have so much more time to work on homework.' But within a couple of weeks, I really missed playing with an ensemble," Laurin said. "It's just something you can't get from any other facet of undergraduate life."
The time Laurin has spent practicing and performing with the orchestra – and taking lessons from faculty at the renowned Eastman School of Music – paid off this fall. He was a winner in the River Campus Concerto Competition for non-Eastman students.  Laurin will perform the first movement of Antonio Capuzzi's Concerto for Double Bass and Orchestra with the UR Chamber Orchestra on April 28.
An opportunity of a lifetime
The University of Rochester offers numerous opportunities for students to pursue their passion for music, even as they pursue majors in other fields. (Click here to read more about the intersection of music and engineering on the UR campus.)  And Laurin is not the only chemical engineering student taking full advantage.
For example, Julia Morris '15 plays bassoon in the UR Wind Symphony – one of 10 faculty-directed River Campus ensembles that engineering students can audition for.  Claire Hotvedt '16 plays violin in the UR Symphony Orchestra and, like Laurin, takes lessons at the Eastman.
For students interested in pursuing music as a lifetime hobby, the chance to take individual lessons with Eastman faculty -- or participate in ensembles under experienced directors on the River Campus -- is a great way to elevate skills most of these students have been developing since elementary or middle school.
"After almost feeling like I was at a plateau for the last few years of high school, I believe I've really made progress on my instrument again," says Hotvedt of her violin lessons at the Eastman.  "What also makes it worth it is playing violin at church. I love knowing that I have enough ability to go in and make music for other people and join that community."
"My teacher is brilliant," she said, adding, "It's an opportunity that I don't know if I shall ever have again."
An ideal outlet
Morris said she was drawn to the Wind Symphony because of its director, Bill  Tiberio – "one of the best conductors I've ever had. He's very aware that we're taking time out of our busy schedules because we want to, not because we have to, and  he's very appreciative of the time we give to him."
Music is also an ideal outlet from the pressures of a rigorous engineering curriculum.
"Practicing the violin and performing serves as a counterpoint to my typical coursework," Hotvedt said. "When I'm really feeling stressed about homework, I occasionally skip the drills in favor of playing one of my favorite pieces to really feel the beauty and emotion of the music."
"It just brings me back down to earth," says Laurin. "It can get stressful, dealing with science and math so much. So I go to the music and just let loose; I relax, play and enjoy it -- not that music doesn't involve a fair share of work, but it's a different kind of work that lets me take a break from science."
Then there's the camaraderie among musicians that extends even to the particular instrument they play.
Morris, for example, fell in love with the bassoon in middle school. "It's very strange looking and funny sounding; it sounds like a dying duck to me," she said. "It grabbed me as being really weird."
"All the bassoon players I've ever met seem to have really fun personalities. I kind of just fit in with that.  We're just a goofy bunch."
Time management is important
Given the rigors of an engineering curriculum, time management is crucial for Hajim's student-musicians, just as it is for its student-athletes, student-actors or student-office holders.
A weekly orchestra rehearsal, for example, can last 2.5 to three hours, even more if you have to set up a large instrument like the double bass. Then there's practice time. Weekly lessons at the Eastman run a half-hour to an hour, plus more practice. It can add up fast.
However, "people have a lot more time than most of us think," Hotvedt added.  "When you plan it out, there are hours you can set aside for coursework, or music, or sports, or downtime that prevent you from having to stress about things at the last minute. I treat these as commitments, whether it be as simple as going to the gym, or as important as catching the bus to make it to my violin lesson, so there is no doubt that they are going to occur. Everything else can be planned around them."