Jennifer Condit receives Dottie Welch award for her service to students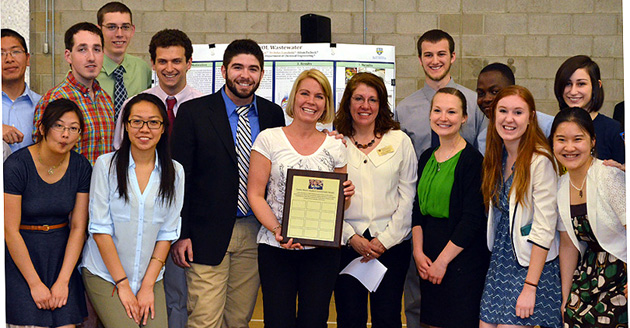 Jennifer Condit, surrounded by Chemical Engineering students, holds the Dottie Welch award. Rachel Monfredo, last year's recipient, stands next to her. The students from left to right in the back row are David Yao, Jared Fialkoff, Ethan Pacheck, Matt Sidwell, Zack Perry, Hamed Kone, and Madeliene Laitz. In the front row, left to right, are Molly Tsai, Tiffany Wong, Erik Laurin, Jen, Rachel, Julia Morris, Lindsey Brown, and Ann He.

Jennifer Condit, the Undergraduate Administrative Assistant for the Department of Chemical Engineering, has a simple yardstick for measuring how well she's connecting with her students.
"When they first start as freshmen, they'll either call me Professor Condit, which I'm definitely not --  though it has a nice ring to it -- or they'll call me Miss Condit," she explained. "By the time they're juniors, and especially seniors, it's just 'Jen.' They're pretty comfortable with me by the time senior year comes around."
Condit wouldn't have it any other way. And that helps explain why she is this year's recipient of the Hajim School's Dottie Welch award, which recognizes a faculty or staff member "whose performance and dedication enriches the student experience" in the tradition exemplified by Welch, the former undergraduate coordinator in Biomedical Engineering.
"Jen Condit focuses her attention on each incoming Chemical Engineering freshman, and doesn't let them out of her vast awareness, care and occasionally concern until they are walking across the Eastman Theater stage at graduation," reads the award nomination written by ChemE senior Erik Lauren and Rachel Monfredo, the department's Senior Technical Associate, who was the first recipient of the award last year.
"Jen has been an immense help with running and financing the AIChE (American Institute of Chemical Engineering) student chapter over the 5-plus years she has been in the department… She writes endless recommendations for students applying to internships, jobs, and Eisenberg fellowships...  She tirelessly promotes CHE students for well-deserved awards.  She even arranges her vacations around the times when students are not on campus so she won't be 'missed.' "
Monfredo read the nomination aloud at the presentation ceremony  during the Hajim School's Design Day celebration. It was clearly an emotional moment for both of them.
"It's very nice to be recognized," Condit said. "I was crying,  which was slightly embarrassing. I've apologized to all the students, but some of them said they were crying too. "
Condit, who has an English degree and a background in marketing and advertising, joined the department five years ago.
"I'm very lucky. This department – the faculty and staff – have been really supportive of me," Condit said.
For example, she started at a desk in an open area of the department's suite of administrative offices, which made it difficult to talk confidentially with students. When she brought this up, the department moved her to an adjoining conference room.
It is not unusual for students to come to her upset over grades or wanting personal advice. "These kids are so competitive that 'not doing well in a course' can be a C; they get so upset about it," Condit noted. "I have an open door policy, but sometimes I have to close the door (to protect a student's confidentiality). I've had some tears in my office."
By the time they've come to know her, not as "Professor Condit" or "Miss Condit" but simply as "Jen," they'll also drop by just to chat.
"That's the part that I love," Condit says, "when they just come in and say 'hey Jen, how are you doing?' "
 Below, Condit receives congratulatory hug after receiving the Dottie Welch award at the Hajim School's Design Day celebration.