ChemE's 'go-to guy' marks 50 years at UR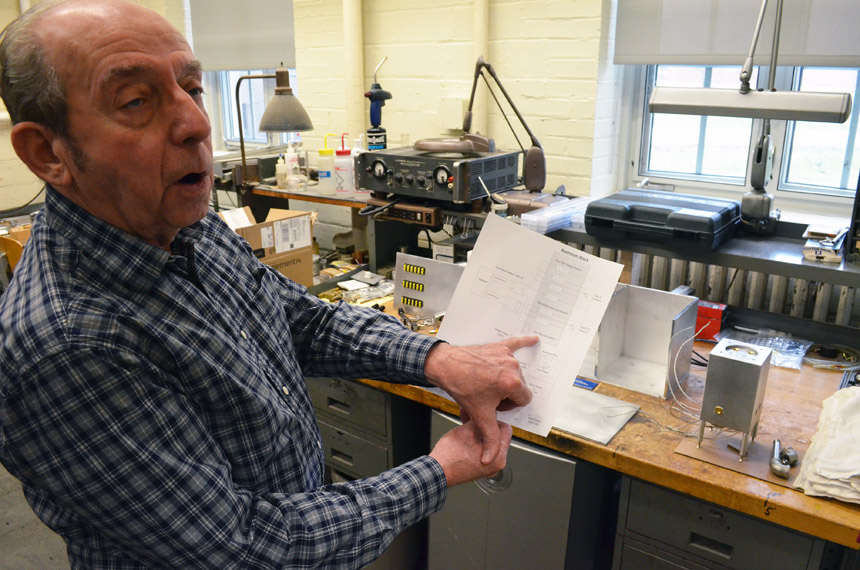 Larry Kuntz, lab engineer in Chemical Engineering, shows schematic drawing he worked from to do the wiring for the device at right, which will be used in a thermal conductivity experiment.
What do you do if you've just received a dynamic mechanical analysis instrument for a federally funded research project, but you don't have a room to keep it in that meets stringent requirements for dry, oil free air?
Or what if you would like to create a new still to replace a 30-year-old relic in the lab so undergraduate students can learn the process of separating alcohol from water?
Whether you're a faculty member or grad student doing cutting-edge research, or an undergraduate struggling with a senior design project in the Department of Chemical Engineering, you turn to laboratory engineer Larry Kuntz. And he'll get the job done.
Kuntz, who has been with the University of Rochester for 50 years, is an example of the highly skilled but often unheralded staff members who maintain safe, efficient laboratories where research can occur, and where students can take the theoretical knowledge they've gained in the classroom and translate it into hands-on experiments and projects.
 Kuntz is "the go-to guy," says lecturer and senior technical associate Rachel Monfredo. "He's behind all of the equipment in all of the labs. His fingerprint is on every pretty much every piece of equipment that has any electrical wiring. And he's built a lot of these things from scratch.
 "He's irreplaceable."
 Kuntz, a Rochester native, began working in the Physics Department as a co-op student while attending Edison Tech High School.  He was hired full time by that department after he graduated from Edison in 1966. He built high energy physics equipment for the University's 130-inch cyclotron, and also for the Brookhaven and Fermi national labs. He also set up a circuit board lab that served River Campus and Medical Center departments. From 1968 to1970, he served in the Army, repairing and calibrating electronic equipment.
When the cyclotron was torn down to make room for Goergen Hall, Kuntz quickly found a new job with the Department of Chemical Engineering, which needed to fill an opening created by a retirement.  Kuntz by that time was not only skilled in electronics, but was familiar with purchasing, had been trained as a safety officer and knew just about everybody at the University who was also engaged in those activities.
"They said they were looking for someone to do a little bit of all of that," Kuntz recalled.  "In a smaller department, it's difficult to hire two or three people to do those things, so you hire one person who can do them all."
Kuntz spends about half of his time ordering equipment and supplies for faculty members' research labs, the other half working with associate professor Doug Kelley on the undergraduate labs and associated classes. That includes building and repairing equipment, and setting up the interfacing electronics for the computers used in experiments.
He also interacts with students, especially those working on senior design projects. "They go to Doug with a proposal," Kuntz said,  "and if he likes it, he gives them a small amount of money to spend on materials." At that point they turn to Kuntz to find out where to obtain what they need at a good price, and for help with translating a design into a finished project. "I assist them because some of them do not have hands-on experience with tools; you have to show them which way to turn the wrench to tighten the bolts."
The students learn they cannot always expect to walk into the nearest hardware store and find a precision part right on the shelf, or available online for overnight delivery. "They'll come to me and say 'let's order this; can we have it tomorrow?' " Kuntz said. "Actually, it may take two to three weeks to come in. That's something that's really important for them to learn."
Kuntz has seen a new emphasis in the last six or seven years on giving students more of this basic hands-on experience, in addition to the "mostly high-end technical" instruction students had traditionally received. Kuntz credits Dean Rob Clark and the hiring of additional faculty members like Kelley who have had years of experience working in industry.
"They believe in hands on, and we're seeing that this is a big game changer when students leave here and look for employment," Kuntz said.
Most people at age 68 would be counting down to retirement. Kuntz is in no hurry.
He enjoys working in the Department of Chemical Engineering. "You are allowed to do what you need to do, to make your own decisions as to what should have priority. If someone needs something ordered for a lab by tomorrow, that's my top priority -- to find out if we can get it and have it shipped in overnight, so it's not holding up the research or our grad students."
Says Monfredo: "One of the true 'Larryisms' is you ask him to do something and he says it can't be done. Twenty four hours later he's solved it even better than you could ever imagine with bells and whistles added in."
No wonder he's a man in demand all across campus. "The electricians in the brown shirts, the guys over in physics – anyone who has problems, they come to Larry," says Monfredo.
In other words, there's always a new challenge to tackle.
 "That's what I like about this job," Kuntz says.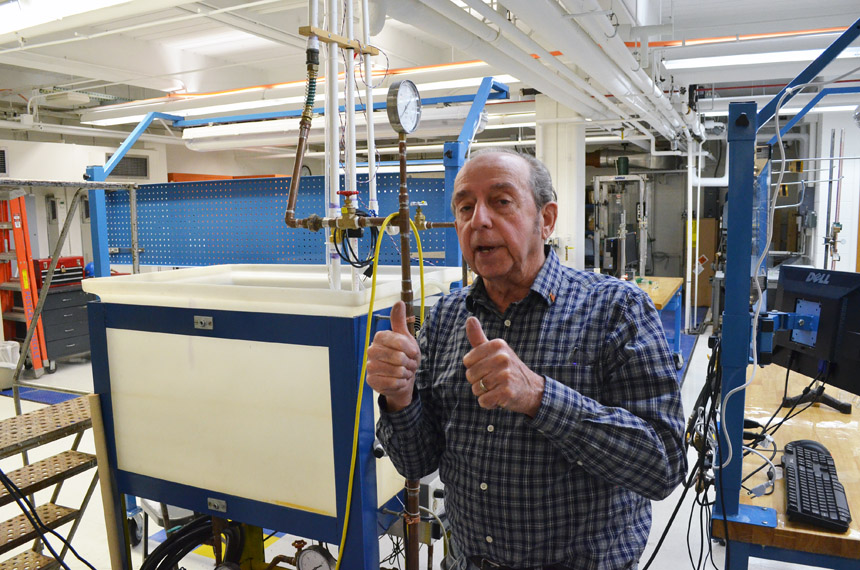 Kuntz worked with Kelley to build this pump characterization stand that enables students to measure flow in pipes and study the flow characteristics of different types of pipe,