Madeleine Laitz's journey to a Fulbright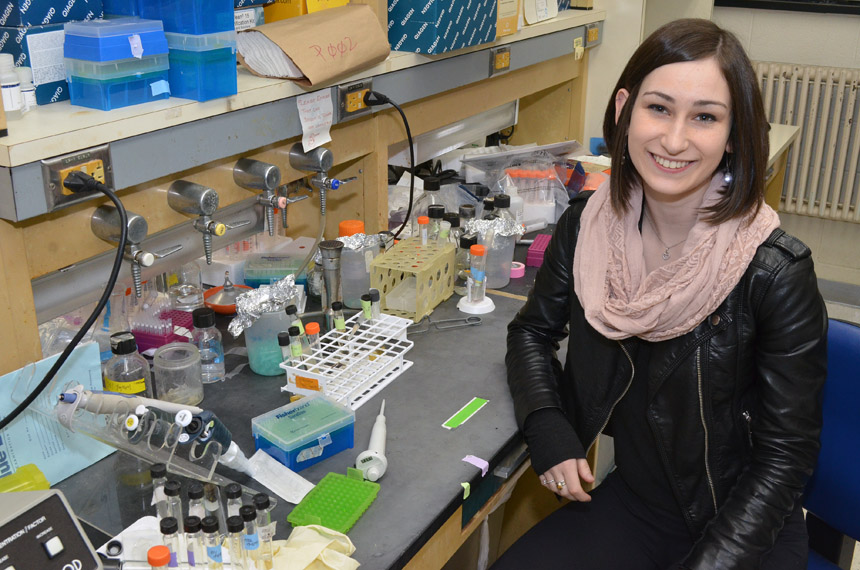 Madeleine Laitz in the lab of Prof. David Wu of Chemical Engineering, where she pursued research on a microbial cellulolytic enzyme complex that breaks down lignocellulosic biomass with the ultimate goal of converting it to biofuels.
Madeleine Laitz '16 never took calculus or "sciency stuff" in high school. "That was not really my interest," she says. "I didn't feel I was good at it."

And yet, this fall the chemical engineering major will head to Imperial College in London, UK, on a Fulbright Scholarship to design ultra thin, flexible fuel cells and pursue a master's degree in green chemistry.

Laitz's transformative journey to a Fulbright was propelled by her willingness to "dive into" new opportunities – and by a faculty advisor's vote of confidence during her freshman year that, she says, "changed my life."

During that journey she has served as a peer advisor for chemical engineering students (through the College Center for Advising Services), and as a teaching assistant for four of the classes they take.

In keeping with her advice to "make the most of this university and what it has to offer," she has earned English Department and University prizes for poetry and other literary work (her minor is in creative writing). And she is a winner of the River Campus Concerto Competition (a violinist, she is concertmaster for both the University of Rochester symphony and chamber orchestras).

No wonder one of her professors, David Wu, described Laitz as "versatile, multi-talented and productive" in a Fulbright recommendation letter. "She is one of the most outstanding undergraduate students I ever had in my teaching career of more than 25 years.

"There must be an extraordinary driving force in this young woman's heart and intelligence in her mind to drive her to pursue and accomplish so much intellectually."

"From the beginning of her time in the chemical engineering department Madeleine has demonstrated a drive and enthusiasm for doing research," adds Prof. Eldred Chimowitz, the advisor who was instrumental in helping her down that path.
Discovering the 'magic' of engineering
Laitz grew up in a household that valued music and the creative arts. Her father, a former Eastman School faculty member, is chair of the music theory department at the Juilliard School of Music; her mother is a faculty member there as well, Laitz says. In addition, "my family has always valued the environment. I knew going through high school that I wanted to do either environmental law or environmental engineering."

She explored environmental law during her summer after graduating from high school. She interned with the National Resources Defense Council in Los Angeles, which was developing regulations for previously unchecked hydraulic fracturing practices in the state of California, Laitz says. It was interesting work, but not something Laitz wanted to pursue as a career. "They didn't have a better alternative to offer," she said. "I thought it would be cool to be part of a research team that came up with something different, something that would be cost effective and efficient."

So she arrived at the University of Rochester that fall eager to explore engineering. "I thought 'if not now, when? If I don't do engineering now, I'm going to miss the boat. I have to at least try,'" Laitz says.
She took a green engineering course offered by the Department of Chemical Engineering during the first semester of her freshman year, and "immediately fell in love with the possibilities and the sort of magic of engineering. I thought it was incredibly creative."

However, she had some making up to do in order to major in chemical engineering, given her relative lack of math and science in high school. "Freshman and sophomore years were tough," Laitz says. "It was baptism by fire. I had to just dive in."

She secured – on her own – an unpaid internship for the summer after her freshman year with the Department of Civil and Environmental Engineering at UCLA, a department she had toured during her internship the previous summer. But she lacked funding.

She approached her advisor, Prof. Eldred Chimowitz of Chemical Engineering, who awarded her one of the department's Eisenberg fellowships. The fellowships typically support summer research experiences for undergraduates in the labs of the department's own faculty members.

"I was just a freshman. I had nothing I could show him on my resume as proof that I would make the most of that summer. I could have done terribly. But he took a gamble," Laitz says.

"It changed my life, absolutely."
'Throw yourself into it'
At the lab where she worked at UCLA she helped identify antibiotic resistant bacteria and genes around non-organic cattle farms, for which she was co-author of a submitted paper. "Everyone was so passionate about the environment and working with lawyers to put in place different regulations on environmental processes. It was very inspiring," Laitz says.

"I was working sometimes 18 hours a day in the lab, and didn't even notice the time passing."

As a result of that experience, two subsequent summer research internships at MIT, and her work as a research assistant for two years in Wu's lab, Laitz has set her sights on a career conducting research and teaching at a university.

"I think it's really important for women to stay in the STEM fields," she says. "I was not lumped as a scientist from day one like some kids. I didn't think in numbers; I wasn't born that way. But that's okay; we need all kinds of scientists. I think it's important to be able to write about and discuss discoveries, and communicate with people. I'd like to stay in touch with the next generation and continue doing research and talking about the environment."

In the meantime, she will do an internship with General Motors this summer working on automotive fuel cells, then move on to Imperial College in September to work on fuel cells of a different kind. She'll be working with Prof. Anthony Kucernak in the Energy Futures Lab, a consortium of different engineering disciplines that come together for green energy purposes. She'll be helping Kucernak develop ultrathin, flexible fuel cells small enough to roll up and use in a laptop before starting her PhD back in the States the following year.

Her advice to students who would like to pursue their own path to a Fulbright?

"Identify something you think you could be passionate about, and then throw yourself into it. Be aggressive about finding out if it is something that resonates with you, and if it is, do everything you can to make the most of this university and what it has to offer in that field. To freshmen I would say 'don't' be afraid to talk to professors and don't be afraid of your inexperience.'"

Laitz wasn't. And it changed her life.