Prof. Tenhaeff shares 'Oscar of Invention' for safer battery for electric vehicles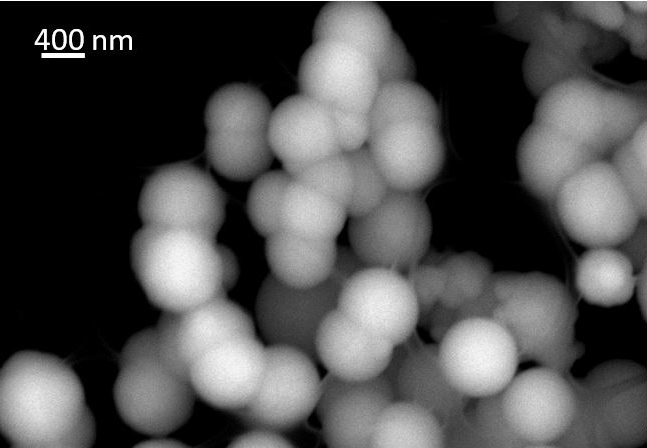 These colloids—large, solid particles -- are added to the liquid electrolyte in an automotive lithium-ion battery to transform the liquid to a solid when a collision or other impact occurs, preventing short circuiting and potential fire. (Image from Oak Ridge National Laboratory)
Collaboration between a Rochester chemical engineer and Oak Ridge National Laboratory on a safer lithium ion battery for electric vehicles has received one of this year's R&D100 awards, also known as the "Oscars of Invention."
The awards, sponsored by R&D Magazine, have been given since 1963 to honor innovative breakthroughs in materials science, biomedicine, and consumer products by academia, industry, and government-sponsored research agencies.
The Safe Impact Resistant Electrolyte (SAFIRE), developed by an ORNL team led by Gabriel Veith and by the laboratory of Wyatt Tenhaeff, assistant professor of chemical engineering at the University of Rochester, improves the safety of plug-in electric vehicle batteries.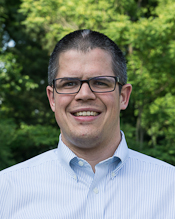 In typical automotive lithium-ion batteries, the liquid electrolyte, which conducts the electrical current, poses a fire risk in high-speed collisions and requires heavy protective shielding, decreasing the vehicle's range and efficiency. SAFIRE eliminates this risk by using an additive that transforms the liquid electrolyte to a solid upon impact.
By blocking contact between electrodes, SAFIRE prevents short circuiting and a potential fire. It performs as well as conventional electrolytes under normal conditions and can significantly reduce electric vehicle weight and increase travel distance—helping to overcome some of the biggest hurdles in the way of mass electric vehicle adoption.
"The R&D100 is a great acknowledgement of the technology and the concept," says Tenhaeff, whose lab performed measurements to verify that the stiffening material has the right conductivity for battery cells.
The project has received the first of multiple expected patents, Tenhaeff said.
He credits the work of one of his PhD students, Brian Shen, who had two opportunities to work at Oak Ridge helping to develop the material.
"Of all the things to come out of this, it was cool to get the patents and the R&D100, but it was also great to have Brian trained on this, and gain some experience at the national labs," Tenhaeff said.
The project was supported with seed money from the Oak Ridge national lab and from DOE's Advanced Research Projects Agency-Energy (ARPA-E).
Tenhaeff, who worked as a staff scientist at Oak Ridge National Laboratory prior to joining the University of Rochester, is also collaborating on two other battery projects funded by ARPA-E.
One seeks to develop solid-state lithium metal batteries for vehicles that feature a solid ceramic electrolyte in place of the combustible liquid electrolytes now used.

The project is led by Jeff Sakamoto, an associate professor at the University of Michigan with whom Tenhaeff collaborated while at Oak Ridge.

Tenhaeff's mentor at Oak Ridge, Nancy Dudney, a leading expert in solid-state lithium battery design, is also collaborating on this project, along with researchers at the Ford Motor Company and the Army Research Laboratory.
Tenhaeff is also collaborating with Oak Ridge researchers on a project to find glassy lithium-ion conductors that are stable and can be fully integrated into battery cells at a low cost.