2018 News Archive
October 12, 2018
The NEC C&C Foundation today announced that the 2018 C&C Prize will be awarded to Professor Ching Tang for his contributions to quantum annealing and to research into random spin systems which underlie the fundamental mechanism enabling the development of quantum annealing machines, and to discovery and pioneering development of thin-film organic light-emitting devices. He will be recognized with a certificate of merit and a plaque. Tang will also receive a cash award.
cc_prize_eng-tang
---
August 10, 2018
The chemical engineering department is pleased to announce that Assistant Professor Andrew White has received a prestigious National Science Foundation (NSF) CAREER award to study the science of self-assembly through molecular simulation. The NSF CAREER award provides $500,000 of support over five years for research and outreach for Prof. White and his graduate students.  This funding will help develop a long-term research program at the University of Rochester on molecular simulation for both understanding how molecules interact and to design novel materials via computer-aided design. The selection of Prof. White was determined on the basis of both his research proposal to study self-assembly of peptides and a creative outreach plan to better educate the local Rochester K-12  students on the connection between the molecular structure of materials and their properties.
---
July 6, 2018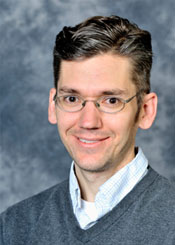 After consulting with Chemical Engineering faculty, Wendi Heinzelman, Dean of the Hajim School of Engineering and Applied Sciences, has appointed Professor Mitchell Anthamatten as the next department chair effective July 1, 2018. Anthamatten commented, "I am extremely grateful and excited for the opportunity to serve such a talented group of faculty and to see our department's strategic plan unfold. With strong support from the Hajim School and Arts, Sciences and Engineering, we are innovating in sustainable process engineering, biotechnology, and advanced materials to address problems of national and global importance. By prioritizing outstanding research, we will offer rich and forward-looking educational experience to our students at all levels."
---
May 21, 2018
Two University of Rochester chemical engineering faculty, Professors Shaw H. Chen and Mitchell Anthamatten have been awarded University Research Awards for a total of $136,000 to provide "seed" funding to develop optical materials for polarization control.
---
May 20, 2018
University of Rochester chemical engineering faculty member, Assistant Professor Marc D. Porosoff has been awarded a University Research Award for $60,000 to develop a novel technique for synthesizing nano-sized reverse water-gas shift (RWGS) catalysts.
---
May 10, 2018
---
April 30, 2018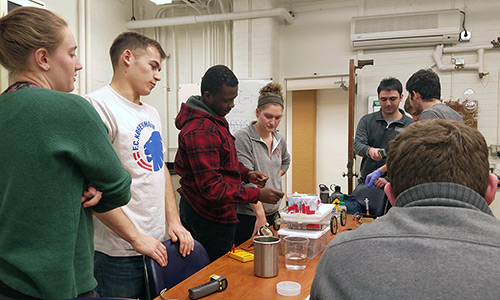 A team of chemical engineering students from Rochester, in their second year building and competing with a vehicle powered only by chemical reactions, held their own against 20 other teams at this year's American Institute of Chemical Engineers regional conference.
---
February 15, 2018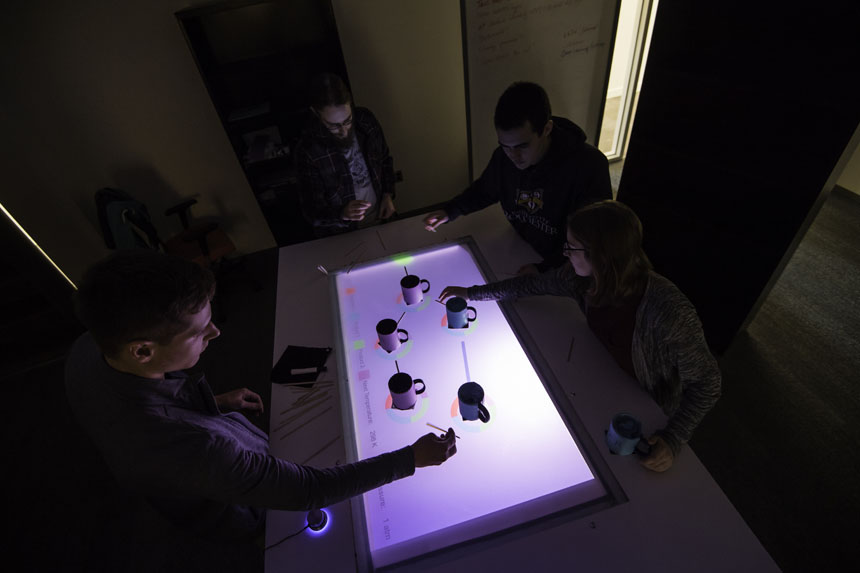 Coffee mugs and popsicle sticks are transformed into chemical reactors as part of an innovative teaching experiment that allows student engineers to simulate reactions in a real-life, sprawling chemical plant.
---
January 29, 2018
Ching Tang, professor emeritus of chemical engineering at the University of Rochester, has been inducted into the National Inventors Hall of Fame for helping to pioneer the organic light-emitting diode, or OLED.