Heta Gandhi receives fellowship from Molecular Sciences Software Institute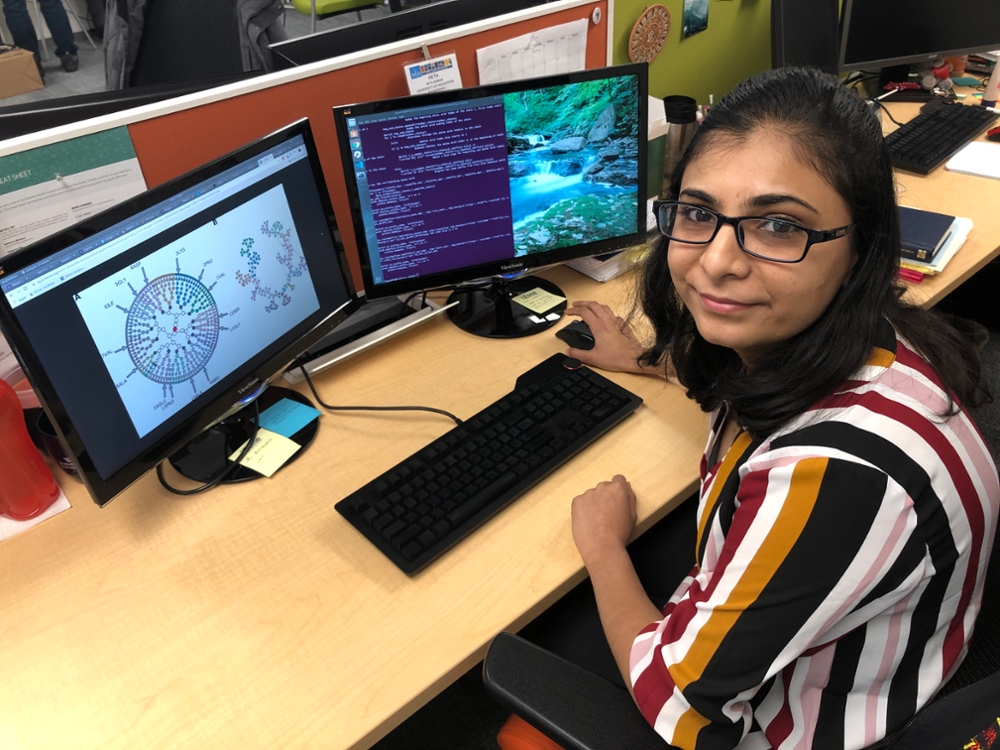 The Andrew White lab at the University of Rochester uses computational modeling to simulate how peptide molecules spontaneously self-assemble into a supramolecular complex or new phase.
Self-assembly is particularly important in protein aggregation diseases such as Alzheimer's disease, where self-assembly of mis-folded proteins is believed to be the underlying cause.
Heta Gandhi, a PhD student in White's lab, has received a prestigious fellowship from the Molecular Sciences Software Institute (MolSSI) to further refine a new software program the lab developed to conduct its simulations.
Gandhi is one of eight recipients – out of nearly 60 applicants – to receive an Investment Software Fellowship, awarded annually for projects that will have a broader impact on the worldwide community of computational molecular scientists. MolSSI serves as a nexus for science, education, and research across that community, which encompasses biomolecular simulation, quantum chemistry, and materials science.
White, a professor of chemical engineering who is also affiliated with the University's Material Sciences Program, received an NSF CAREER award in 2018 to study the self-assembly of peptides.
Gandhi's project involves refining the machine learning techniques the White lab has developed for "coarse grained simulations" of that process at a microscopic level.
The challenge is that peptides are relatively large molecules, containing thousands of atoms, Gandhi explains. So, trying to simulate how each one of those atoms moves over time "takes a lot of computational resources," she says.
"Even when you run simulations for days together, you are able to look at only a few nanoseconds or microseconds of movement in the peptide itself."
Coarse graining puts groups of individual atoms into single particles, "so you don't have to apply equations to each atom of the molecule," Gandhi says.
The White lab has developed a software called HOOMD-TF (HTF), which bridges a molecular simulation library called HOOMD-blue to TensorFlow, a machine learning library developed by Google.
"That is how we can apply machine learning on the simulations themselves," Gandhi says.
"However, I am going to further develop (HTF) to make it more general. For peptide and protein simulations there are other simulation engines that we would like to use as well."
That will make HTF more accessible for other researchers and other applications, helping it reach a "bigger audience."
The 18-month fellowship provides a stipend of $40,000 a year, and also covers Gandhi's tuition costs and costs to travel to meet with a MolSSI mentor. "If there is still work left to be done, or if we come up with ideas during that 18-month period, they can extend the fellowship further to continue working on the project," she says.
Gandhi, who came to Rochester after receiving a BS in chemical engineering at the University of Mumbai, would like to pursue a career in teaching after she completes her PhD. "Right now, I'm more inclined towards teaching," she says.  
"If not that, I would like to go into industry," she says.