Alumni Highlights
Chitraleema Chakraborty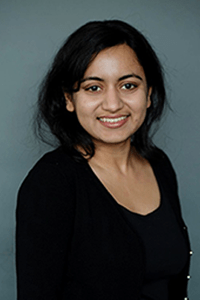 Dr. Chitraleema Chakraborty obtained a Ph.D. in Materials Science in 2018 under the supervisor of Professor Nick Vamivakas from the University of Rochester. She obtained a dual MS and MTech in Nanophysics and Nanostructures from the University of Delhi, India, and Joseph Fourier University, Grenoble, France. She obtained her BSc Honors in Physics in 2009 at Jadavpur University, Kolkata, India.
Dr. Chakraborty is an assistant professor at the University of Delaware. Her research seeks to elucidate the functionalities of solid-state quantum emitters for applications in quantum information processing and nanoscale sensing from both a theoretical and experimental standpoint. She plans to combine her expertise in Computational Materials Science and Experimental Quantum Optics to predict, fabricate, and image quantum emitters for integration with photonic and nano-mechanical devices. Her research will focus on developing quantum materials including 2D materials, semiconductor quantum dots, and hybrid quantum systems that are relevant for applications in quantum computation, communication, and quantum sensing-based technologies.
Danaya Pratchayanan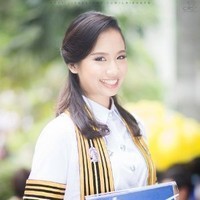 Danaya Pratchayanan was born in Madrid, Spain and her nationality is Thai. She moved frequently until she was 12 years old and completed high school in Thailand where she attended British International School. Danaya earned her bachelor's degree in 2013 in applied chemistry from the top university in Thailand, Chulalongkorn University. Her research included studying aboard at UC San Diego and focused on organic chemistry and total synthesis of certain compounds.
She returned to US for her master's degree in the Materials Science Program at the University of Rochester. She studied under the advisement of Professor Mitchell Anthamatten and completed her thesis "Diels-Alder Reaction Kinetics and Thermodynamics within Semicrystalline Polymer Networks'' in August 2016. She has also published a paper in the Journal of Rheology titled "Thermomechanical insight into the reconfiguration of Diels-Alder networks".
After completing her master's degree, Danaya relocated to Charlotte, North Carolina to start employment at Elkem Silicones. In her current role as a technical service representative Danaya travels with the sales and marketing team to meet existing and new customers, helping to solve and propose solutions using their silicones. 
When not working Danaya enjoys traveling (pre-pandemic), hiking, and yoga. In August 2020, she started a part-time MBA at the University of South Carolina (Darla Moore Business School) and is expected to graduate spring 2023.
---
Zhang, Klose and Miller in Press 2021
A label-free, multiplex glycan microarray biosensor for 1 influenza virus detection