Overview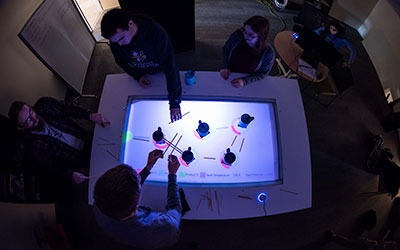 Undergraduates at the University of Rochester who are interested in materials science have the option of taking a minor in materials science or a cluster in design with materials, both of which are run by the Department of Mechanical Engineering. Students can also take materials science coursework.
Interested undergraduates are also invited to join the University of Rochester chapter of the Materials Research Society, which sponsors talks and events throughout the year.
Research
Students who are interested in materials science research should contact the faculty member they'd like to work with directly about opportunities for undergraduates. See the faculty page for more information about faculty research.
You can also contact the Office of Undergraduate Research for help in finding undergraduate research opportunities.
Study Abroad
The Hajim School of Engineering and Applied Sciences has a list of affiliated study abroad programs that specifically offer engineering and science classes to study abroad students.
Examples of materials science coursework you could take abroad include ME 226: Strength of Materials at Universidad Carlos III in Madrid, Spain, or ME 280: Materials Science and Engineering at University of Cape Town in Cape Town, South Africa.
Students should always check with their advisor before they study abroad to make sure the courses will be accepted for a major, minor, or cluster.
See the Hajim study abroad programs page for more information.