Symposium
2024
Information for the 2024 symposium will be posted as it becomes available.
---
Note: No symposia were held between 2020-2023 due to Covid-19 regulations and protocols.
---
Past Symposia
2019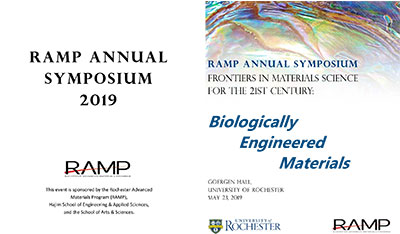 Frontiers in Materials Science for the 21st Century
Biologically Engineered Materials
Thursday, May 23, 2019
Georgen Hall, Sloan Auditorium
9 a.m. - 5 p.m.
8:30 a.m. Check in and continental breakfast
Keynote Speakers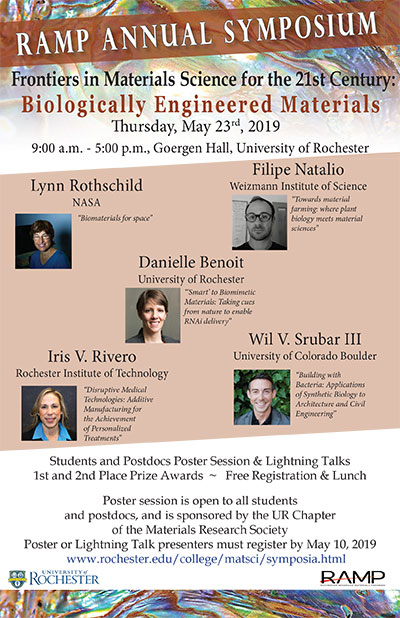 Professor Iris V. Rivero
Rochester Institute of Technology
Department of Industrial and Systems Engineering
"Disruptive Medical Technologies: Additive Manufacturing for the Achievement of Personalized Treatments"
Dr. Filipe Natalio
Weizmann Institute of Science, Rehovot, Israel
Kimmel Center for Archaeological Science
"Towards materials farming: where plant biology meets material sciences"
Professor Wil V. Srubar III
University of Colorado Boulder
Civil, Environmental and Architectural Engineering
Materials Science and Engineering Program
"Building with Bacteria: Applications of Synthetic Biology to Architecture and Civil Engineering"
Dr. Lynn Rothschild
NASA
"Biomaterials for Space"
Professor Danielle Benoit
University of Rochester
Department of Biomedical Engineering
"'Smart' to Biomimetic Materials: Taking cues from nature to enable RNAi delivery"