Applying to Rochester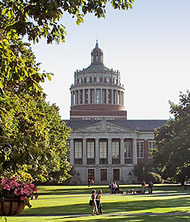 Thank you for your interest in applying to our graduate program. For fall 2024 admission, the online application must be submitted by January 15, 2024 and all materials must be submitted no later than February 1, 2024 to be considered for fall 2024 admission. We are not currently offering spring admission.
For PhD Applicants
We hope that your application reflects your academic preparedness and research experience and enthusiasm. Matching the research interests of our faculty members is a crucial factor in the selection process. Finally, we will also consider an applicant's impact on the diversity of our department.
Graduate Record Exam

Information

The Graduate Record Exam (GRE) tests can help us evaluate students, especially those from colleges that are unfamiliar to us. But we recognize that the tests have their limitations and may pose a financial burden for some students. Therefore, GRE scores optional.

Below is information on:

Questions about the mechanical engineering graduate program? Email megrinfo@me.rochester.edu.

Additional information for prospective applicants can be found on the Graduate Education and Postdoctoral Affairs site.
Application Instructions
Application Fee: $70.00
Application Materials
Application consists of the following parts:
A full online application
Personal statement
Transcripts from each university that you have attended, uploaded to the online application (copies are acceptable for application review. Official transcripts are only needed if applicant is accepted)
Copies of GRE scores uploaded to the online application*


GRE University code: 2928
GRE department code: 1502

Copies of TOEFL, IELTS, and Duolingo scores for applicants whose native language is not English

TOEFL University code: 2928
TOEFL department code:68

Three letters of recommendation submitted electronically
Please note: All documents should be submitted through the online application system.
GRE scores will be optional for applicants applying for admission. Applicants can still choose to submit scores if they wish.
English Language Proficiency Policy
All international students are required to provide proof of English language proficiency through the submission of official test scores from one of the following exams. Scores more than two years old from the application deadline are not valid.
IELTS
TOEFL or TOEFL iBT Home Edition
Duolingo
To send in IELTS scores please use the following address:
University of Rochester
AS&E Graduate Studies
500 Joseph C. Wilson Blvd
P.O. Box 270401
Rochester NY 14627
TOEFL scores can be submitted using the code 2928.
Students completing the Duolingo exam can select the University of Rochester as the recipient of the scores.
The English proficiency test requirement is waived for citizens of the following countries:
Australia
Canada
Commonwealth Caribbean Nations
Ghana
Ireland
Kenya
Liberia
New Zealand
Nigeria
Singapore
South Africa
Uganda
Virgin Islands
The requirement may also be waived upon application review if a student has completed at least three years of postsecondary study in one of the countries listed above or the United States. We reserve the right to require demonstration of English proficiency, even if you have received your degree from one of the above-mentioned countries. In this case, a waiver request is not required to be submitted.
Applicants who are not US Citizens or Permanent Residents
Any documents or letters submitted in support of your application should be in English or should be accompanied by an English translation. Please do not send secondary school records.
The University requires applicants whose native language is not English to complete TOEFL, IELTS or Duolingo as proof of English proficiency.
To obtain a visa for study in the United States, international students must present the Certificate of Eligibility (I-20 or IAP-66) at a US consulate or embassy and demonstrate full proof of ability to pay all tuition and living expenses for the first year of study.
Note: University fellowships may not cover all of these expenses; students will ordinarily need some additional funds. The International Student Office will issue the I-20 or IAP-66 after a student has been admitted and demonstrated proof of his/her ability to pay all expenses for at least the first year of study.
For detailed information about visas please refer to the International Services Office.
Frequently Asked Questions
What are the minimum TOEFL, IELTS and Duolingo scores? The following are recommended: TOEFL 96, IELTS 7, and Duolingo 125. International applicants that have, or will receive, a bachelor's or master's degree from an English-speaking University do not need to submit these scores. The requirement will automatically be waived at the time applications are reviewed.
Do I need a MS to apply for PhD?Can I apply with a BS? Applicants can apply directly to our PhD program with an undergraduate degree. Both BS and BA are accepted.
Is funding available for PhD students? PhD students receive a full tuition waiver and stipend. If accepted into our program, details will be provided in the offer letter to the applicant.
Is funding available for MS students? Admitted MS applicants receive a partial tuition waiver. Teaching Assistant positions are not available for MS students. Some faculty have Research Assistant positions available in their group.
When will a decision be made on my application? The application review process begins in January. All decisions will be finalized by mid-March. Applicants will receive an email notification when a decision is made.
Can my application fee be waived? We understand that application fees can be a financial burden for students and do not want this to prevent good students from applying to our programs. We can only make a small number of waivers for outstanding students, who need to find a faculty in the Department of Mechanical Engineering to endorse their waiver petition.
Do I need to secure an advisor to be admitted? The first year of PhD studies, students are required to meet with faculty and determine a faculty research advisor by the end of their second semester.
Who has open positions in their group? Each research group is different. Please see individual faculty pages regarding open positions.
Nondiscrimination Policy
The University of Rochester provides equal opportunity in admissions and student aid regardless of sex, age, race, color, creed, disability, sexual orientation, and national or ethnic origin. Furthermore, the University complies with all applicable nondiscrimination laws.