Overview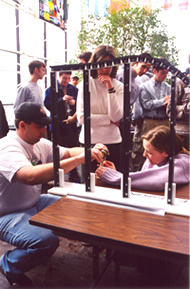 The Department of Mechanical Engineering offers graduate work leading to an MS and PhD degree in mechanical engineering and in materials science.
Applicants for admission typically have a general background in one of the following area:
Engineering
Physics
Applied physics
Applied mathematics
Materials science
Mechanics
Metallurgy
Chemistry
Faculty research in the department falls into two broad categories: solid mechanics-materials science, and fluid mechanics-plasma physics.
Much of this work is interdisciplinary and takes advantage of links between the department and the Laboratory for Laser Energetics, the Rochester Center for Biomedical Ultrasound, the School of Medicine and Dentistry, the Department of Physics and Astronomy, and the Department of Biomedical Engineering. For more information visit our research page.