Baja SAE Team builds off-road vehicle, competes in Tennessee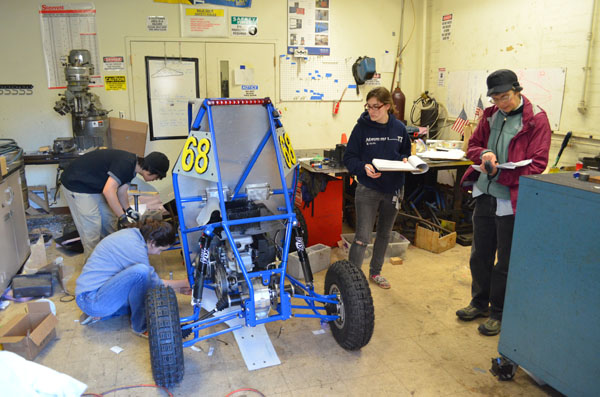 (Baja SAE Team members make final adjustment to their off-road vehicle while Leslie Johnson '14, safety checklist in hand, compares notes with Prof. Sheryl Gracewski, faculty advisor to the team.)
It is 3 p.m. A box of Dunkin Donuts lies open – and empty – in the shop at Gavett Hall.
"I need bolts. Fully threaded, and about two and one-fourth inches," says Kim Heng '14 into his cell phone. He is talking to Nick Brown, the team president, who is at a local hardware store buying last minute parts.
Jackson Kyle '13 stands nearby, carefully wielding a wicked-looking pair of shop scissors, cutting out a gasket from a traced pattern.
Luis Martinez '16 and Adalberto Perez '15 huddle over an engine they just lifted out of a blue metal frame propped in the middle of the shop.
The atmosphere is relaxed, but definitely focused. In 18 hours, the frame must be transformed into a fully assembled all-terrain vehicle. Next morning, the UR Baja SAE team plans to load it onto a rented truck for a 14-hour drive to Tennessee Tech, to compete against teams from 99 other universities.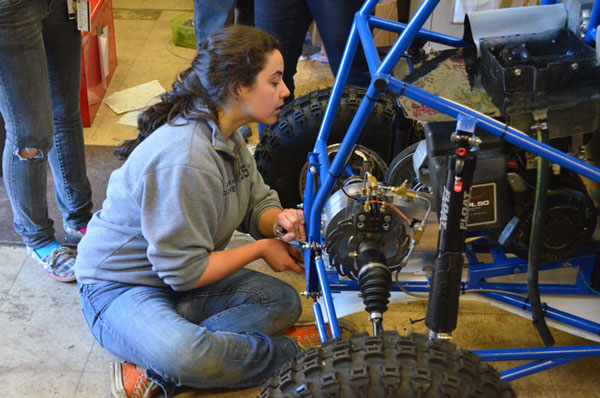 (Carolina Rocha wrenches a belly plan into place.)
And the students pull it off, working through the night and into the next morning, when a new set of faces can be seen applying the finishing touches. Most team members are Mechanical Engineering students. But team captain Wesley Clawson is a senior in Electrical and Computer Engineering.
And Autumn Coe '13 is an Eastman School of Music student. Just a month before she was performing a recital on the Italian Baroque Organ at the Memorial Art Gallery. Now she's using a Dremel tool to finish a spill guard, while Carolina Rocha, '15, wrenches a belly pan in place, and Leslie Johnson '14, safety checklist in hand, compares notes with Prof. Sheryl Gracewski, faculty advisor to the team.
The four-day competition included tests of acceleration, land maneuverability, and suspension and traction. It included a sled pull and a four-hour endurance race. The UR vehicle had a number of innovations that helped the team finish in the top 20 percent in the design/cost portion of the competition. And despite A-arms that broke twice, team members never gave up, repairing and adding support to the A-arms during the competition.
Seventeen students made the trip – and nearly that many more helped design and build the vehicle from scratch. That's a big jump in participation compared to recent years. Team members say they made an increased recruiting effort at student orientation and various Hajim School social events. And Hajim's steadily increasing enrollments have provided a bigger pool of students with an interest in engineering.
"I've been impressed with the team this year," says Gracewski, who has served as the team's faculty advisor since 1999. "Usually there's a huge influx at the start of the year and then it peters away, but this year Berto (Perez) and Kim (Heng) did a good job of taking students under their wing and showing them how they could contribute to the car."
So the potential is there for a strong core of returning students for next year's competitions. "The team has the potential to do very well next year," Gracewski adds. "The goal next year is to get the car built well before competition so they can do a lot of testing, tuning and redesigning."
Perez says he definitely plans to be back with the team. "Growing up I was always involved in team sports, and being involved in Baja SAE is just that. One of the main reasons I enjoy being a member is the hands on engineering experience that being part of the team provides students."
To learn more about the Mini Baja team, visit www.me.rochester.edu/~baja/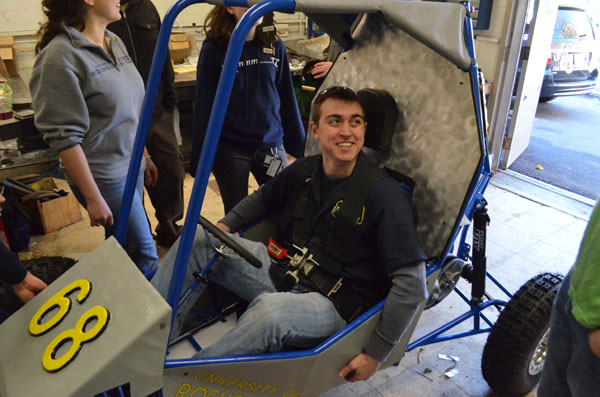 (Team captain Wes Clawson as team members prepare to roll the vehicle out of the shop and test its engine.)