Hussein Aluie, expert in complex flows, to join department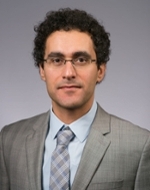 The computation and analysis of complex flows may sound like a purely abstract exercise.
    But when you consider that it holds the key to understanding such complex phenomenon as ocean circulation and its impact on our climate, the turbulence encountered by aircraft, and the dispersion of pollutants in the atmosphere, it is obvious that the applications are of enormous importance.
    This is precisely the area of expertise of Hussein Aluie, who joins the Department of Mechanical Engineering as an assistant professor this summer.
    And John Lambropoulos, the department chair, could not be happier.
    "Hussein simulates very complex fluid motions in problems that are very, very difficult to observe in physical experiments," Lambropoulos said. "One of the things that made him so attractive to us is that he is a very good match with the research at the Laboratory for Laser Energetics."
     Aluie is developing a novel approach to analyzing and modeling complex flows. He said two areas of his work –magnetized plasmas and shock-driven flows – "stand to benefit greatly from the cutting edge resources available at LLE and the pioneering work in fusion energy research being done there."
    He is also collaborating with Geoffrey Vallis, Professor of Climate Science at Princeton University, on a $365,000 grant from the National Science Foundation to analyze and model the currents and eddies in the ocean.
    Aluie, a postdoctoral research associate at Los Alamos National Laboratory (known for creating the first atomic bomb), grew up in Lebanon where he attended the American University of Beirut. He earned his Ph.D. from Johns Hopkins University in 2009.
    "With my background and experiences, I feel I would fit comfortably in the rich and diverse community at the University of Rochester," Aluie said.
    "During the course of my work, I have collaborated with astrophysicists, plasma physicists, climate scientists, mathematicians, and engineers," he added. "I have learned to embrace interdisciplinary research and to communicate with experts from varied backgrounds. Most of the problems we face today as a society, be it climate  change or energy security, are inherently multi-disciplinary and require skills and expertise that bridge traditional research boundaries."
          Aluie was among 150 applicants who responded when MechE advertised an opening last spring. At that time, the department was looking primarily for an experimentalist, and hired Doug Kelley, its top applicant in that category. However, the department went ahead and offered Aluie this year's opening for a computational position. "We liked both Hussein's research and his background so well, that instead of waiting and starting a new search again, we decided we might as well make him an offer," Lambropoulos said.
    "I am very proud that we made two offers, to our top choice in each of those two areas, and were able to hire both of them. That could only have happened at a terrific research institution like the University of Rochester."
     Aluie concurs with that assessment: "Steeped in a long history, the UR's reputation for academic excellence is recognized worldwide. In the Department of Mechanical Engineering I believe I can focus on building a well-respected research program, teach some of the brightest students in the nation, and count on the support of the university and the department."
    "I feel very fortunate to be joining your community."
    Learn more about Aluie's research at his website.