MechE athletes excel at varsity sports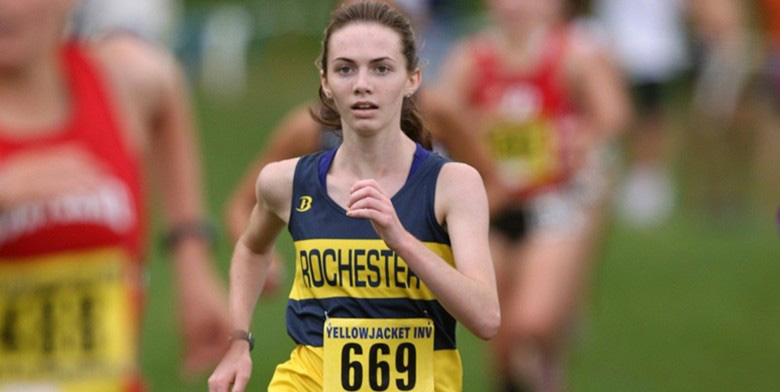 (Catherine Knox was UR's top cross country runner at the NCAA Atlantic Regional Championships.)
When the men's soccer team advanced to the Sweet 16 this school year, six Mechanical Engineering students were on the roster.
Junior Shane Dobles, the team's third leading scorer, scored one of the three goals that propelled the Yellowjackets into the elite 16. Junior Andrew Sheridan -- a key back line defender for the 'Jackets squad, which gave up only 12 goals all season -- was selected second team All-East Region by the National Soccer Coaches Association of America. Dobles, Sheridan and junior Ben Keeton were all selected to the UAA All-Academic Team.
Other MechE students played key roles on UR varsity sports teams this school year.
Sophomore Dylan Sharkey, for example, helped the UR swim team set three new school records -- in the 800- and 400-yard freestyle relays and in the 500-yard individual freestyle -- at the UAA championships. He earned All-Academic honors from the Liberty League. Freshman Alden Brewerearned a Liberty League Rookie of the Week mention by swimming the anchor leg of that 400 freestyle relay record.
Sophomore Catherine Knox was UR's top cross country runner at the NCAA Atlantic Regional Championships, was a New York State Collegiate Track Conference Runner of the Week after finishing best among Div. III runners at the Roberts Wesleyan Harry Anderson Invitational, and was an All-Academic selection by the U.S. Track and Field and Cross Country Coaches Association.
Seniors David DeLong and Andrew Keene and sophomore Aaron Sadholzmade the UAA All-Academic Team with the men's cross country squad.
MechE leads in number of athletes
They were among 142 Hajim School students who participated in varsity sports this school year. MechE led the way with 49 athletes, representing 19.9 percent of the department's undergraduates, followed by BME (42, 12.2 percent). That continues a long tradition of MechE athletes. (Click here for Meche alumni in the UR Athletic Hall of Fame.)
Hajim School engineering students made up 47 percent of the men's swimming team, 60 percent of the men's outdoor track team and 62 percent of the men's cross country team.
"We often joke about the number of engineers on our (track) team because it is an immense portion," said Keene. "It has been that way since I got here four years ago."
"I've always just assumed that the kind of people who are attracted to track are the same kind of people who are attracted to engineering. Both require a lot ofself-motivation and mental discipline."
Controversy surrounds some NCAA programs, especially at Div. I and II, when lax course requirements are employed to keep athletes eligible. That's not an issue for the Hajim School, where students are required to complete a rigorous curriculum, strong on math and physics, that leaves little wiggle room.
Good time management is key
Is it really any wonder that engineering students, who often study in teams, do projects in teams, and ultimately will be hired into a team, would excel in team sports as well?
The bigger question is: How do they manage it?
"I always think our athletes tend to be very disciplined students in their time management," Dean Rob Clark told members of the school's Visiting Committee recently.
"That is the key," concurred Dobles (shown at left), who was named to the Capital One Academic All-District First Team with a 3.73 GPA. He achieved this despite playing one or two games and participating in another four or five practices each week during the 13-week season.
"Practices are usually an hour and half to two hours but take closer to three or four hours in total when you account for getting ready and showering afterwards," Dobles noted. Games take even more time considering pregame meals, warm-ups, the game itself, cool-down and then showering.
"The trick is to get ahead when you can on either homework or studying so that it doesn't all pile up. That means a lot of bus trips are spent doing readings or problem sets while we're away to keep from falling behind." It is also "best to get things out of the way whenever possible," he added. "If I have, say, an hour gap between classes, I'll just work on something in the library rather than head back to my room."
Sophomore Mary Bucklin of biomedical engineering, who made the National Field Hockey Coaches 2014 Academic Squad this year, said she couldn't image attending college without also playing the sport. "To me it is built-in time for fun each day, and my main source of stress relief. . . . At times the field feels like a different world."
However, the time commitment each fall is substantial: two to three hours of practice a day, and two, even three games a week. "Each night I take time to write down any assignment, class, meeting, work, and practice of the next day," Bucklin said. "By having a schedule it is easy to see where there is free time, and then I am able to plan what to do with that time so I don't waste it."
'Plan ahead and make easier weeks count'
"I've grown up with being busy with sports, so I was already accustomed to demanding schedules," adds ChemE freshman Sayaka Abe, another field hockey team member who made the academic squad. "It was definitely tough at first, trying to get used to the college workload, but I've adjusted."
Her advice:"Plan ahead and make easier weeks count."
A common thread among all of these athletes is their love for their respective sports, and the chance to be teammates with other students who share that love. For Abe, there is also the sure knowledge that her prime years for "running around hunched over the ball "as a field hockey player are probably numbered.
"With sports you never truly know how much time you have left with it."
But while that time lasts, she added, "the rewards are endless: The friends you make, the small moments of glory in games, the satisfaction when the hard work proves to have been worth it, and to be able to proudly say I play for UR Field Hockey."
By the numbers: Facts about Hajim School athletes.